While the adventures of "Daredevil" and "Jessica Jones" took place in Hell's Kitchen, Marvel has moved their latest operation uptown.
"Luke Cage,"—which dropped on Netflix on September 30—is set in Harlem. And while leading man Mike Colter may hold top billing on the call sheet, Harlem is a close second.
The drama centers on a man named who obtains his superpowers—bulletproof skin and super strength—after an experiment conducted while he was in prison goes horribly wrong. Marvel fans will recall the last time they saw the stoic Mr. Cage was during the first season of "Jessica Jones." This time around he's the star of the show and viewers get to see him go from man-in-hiding to hero of Harlem.
In a Marvel world filled with aliens, magical beings and blue-eyed haired superheroes like Thor, it is not lost that Luke Cage is a hero who looks like Harlem. A hero who walks in the sunlight without a mask or costume—unless you consider his hoodie—stopping people from doing bad things.
A pure love for comic books and a palpable appreciation for Harlem made showrunner Cheo Hodari Coker an exceptional choice to transform the jive-talking character created in 1972—born out of the rise in blaxploitation films, into a modern day African American hero. With his grandfather growing up off Convent Avenue, Coker was used to hearing stories about the hood since he was a kid.
"Just the feel of the place—it's different than any other place in New York," said Coker.
The musical journalist turned screenwriter combined his knowledge and experiences to illuminate a rich portrayal of uptown life. "Harlem is really Atlanta, Washington DC and Vegas in one place," Coker told NBCBLK. "The Atlanta aspect is that it has churches that run national politics, the Washington D.C. is the fact that you have legendary politicians like Adam Clayton Powell that come from Harlem and the Vegas part is the showmanship of the clubs, music and art forms."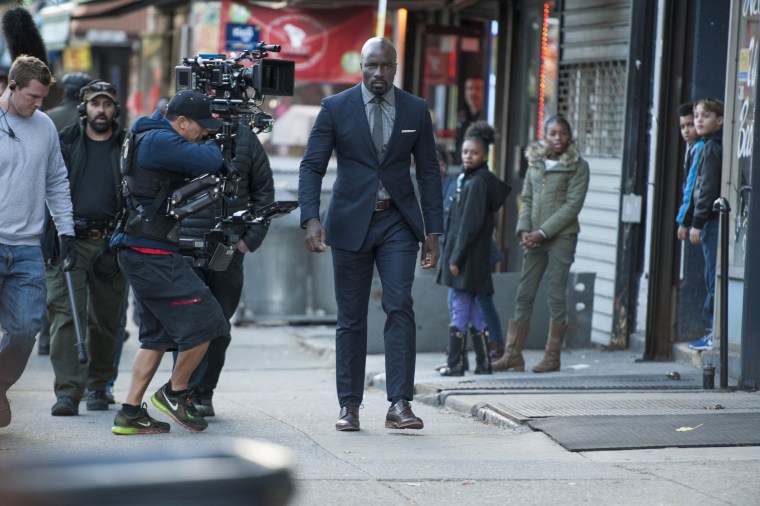 A combination of shooting on sets in Brooklyn and on location in Harlem, "Luke Cage" harnesses the energy of the neighborhood and provides an authentic viewing experience. Pop's barber shop, where many key scenes take place, is a prime example. While a set needed to be built for the actions scenes, the exterior of the shop can be found on 119th Street and Lenox Avenue.
The series beautifully showcases the historic landmarks and architecture, from tracking shots down wide boulevards to views of Jackie Robinson Park.
Oakland native Mahershala Ali (who plays the sinister Cornell 'Cottonmouth' Stokes) would visit his dad in Washington Heights, and catch the train down to Harlem when he just 13 years old. Even at a young age, he picked up on just how culturally different Harlem was. "It kind of being the mecca of black culture—that's never gone away from me."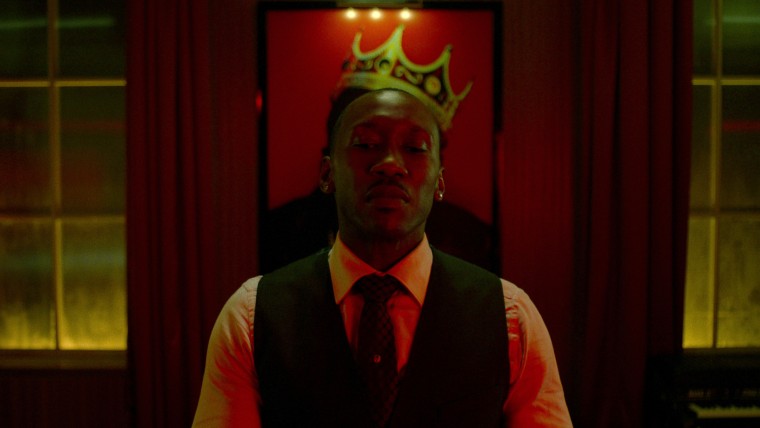 He remembers being "blown away by the culture, and the music, and the street vendors and just the sound-filled vibe in the experience of Harlem, and also being very cognizant of its history."
Viewers become pretty conscious of this deliberate history lesson as well. References to influential African American Harlemites—Zora Neale Hurston, David Dinkins, Chester Himes and Crispus Attucks—pay homage.
Weaving these vestiges into the narrative without being too heavy handed is a clever tool that allows the series to mix Marvel's most "out there" elements with the realism of the human experience, reminding viewers that Marvel characters are actually set in the real world.
"You can have 'Cottonmouth' make a Marvel reference while at the same time you can have 'Shades' namecheck David Dinkins in another scene," Coker explained.
But it's been a long time since the Harlem Renaissance and a lot has changed—a fact the series does not shy away from.
"One of the things that is happening now is the threat that Harlem could lose [its] sense of culture," Alfre Woodard, who plays Mariah Dillard, and is a real life part-time resident of Harlem, told NBCBLK. "Because there is an influx of people who are not coming to Harlem to be in Harlem, to join Harlem, to be a Harlemite. They are just looking for a good deal."
The series' focus on themes like social justice, community policing and gentrification give attention to issues facing the community, regardless of the show's more fantastical elements. The Black Lives Matter movement is even referenced very early on.
"It's sad we shot this over a year ago and it's still extremely relevant," said Simone Missick, who plays Detective Misty Knight, the first black female superhero in the history of the Marvel universe. "You don't anticipate on the eve of the show coming out that we would have two back-to-back police shootings in Charlotte and in Tulsa. You don't anticipate that. You pray that, that is not what's going to happen."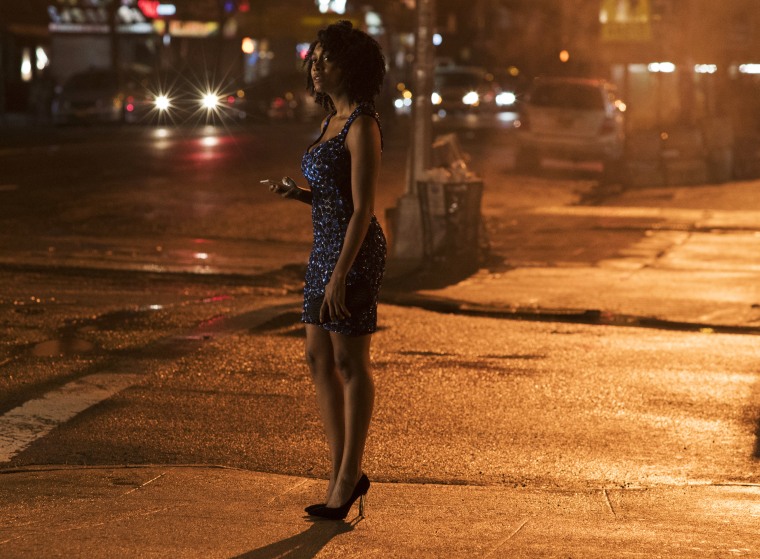 Missick, a self-described student of the Harlem Rennaissance, hopes that the unapologetically black and brown show will carry a universal message. "It's a Black show but it is an American show and it is something that when it goes out to 190 countries, it should be looked at as American culture and not just Black American culture.
In featuring the history of the neighborhood, its vibrant culture and music, Coker has added texture and complexity to the character of Harlem—ensuring it is far more than just a backdrop.
Like most important television characters, it affects—and is affected by the others on the series.
The reluctant hero, Luke Cage, realizes that he has the ability to help people and makes a choice to lead and stand against those he deems bad for Harlem.
Missick described her character, who isn't afraid to call out her fellow police officers, as "a girl who grew up in Harlem who really just loves her city and that effects and filters through everything that she does."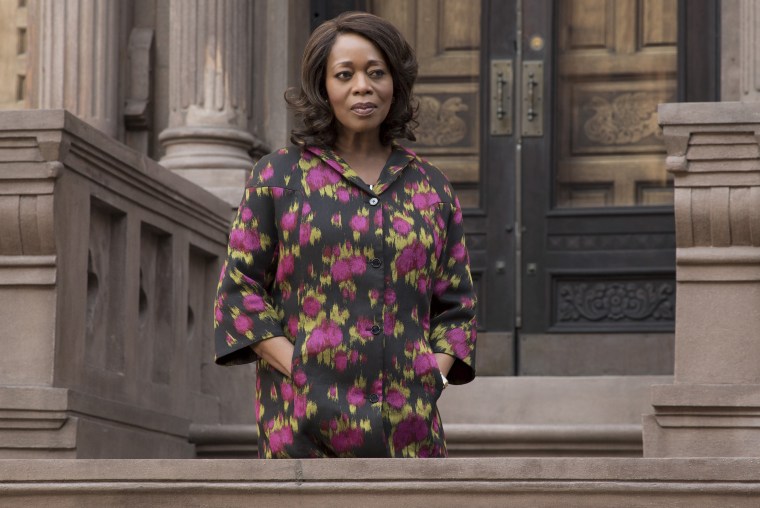 Woodard's character, Councilwoman Mariah Dillard may hop over the legal line throughout the series, but she truly believes she is fighting for the greater good. As Coker puts it, "Cottonmouth and Moriah are fighting for what they consider the soul of Harlem, but if you look at their motives it's really about keeping Harlem black or they stay in the green."
While Harlem is the setting of "Luke Cage," the story it tells will resonate with those far from Frederick Douglass Boulevard.
"It's important for people to see that people of color have the same capacity for the human experience, that they have just as much humanity as other people do and that's important for people who live in those neighborhoods and those outside of it," Ali concluded.
Follow NBCBLK on Facebook, Twitter and Instagram