Michelle Obama delivered her 23rd and final commencement address as First Lady to graduates from the City College of New York in Harlem, celebrating the rich diversity of the class and the obstacles they overcame to make it there.
In a powerful moment, she connected their journey with the momentousness of her family's own American story: "It's the story that I witness every single day when I wake up in a house that was built by slaves, and I watch my daughters — two beautiful, black young women — head off to school waving goodbye to their father, the President of the United States, the son of a man from Kenya who came here to America for the same reasons as many of you: To get an education and improve his prospects in life."
The First Lady also singled out a few outstanding students among the over 3,800 graduating, including Hollis Heath, who received her master's degree in education on Friday. Michelle Obama commended Heath for writing an award-winning play as well as speaking at the White House about empowering women.
"I barely heard anything she said afterward," Heath told NBCBLK. "I was trying not to pass out."
Heath said it was the icing on the cake that in front of her department, friends, and family, Michelle Obama chose to highlight Heath's story in her remarks.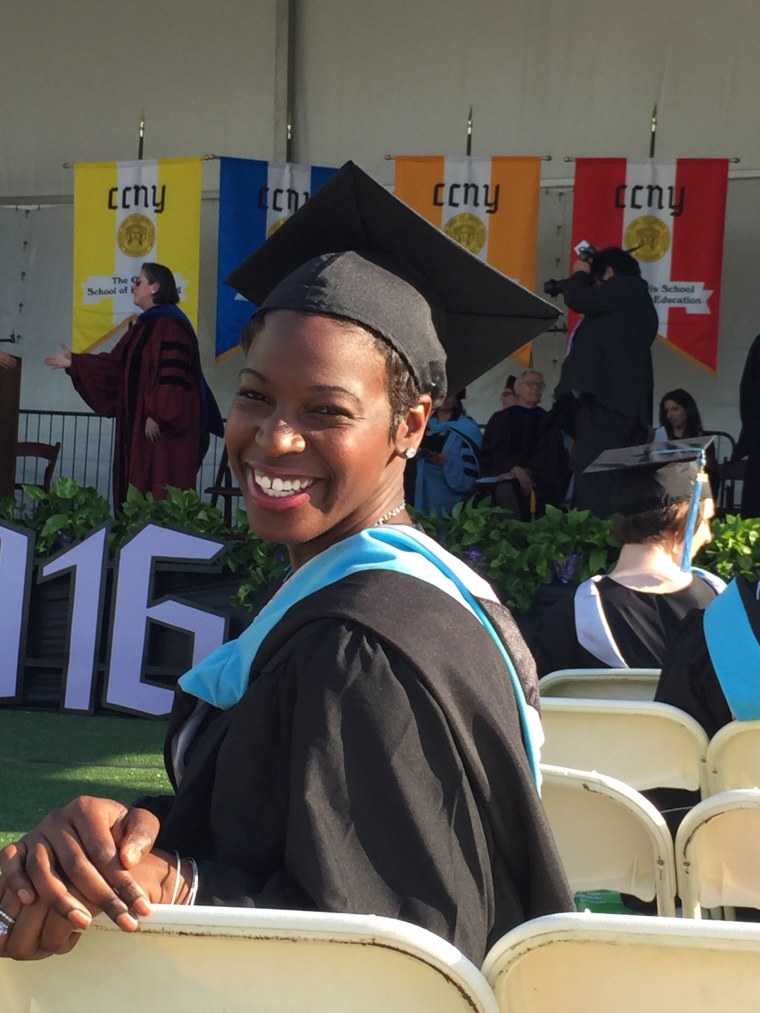 The First Lady's message of not giving up, even in times of adversity, resonated with Danielle Grant, a student of history and Jewish studies who aspires to become a lawyer one day.
"I was raised by a single parent and it was very difficult in my life - I had various challenges - but I love the fact that she encouraged us to keep on moving despite whatever it is that comes our way," Grant said.
RELATED: Obama Delivers Hopeful Speech as Howard Struggles to Stay Afloat
Nneoma Okorie, who received her bachelor's degree in broadcast journalism, said she appreciated that Michelle Obama addressed immigrants and students of color specifically, acknowledging the people who went through "trials and tribulations to get to where they are today."
Heath, who has worked in classrooms across New York City, said having the first black family in the White House has been a powerful example for her students.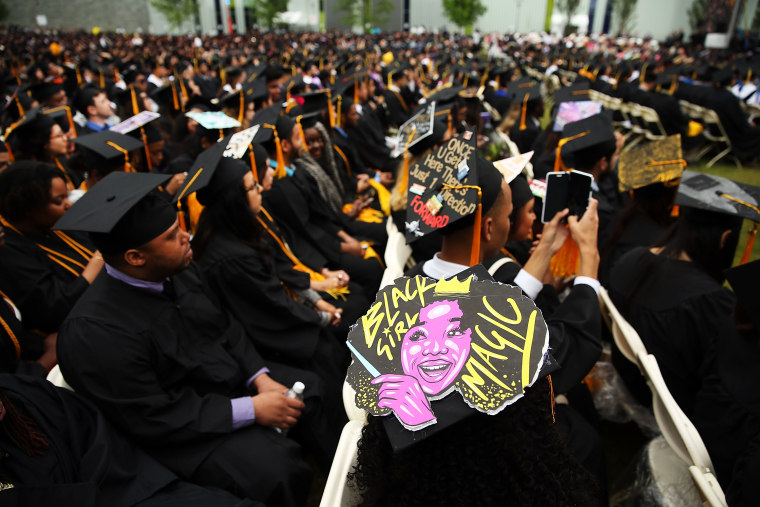 "To know that the leader of this country and one of the most influential leaders in this world may have the same experience as them and can identify with them - I don't even know if there are any words for just the magnitude of that impact and what that means," Heath said.
As the final months of Barack Obama's term approach, it's sobering for Heath to realize that there may not soon again be a pair in the White House so willing to embrace lighter moments on the job — from "hamming it up" reading to young White House guests, to the choreographed dance moves of the First Lady, in her campaign against childhood obesity.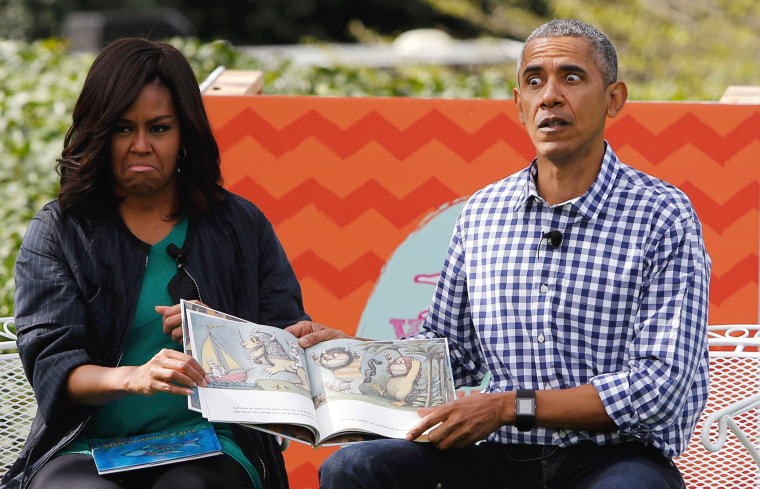 "They're just so incredibly accessible in a way that is so encouraging and just makes you feel like there's nothing you can't do either," Heath said. "Just to have that example no longer there is definitely something that I think as a country we'll be mourning."
As the first lady mentioned in her speech, Heath was invited to the White House United State of Young Women Forum, a precursor to the United State of Women Summit on June 14, to speak about millennial visibility.
"I believe that young women who find their voice and find community then go on to lead and have no issues leading others — that's what we need right now," Heath said.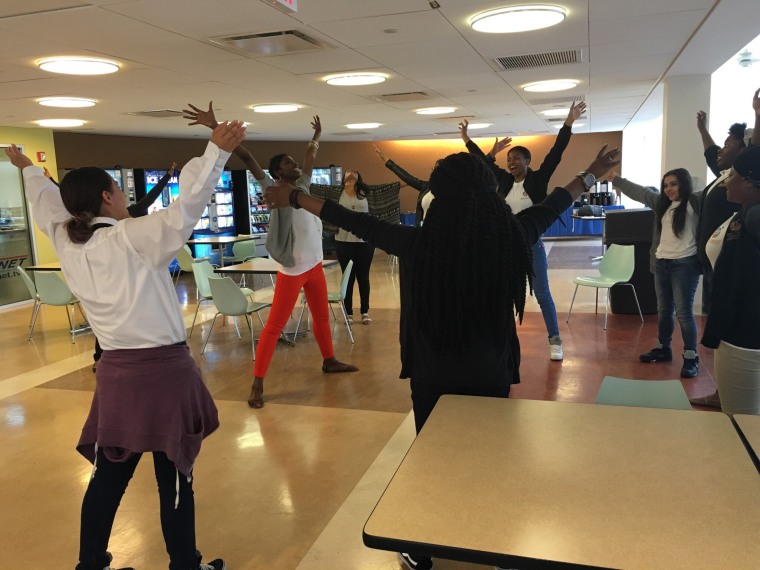 As the honorary chairman of the President's Committee on the Arts and the Humanities, Michelle Obama has been a longtime advocate of keeping arts and humanities in education, stating in the past that they "define who we are as a people."
One program to come out of the committee is Turnaround Arts, launched five years ago to engage students in underperforming schools with theater, dance, and music. Heath said she is excited to hear the initiative, which has proven successful in increasing academic achievement, will continue even after Michelle Obama leaves the White House. Heath too is passionate about the life skills children gain from an education in the arts.
RELATED: A Neighborhood in Flux: Contemporary Art Fair Opens in Harlem
When Heath first started teaching kids in Brooklyn about drama, she noticed the students weren't accustomed to using their imagination. When kids were asked questions like, "what's your superhero power?", she said it might take the entire lesson for them to form an answer.
"I think depending on where folks grow up, they might feel like may have to grow up a little bit sooner, so they don't necessarily get the opportunity to explore their imagination as much or play," Heath said.
In addition to being a teacher, Heath is also a writer of and performer in the AUDELCO-award winning play about the gentrification of Harlem, "Renaissance in the Belly of a Killer Whale."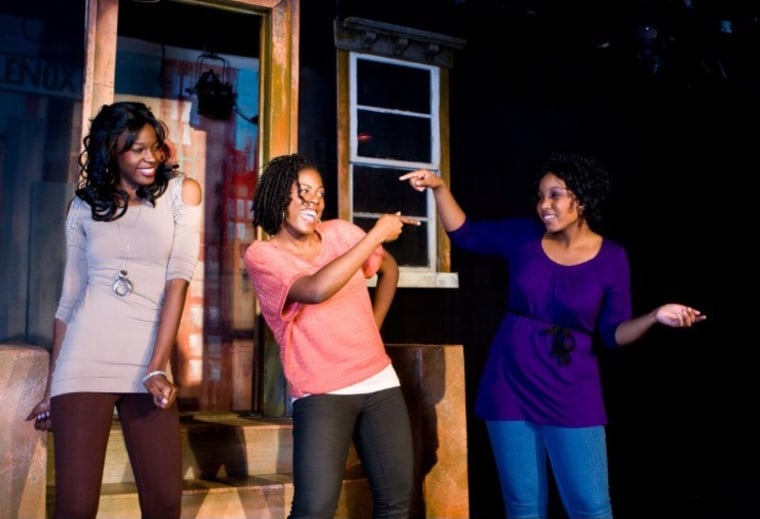 The first iteration of the show was performed in March 2011 at the Schomburg Center for Research in Black Culture, but Heath and her co-writers, Jaylene Clark Owens, Janelle Heatley, and Chyann Sapp have updated the piece since then.
Heath, along with Owens and Heatley, star in the piece, weaving in and out of different characters, some of which are based on real life interactions. In one scene, Heath plays the part of the reporter at the crime scene, imagining the "death" of Harlem. In another, she plays Meagan, a white Teach for America teacher in Harlem who doesn't understand the ramifications of making judgmental comments about how many barrettes are in her students' hair or the length and number of syllables in their names.
"We were able to give a voice to our own feelings and frustrations, so I might be frustrated hearing about that conversation, but I know I can write about it and then share it with folks later who will also be able to identify," Heath said.
RELATED: Not 'Just Another Teen Mom': Foster Child Graduates College, Debt-Free
Heath and many other graduates found the First Lady's message to be an empowering sendoff that resonated with the multicultural audience, of "every color and culture, every faith and walk of life," as Mrs. Obama recognized.
"For centuries, this city has been the gateway to America for so many striving, hope-filled immigrants," she said, noting that she specifically chose City College for her final commencement as First Lady.
The First Lady remarked that there are some today who falsely believe diversity is something that should be detained instead of a resource to be tapped. She stressed the importance of using optimism and openness as a default state, rather than anger and intolerance.
"Here in America, we don't let our differences tear us apart - not here. Because we know that our greatness comes when we appreciate each other's strengths, when we learn from each other, when we lean on each other."