A Michigan police officer has been fired from the Muskegon Police Department following an inquiry into racist memorabilia found in his home that was for sale.
Officer Charles Anderson was terminated after a disciplinary hearing concluded Thursday afternoon, Muskegon City Manager Frank Peterson told NBC News. Peterson said the entire inquiry report would likely be released sometime next week.
Neither Anderson nor the officer's union, the Police Officers Labor Council, could immediately be reached for comment.
Anderson, who is white, was placed on administrative leave last month after a prospective home buyer said he saw a framed Ku Klux Klan application and multiple Confederate flags in his house.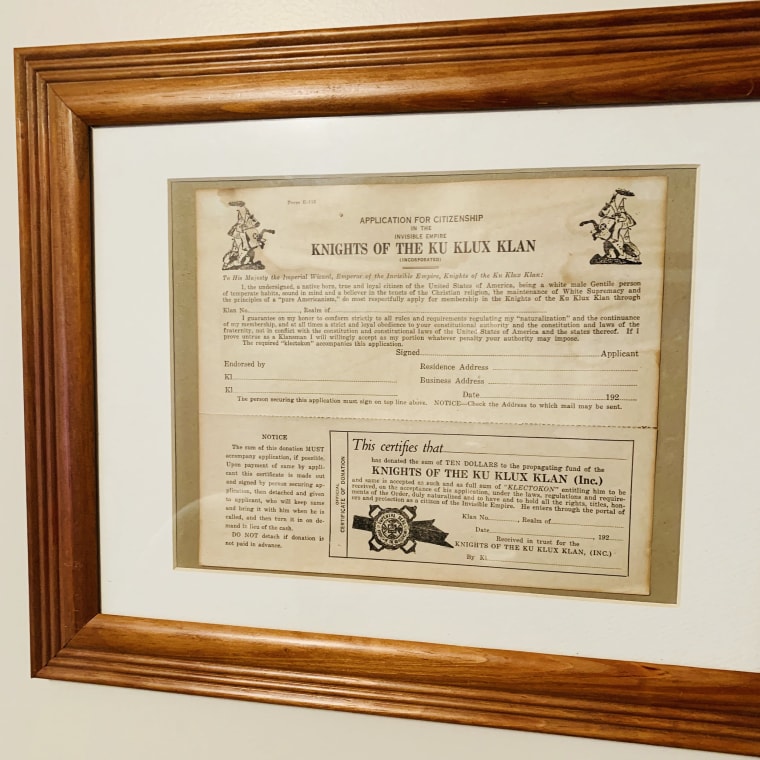 The Muskegon Police Department announced on Aug. 8 that it had opened an internal investigation after a social media post was "brought to its attention" accusing the veteran officer of "being in possession of certain items associated with a white supremacy group."
The man behind the Facebook post, Robert Mathis, uploaded a picture of the KKK document on Facebook on Aug. 7 after touring Anderson's home with his wife, Reyna, their two children and a realtor.
Mathis, who is black, previously told NBC News he did not know or disclose the officer's identity in the post, but that other social media users identified him in the comment thread.
Mathis said he had received death threats after uploading the images to Facebook.
Rob and Reyna Mathis, who live in Muskegon Township, said they felt a range of emotions, including anger, sadness and shame, after they saw the Ku Klux Klan document inside the house in Holton Township, about 20 miles northeast of Muskegon.
Although Rob and Reyna Mathis originally debated whether to share the photos publicly, they said they felt a need to inform the community about what they had witnessed.
The Muskegon County prosecutor's office earlier told MLive that it will wait for the results of the police department's inquiry before it decides whether to reevaluate a 2009 incident in which Anderson fatally shot a 23-year-old unarmed black man. Anderson was cleared in late 2009 of any wrongdoing in the fatal shooting of Julius Allen-Ray Johnson. The shooting was determined to be an act of self-defense.