When Sandra L. Richards was growing up, Sunday's usually meant a dinner of stew chicken or curried goat, plantains and rice and peas in her Jamaican-American household.
Besides yearly visits to the island, Richards says music, storytelling and of course food were the ways in which her parents kept her and her six siblings connected to their heritage.
"It was important to me because I saw how important it was to my mom and dad that we understood where we came from and we didn't lose it," Richards told NBCBLK.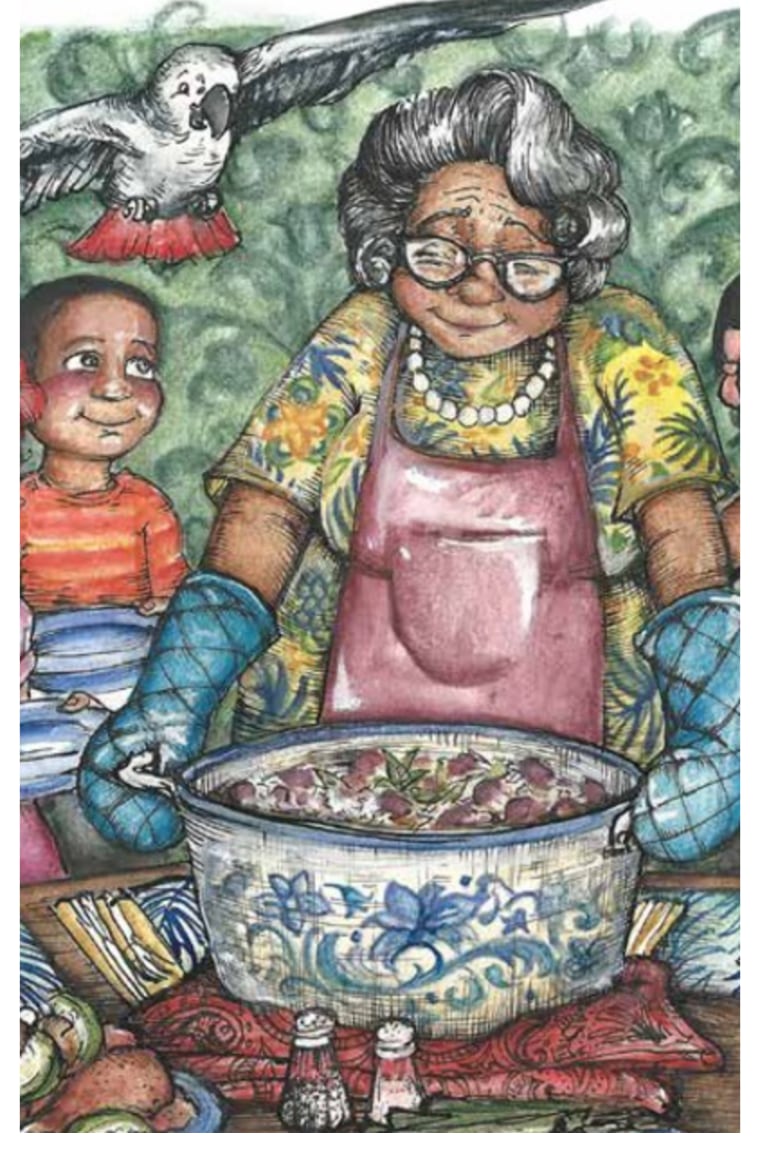 Years later, those family food traditions are being celebrated in "Rice and Rocks", Richards debut children's book. However, the first-time author says it isn't just the traditions that inspired the story, but the uncanny response her nephew Giovanni had to one of them.
"As they say kids say the most darndest things…You can truly hear what they're thinking and seeing with their own eyes as my nephew saw when he referred to the beans (in rice and peas) as rocks," she said.
RELATED: Mom Writes Book, 'Bad Hair Does Not Exist!' For Daughters
Richards' aim to share the importance of embracing the traditions of one's heritage with her nephew Giovanni, as well as her other nieces and nephews, became the focus of "Rice and Rocks".
The vividly illustrated picture book with Giovanni set as the main character, tells the story of how his excitement of having friends over for Sunday dinner quickly turns to embarrassment — his grandma is making a traditional Jamaican meal of stew chicken and 'rice and rocks'.
Since he thinks the beans in the rice dish look like rocks, Giovanni worries his friends will think his family dinner tradition is weird. But, his favorite aunt takes him (and his pet parrot Jasper) on a trip across the globe where he discovers that people from all over the world eat 'rice and rocks' too.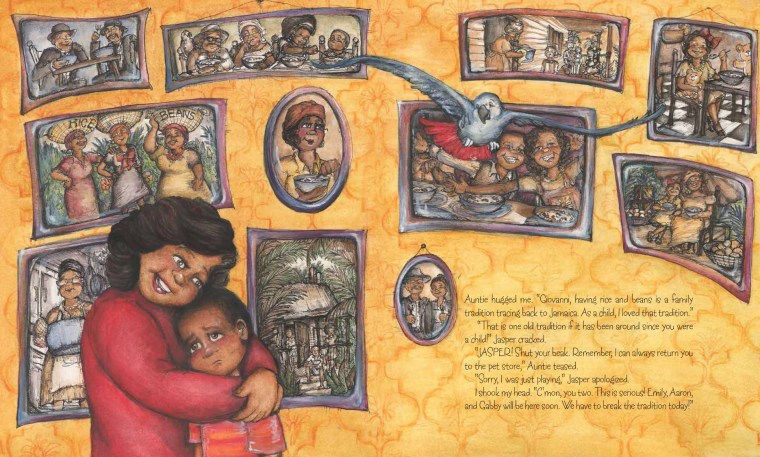 "Food is something that everyone can identify with whether you are eating rice and beans or somebody may be eating roti or somebody may be eating flan…I thought that would be something common that people would understand…everyone could connect with," Richards told NBCBLK.
Beyond food, Giovanni learns about other aspects of cultures from around the world and comes away with an appreciation for his own — 'rice and rocks' included.
For Richards, writing this book — which she sees as an opportunity to encourage others to learn about different cultures— felt natural due to what she already does professionally as Executive Director and Head of Diverse and Multicultural Markets at Morgan Stanley. "It wasn't something foreign to me. Diversity is something that I eat and breathe every day," she said.
Prior to her role at Morgan Stanley, The two-time Seton Hall University graduate served as Director of Corporate and Foundation Relations at The Jackie Robinson Foundation Inc. in New York City. It was in this role that Richards believes her corporate career really began to take off.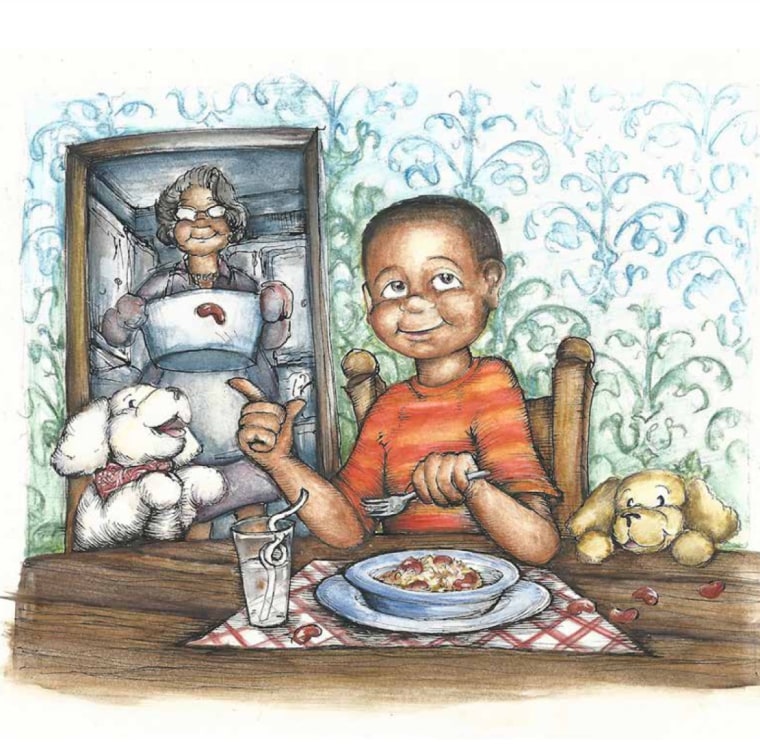 Her outstanding professional work has earned her many accolades including being named to the 2016 Top Executives in Corporate Diversity List by Black Enterprise and selection as one of Morgan Stanley's 15 women of achievement in it's 2015 MAKERS class.
However, Richards' professional life is not what motivated her to write the book. It was death of her nephew Giovanni nine years ago due to meningitis.
"He was always curious, fun and imaginative, especially to look at the beans as rocks," she said. "This book was my way to honor him… I didn't think oh let me plant a tree in his honor. I love to write and I would always think every time somebody asked me about him or oh how's your family doing, I would always recount these stories."
RELATED: Editorial: Beyond Reading Skills: Helping Black Children Identify as Readers
With this book, Richards hopes to not only provide an educational tool for families that teaches children the importance of cultural traditions, but an inspiration to those who have suffered the loss of a loved one.
"Everyone is going to go through a loss and deal with it in their own certain way. And I just wanted to show that you can still celebrate the life of someone whether they were eight like my nephew or like my mom who was 74," she said.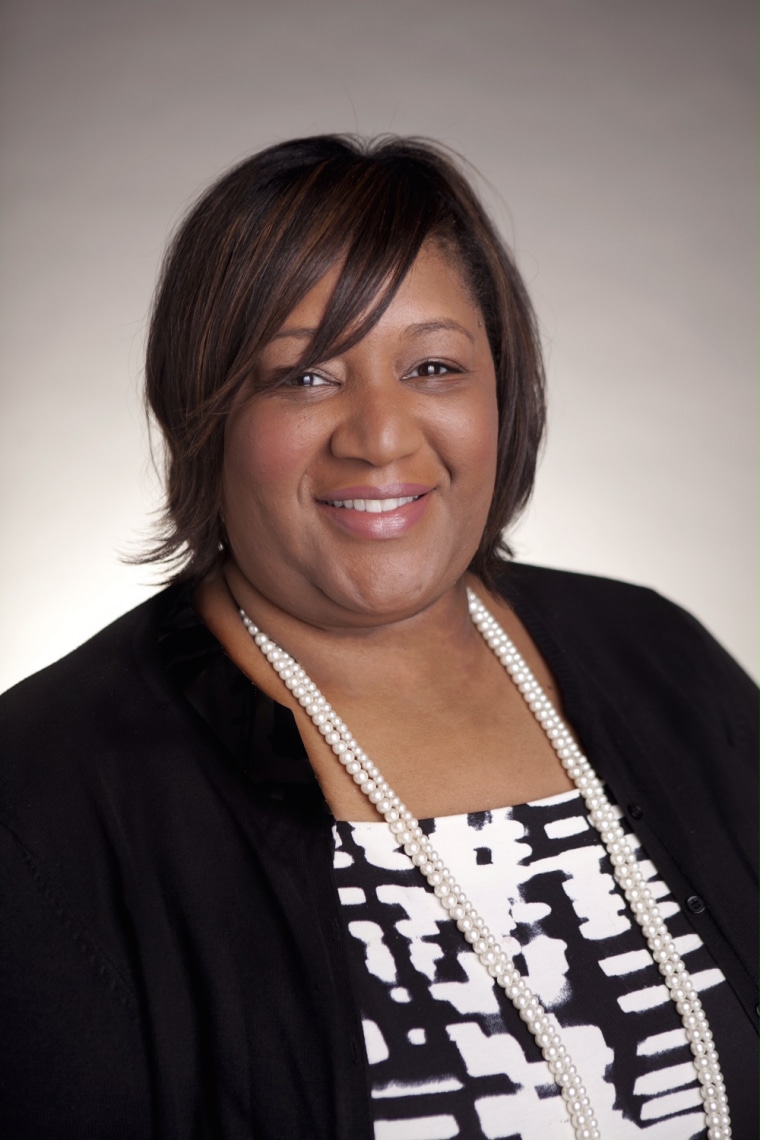 The proud daughter of Jamaican immigrants says the book will now take on an extra special meaning because her mom — the person who started the 'rice and rocks' dinner tradition — passed away in August.
"At a very, very young age you can help to shape and mold kids in terms of how they think about the world... Not forcing them into something but exposing them because no matter where you are from you have traditions. Let's celebrate them," Richards said.
"Rice and Rocks" is now available for sale here.