The rolling hills of Arlington National Cemetery are covered by a slate grey sky on this day. And Army Spc. Anthony Moore is taking on a very special mission for the first time.
Moore is participating in Flags In, the time honored tradition in the nation's most hallowed military resting place, that signals the beginning of the Memorial Day weekend and a moment to pause and honor our fallen heroes.
This is a mission unique to members of the 3d United States Infantry Regiment (The Old Guard), which has the distinction of being the oldest active unit in the United States Army dating back to 1784. The Old Guard is the Army's ceremonial unit serving as honor guard to the President of the United States, and performing burial services for fallen servicemembers, veterans and their family members at Arlington Cemetery.
Most familiar with the unit know them for guarding the Tomb of the Unknowns in Arlington.
Moore, a 22-year-old New Orleans native, joined The Old Guard six months ago, and he is still learning "The Old Guard Way." Even at such a young age, he is a veteran with nearly five years of service and one tour in Afghanistan. During this, his first Flags In service, he has taken moments to reflect as he meticulously places a flag in front of each headstone on his assigned row.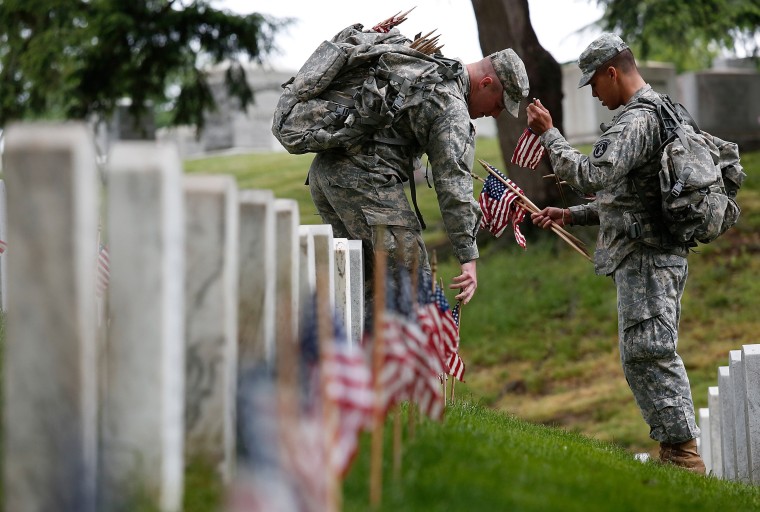 "I was reading some of [the headstones] and some of the wars they had been through, some two or three major wars in our history," Moore said. "God, that had to be rough back then. We have all of this because of these kind of people right here. It's good to honor these people once you see what they have been through."
Many years ago, I had the honor of serving in The Old Guard. Each soldier, from newly minted troops coming from basic training to those battle tested in combat, is handpicked from throughout the Army to join the regiment. It remains one of the highest honors of my life to have served my country in this way.
While tradition, precision and honor remain hallmarks of the unit, there have been significant changes since my four-year tour. The most significant is that, unlike in my time, most of the soldiers placing flags throughout the cemetery today have personally witnessed the hardship of war. And now they have the duty of honoring the fallen every day.
Col. Johnny K. Davis serves as the unit's regimental commander, and he is the epitome of what you would expect of someone charged with leading such a distinguished group. Tall and strapping in his pressed military blues, one would not be surprised if beneath his uniform is a blue shirt with an "S" emblazoned across the front. This is Davis's second tour with The Old Guard. The first coincided with 9/11 when he served as a company commander and rushed to the Pentagon to provide aid and comfort.
"You think of the soldiers that you have lost and the near misses. You think of the possibility of how close it came to you not being here. You think of a higher power."
As a steady rain pelts the pristine white marble of the Memorial Amphitheater already adorned with American flags in anticipation of Memorial Day services and the annual address from President Obama, Davis recalls a day during his most recent tour in Afghanistan that could have been his last.
"That was a rough day," Davis says as he remembers his military vehicle being hit by a rocket propelled grenade in Kandahar during the surge in 2010. Davis's sergeant major provided cover by maneuvering his vehicle in front of his commander's and taking the next hit. Fortunately, his full team lived to see another day.
"That idea of living and serving one another I actually learned here during my time with The Old Guard," Davis said. "It changes you." Two soldiers who served under Davis's command are laid to rest in Arlington.
Later in the day, the rain has moved on, and more than 1,000 members of The Old Guard prepare to enter the cemetery and place a single flag in front of each of the 228,000 headstones throughout the 624 acre property. The entire event takes about four hours.
Here we encounter Cmd. Sgt. Major James Issac Hill, Jr., a 22-year veteran who has served four tours in Iraq, Afghanistan and other areas of intense danger. Just like Davis, Hill too has fallen comrades who are laid to rest in Arlington. He reflects on 15 years of ongoing war, the souls of those who have been lost, and the blessings of those still among us, every day, but even more so during Flags In.
"It's like a video running in fast forward," Hill said. "You think of the good times. You think of the bad times. You think of the camaraderie. You think of the soldiers that you have lost and the near misses. You think of the possibility of how close it came to you not being here. You think of a higher power. You think of what is really your purpose for being spared when someone else was taken."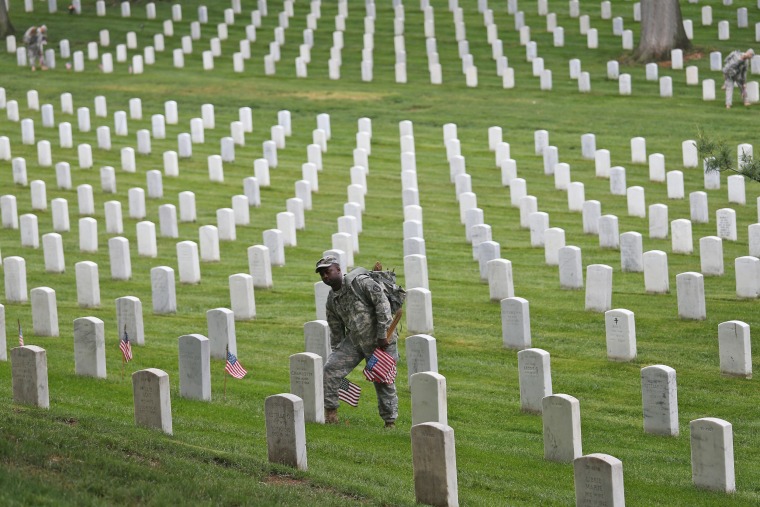 And so on this day, soldiers from The Old Guard place flags throughout the cemetery honoring the well-known, such as General Daniel "Chappie" James, Jr., Supreme Court Justice Thurgood Marshall, and boxing great Joe Louis, as well as those who will forever remain anonymous except to their families and comrades at arms.
On Monday, Memorial Day, the commander-in-chief, President Obama, will once again lay a wreath at the Tomb of the Unknowns. Beyond a distinct commitment to honor, duty and country, each of these men, including President Obama, have one thing in common. They are all African American.
When asked about the challenges facing communities of color across the nation today, Moore, who was encouraged to join the Army immediately after high school by his veteran grandfather, said that where you are does not have to define who you are.
"Don't let where you come from hold you down," Moore said. "You have to push. Strive for it. Go for it." A lot of people have been told what they can't do, but Moore says you can't listen to that. "You just have to go after it."
Unlike any time before, the men and women of The Old Guard understand war, and they understand the importance of honoring the fallen. That is their ultimate mission, and we should thank each of them for their service.