Little known stories of black women's resilience and resistance in tough historical times are taking center stage at the Oscars this year with two actresses earning top acting nominations for their portrayals of black women historical figures.
Ruth Negga is nominated for best actress this year for her portrayal of Mildred Loving, a black woman who with her white husband, Richard Loving, challenged state policies that outlawed interracial marriage. Their 1966 Supreme Court case, Loving v. Virginia, legalized interracial marriage in the United States. The film "Loving" chronicles the legal and social barriers the couple faced.
Octavia Spencer is nominated for best supporting actress in "Hidden Figures" for playing Dorothy Vaughan, a black woman mathematician at NASA who led a team of black women "computers" who executed math equations that helped launch some of NASA's most important missions. The film "Hidden Figures" introduced most Americans to the black women engineers and mathematicians who worked at NASA during the Jim Crow era and beyond.
These nonfictional accounts of black women's lives in film may be resonating with the Academy because such stories humanize black women without leaning on stereotypes the way that fictional portrayals of black women do, said Robin Boylorn, PhD, associate professor in the Communication Studies Department at the University of Alabama.
"When we look at a lived live and we don't manipulate it to suit stereotypical mythic expectations of black women as impenetrable or super women or super stereotypes then we're able to get to the heart of the matter which is essentially humanizing us," said Boylorn, author of "Sweetwater: Black Women and Narratives of Resilience." "But when we're humanized we're seen as a person who other people recognize themselves in even if they're not black women."
Related: New Book 'Hidden Figures' Reveals Black Women Who Helped The Space Race
The Academy recognized black actresses for portraying real black women in the past. Diana Ross was nominated for best actress in 1973 for playing Billie Holiday in "Lady Sings the Blues." Angela Bassett earned a best actress nomination in 1994 for her portrayal of Tina Turner in "What's Love Got to Do with It." Lupita Nyong'o won a best supporting actress Oscar in 2014 for her portrayal of Patsey who Solomon Northrup wrote about in his autobiography-turned-film "Twelve Years a Slave."
Such films and roles may impress the mostly-white voting Academy because black women's real-life stories offer a rare, three-dimensional portrayal that may encompass universal themes, said Naeemah Clark, PhD, associate professor of communications at Elon University and co-author of "Diversity in U.S. Mass Media."
"The Academy votes for portrayals that they can understand. Anyone has been in that situation where you feel like people aren't hearing you," Clark said of Spencer's character in "Hidden Figures," a brilliant mathematician who is reaching out for advancement as a supervisor.
It is no surprise that black women's real-life stories strike a chord with the Academy because black women are "powerful, resilient, full of personality, just the normal things that we know black women have in abundance," said Gil Roberston IV, co-founder of the African American Film Critics Association.
But this year's number of black women nominees shouldn't overshadow the fact there are few complex roles for black actresses to play, Robertson said. The #OscarsSoWhite hashtag of the previous two years noted the absence of black Oscar nominations and resulted in changes in voting and attempts to recruit diverse members into the Academy.
"Because of the infrequent opportunities that black women get to play any kind of role, certainly any kind of significant role, is why you very often seen these first-person biopic-type portrayals do well," he said. "The few roles that black women are being offered are the roles where they can't help but hire black women. If they had their druthers they'd probably try to give those roles to a white woman too."
Related: Why 'Loving' Film's Portrayal of Interracial Marriage is Relevant Today
Besides Negga's nomination for best actress, three of the five nominees for best supporting actress are black women: Viola Davis in "Fences," Naomie Harris in "Moonlight" and Spencer in "Hidden Figures."
The reversal of fortune for black actresses this year compared with no nominations last year reflects the number of good black films with complex representations, Boylorn said. "The fact that there are multiple nominations I think speaks to the excellent work that these black actresses did as much as it speaks to the intentionality of being inclusive."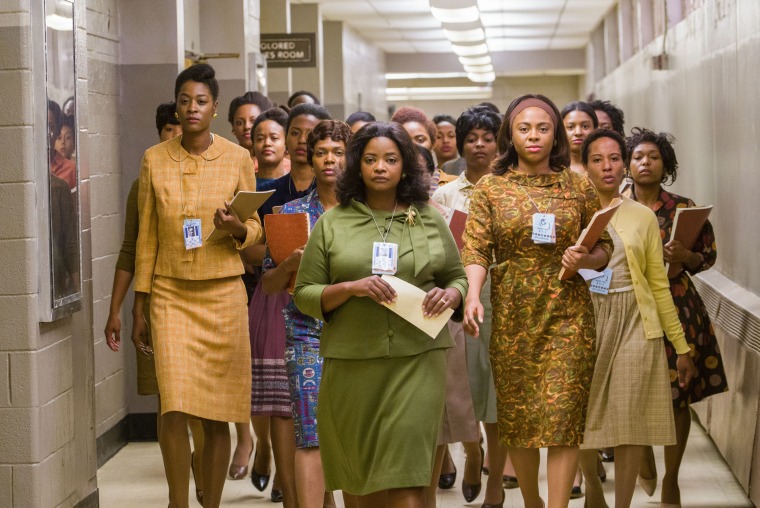 Black actors are also nominated for acting awards this year: Denzel Washington for best actor in "Fences" and Mahershala Ali for best supporting actor in "Moonlight."
"Fences," "Hidden Figures" and "Moonlight," films with principal black characters, are all nominated for best picture. Barry Jenkins is also nominated for best director for "Moonlight."
Related: Naomie Harris on the "Emotional Journey" Of Playing "Moonlight" Character
The critical and commercial success of a film like "Hidden Figures" shows that black women's real-life stories can appeal to audiences across race and age, Clark said. The film earned $167.6 million to date, according to Box Office Mojo.
"This is a family film about black women doing something really cool and there's space. So boys will go. Girls will go," she said. "The PG rating in this case actually helped the film. It opened it up to so many more people."
Boylorn said she is not sure if Hollywood will rush to greenlight more films that reflect black women's real-life experiences. But the idea of the film industry unearthing more previously unknown historical legacies of black women like "Hidden Figures" is a promising prospect.
"People had no idea black women were smart collectively, that we have genius intellectually," she said. "That's exciting for more people to be exposed to these stories of ours."