TikTok unveiled its inaugural Visionary Voices list, recognizing 15 Black creators on the app for their cultural impact on and off the platform.
"Our first-ever Visionary Voices List recognizes 15 Black creators who are innovators in their fields, using TikTok to educate, entertain, and advocate for the Black community while making a significant impact both on and off the platform," the company announced in a blog post.
The honorees include social media creators, musicians, small-business owners and educators. The list is a part of TikTok's Black History Month programming, which will also include music playlists, themed TikTok Live sessions, special hashtags for Black creators and in-person events to celebrate #BlackTikTok in Los Angeles.
Here is the list of visionaries TikTok has spotlighted for their impact on the culture — online and off.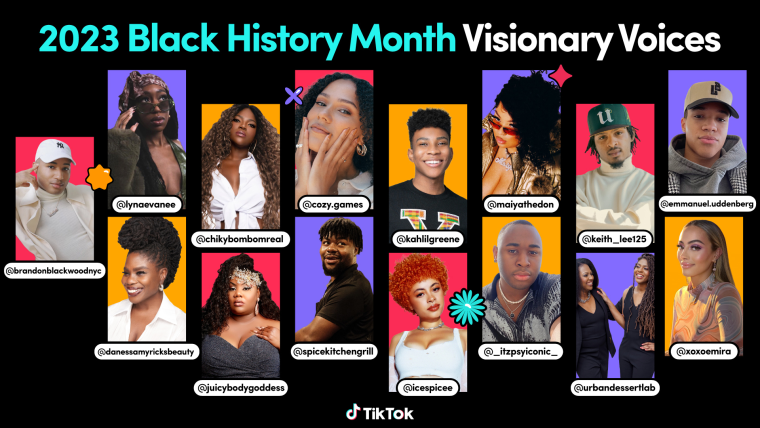 @_itzpsyiconic_Kelon — better known by his alter egos Terri Joe, Jeorgia Peach and Amethyst Jade — hosts nightly TikTok Lives in character. He is known for his funny, provocative content, which he once described to Vulture as "comedy, but being absolutely rude to people."
@cozy.games
Kennedy is known for her cozy gaming and lifestyle recommendations. With an emphasis on self-care, she gives her followers suggestions for comforting games, organizational tips and calming products.
@emmanuel.uddenberg
Emmanuel Uddenberg, a minimalist fashion and lifestyle creator, posts "get ready with me" videos, hauls and styling videos.
@kahlilgreene
Kahlil Greene is a Gen Z historian who started a TikTok series called "Hidden History" discussing lesser-known moments in Black American history. He also covers current events and U.S. politics.
@xoxoemira
Emira D'Spain, a fashion and beauty creator, shares "get ready with me" videos, makeup tutorials, clothing try-ons and skin-care routines. Last year, D'Spain became the first Black trans model to work with Victoria's Secret, and she hopes to "continue paving the way for the LGBTQ+ community," according to TikTok.
@chikybombomreal
Lissette Eduardo is an influencer and businesswoman and a co-host of the Telemundo morning show "Hoy Día." Through her platform, she preaches self-love and female empowerment.
@icespicee
Ice Spice is a sensation on and off TikTok. The rapper's viral hit "Munch (Feelin' U)" blew up on the app last year, and her reign has only continued after she released her first EP, titled "Like...?" in January.
@keith_lee125
Over the past few months, Keith Lee has been changing the lives of mom-and-pop restaurant owners across the country. His food reviews are a hit with viewers, and he recently teamed up with top YouTuber Jimmy Donaldson, better known as MrBeast, to help a small business.
@lynaevanee
Lynae Vanee Bogues is an activist and poet best known for her "Parking Lot Pimpin'" series, which dissects cultural and political issues, such as Ron DeSantis' ban on AP African American history content and the Tory Lanez assault trial. She was recently nominated for an NAACP Image Award.
@maiyathedon
Maiya the Don got her start on TikTok as a makeup artist and beauty creator. Now, she's best known as a rapper, with her single "Telfy" becoming a popular sound on the platform.
@brandonblackwoodnyc
Brandon Blackwood's eponymous fashion brand was founded in 2015. Since then, his accessories — like his signature trunk bag — have become favorites among celebrities like Olivia Rodrigo and Kim Kardashian.
@danessamyricksbeauty
Danessa Myricks has been a makeup artist and educator for over two decades. Her namesake brand has been going viral recently, with beauty TikTokers raving over her "Yummy Skin Blurring Balm Powder." She is known for creating multi-use, inclusive makeup products.
@juicybodygoddess
At Summer Lucille's North Carolina boutique, Juicy Body Goddess, "you gotta be two-somethin' to do somethin'." The entrepreneur is known for her body-positive TikTok videos, in which she hypes up her customers.
@spicekitchengrill
Olumide Shokubi's West African restaurant, Spice Kitchen Grill, has gained a healthy TikTok following for its delectable videos showing off the grill's food. General manager Marcus Bryan uses the platform to share West African street food and the "beauty of Black cuisine" with the world, according to TikTok.
@urbandessertlab
Urban Dessert Lab founders Courtney B. and Zan B.R. have cultivated a devoted following for creating the world's first oat-milk ice cream shop.