As the 2016 presidential primaries and caucuses continue across America (Arizona, Idaho and Utah all have contests on Tuesday), there's no shortage of polls and pundits trying to predict which group of voters can help their candidate win the White House.
But there's one demographic with a proven track record of strong voter turnout, and growing influence as a formidable voting bloc: African-American women.
In some circles, it's been dubbed the "sista" vote.
Data from the U.S. Census Bureau shows that 76 percent of Black women were registered to vote in 2012 -- more than any other gender, race and ethnicity in the country.
Moreover, Black women have led the nation in voting in the past two presidential elections, with the Center for American Progress noting that the group voted in 2012 at a higher rate (70 percent) than any other Americans.
Meanwhile, a newly released report from the Black Women's Roundtable — the 4th annual Black Women in the United States 2016 Report, suggests that African American women are already helping shape the 2016 election.
Besides being pivotal to Barack Obama's historic victories in 2008 and 2012, Black women voters been instrumental to Hillary Clinton's recent primary wins.
"The Black women's vote is the secret sauce to getting progressive candidates elected to local, state and national offices."
In South Carolina, for instance, Clinton won 89 percent of Black women's votes. The former Senator and First Lady won 93 percent of Black women's votes in Alabama, a state where she won just 18 percent of that vote in her first presidential bid.
"The Black women's vote is the secret sauce to getting progressive candidates elected to local, state and national offices," said Melanie L. Campbell, President/CEO of the National Coalition on Black Civic Participation, and head of the Black Women's Roundtable, its women and girls' empowerment arm.
Last week, the Roundtable held its 5th annual `Women of Power' National Summit in the nation's capital, a four-day gathering that drew about 300 black women from across the country.
This was a multi-generational crowd, one where high school students like Jimmesha Leshore and Kaylan Simmons, mixed easily with seniors such as Ernestine Washington.
The whirlwind itinerary was heavy on discussion about the forthcoming presidential election and political education, complete with visits to Capitol Hill. Some attendees took part in a White House briefing, while others met with members of Congress, and attended hearings.
Conference participants also heard from keynote speakers, notably White House Senior Advisor, Valerie Jarrett, as well as representatives from national political campaigns.
Multiple panel discussions offered the women a chance to weigh in on hot-button issues: everything from criminal justice reform and wage equality, to reproductive rights and wealth building.
A town hall meeting, moderated by Teresa C. Younger, president/CEO of the Ms. Foundation for Women, melded intense dialogue with the energy of a pep rally or Sunday sermon.
"Sister, there's power in your vote! Sister, there's power in your voice!" said Florida resident Sheena Meade, to enthusiastic applause.
"I don't have to give you [a] history lesson," Regena Thomas, Ph.D. added, "about people who died for our right to vote."
Gwendolyn Hooker was among those who traveled to D.C. with large delegations from Florida, Michigan, Ohio, and Pennsylvania— well-known battlegrounds for electoral college votes. The Kalamazoo, Michigan resident said she planned to cast her ballot for a president whose "record proves they're doing the work, and they've got their pulse on the community."
"We don't want candidates just coming out 15 days before the election into our neighborhoods," said Hooker, co-founder of a grassroots organization called `Mothers of Hope.' "We wanna see you way before you want our vote."
Establishing a Platform
The Black Women's Roundtable—whose areas of focus include inclusive democracy; economic opportunity; quality education; healthcare and criminal justice issues—has developed a platform its leadership said aims to address matters of importance to Black women and girls.
"We're engaging in a collective strategy to develop solutions through public policy and organizing," said Campbell. "It's not just about registering people to vote. But putting forth our agenda, not only at 1600 Pennsylvania Avenue, but also on First Street."
To assess in a broad way what types of broad concerns that Black women may have, the group has convened forums in several states and conducted research, including an online poll conducted in tandem with Essence Magazine last year.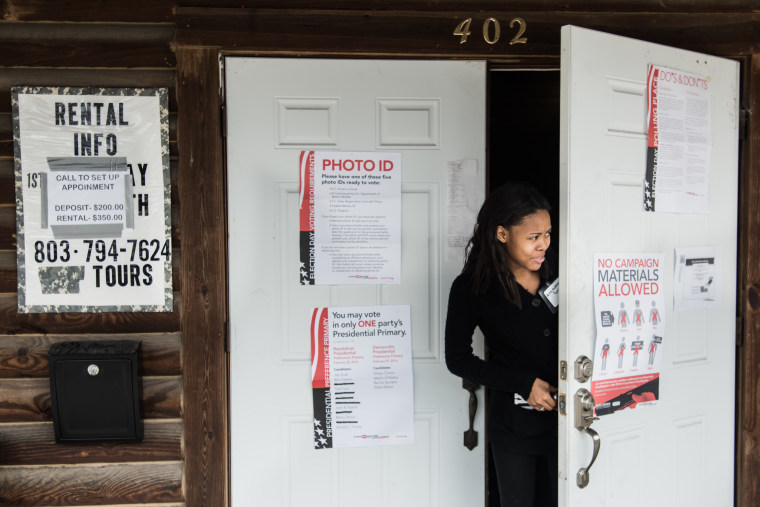 In it, nearly 2,000 respondents were asked about their priorities for the coming presidential election. Affordable healthcare led the list, followed by living wage jobs and college affordability. For women ages 18 to 34, quality public education and criminal justice reform were most cited.
This year, using data and findings culled from its latest report, Roundtable members agreed to prioritize such issues as criminal justice reform, voting rights, wage equity/paid family leave, and economic justice.
Sheila Tyson, a City Council member in Birmingham, Alabama, said whoever inhabits the White House next, must focus on jobs and wage equality. To wit, while White women make 78 percent to the dollar of every man, African-American women earn about 64 percent.
"It's not just about registering people to vote. But putting forth our agenda, not only at 1600 Pennsylvania Avenue, but also on First Street."
"We need to definitely address minimum wage all over the United States. And address women's equal pay and paid sick leave."
Adding that her district is "very poor," (with several public housing projects and numerous abandoned properties), she lamented the high unemployment rate, especially among young Black males. "We have to stop sending all these jobs overseas."
Jacquie Hood Martin, Ph.D, a Virginia resident who heads an educational non-profit called 'Jacquiehood,' cited economic empowerment and public safety among her core concerns.
"Our kids deserve to be raised in a safe environment," said the 50-ish wife and mother, referring to police killings that have spawned such movements as `Black Lives Matter' and `Say Her Name.' "They should be able to live in a community where they're going to be respected just because they're human beings."
High Stakes
The power of the Black women's vote may take on new importance in 2016, because the stakes are incredibly high.
America will not only elect its 45th president, but 435 members of the U.S. House of Representatives, 34 Senators, 12 state governors, and 88 of the 99 state legislative chambers.
Additionally, 41 of the country's 100 largest cities—including Washington D.C., Baltimore, Baton Rouge and Norfolk, all of which have significant black populations— will hold municipal elections for mayor and/or city council.
Some conference participants worried that Black women aren't getting the corresponding respect or clout from candidates' given their high levels of participation.
"We've been put on back burners because we're not the ideal face or don't have the right story."
"I'd like to see us to have a greater role in the political conversation and fully be part of the process," said Rhonda Rhea, a D.C. lawyer and minister. "Right now, there's a lot of reacting to the problems in our community but we should be at the table in greater numbers, actively bringing solutions."
Danielle Atkinson, a Royal Oak, Michigan resident and founding director of "Mothering Justice"-a nonprofit that offers women financial leadership and organizing skills—expressed a similar sentiment.
"Black women are marginalized so much when it comes to issues that are affecting our lives, especially in politics," said the wife and mother of three, who is currently expecting. "We've been put on back burners because we're not the ideal face or don't have the right story."
The reason for that, Atkinson believes, "is how extremely loyal we've been to one party. And the fact that we can be discounted because it's not thought that we have to be courted at all."
She added, "And the other side of things is candidates think there is no use in courting us `cause we'll never change our vote."
The Roundtable report offers insight that may shatter stereotypes about voting patterns in the African-American community.
It reveals that younger Black women are trending away from the Democratic party and identifying more as Independents. Ostensibly, this leaves the door open for increasing numbers of Black women to vote for Republican or Independent candidates.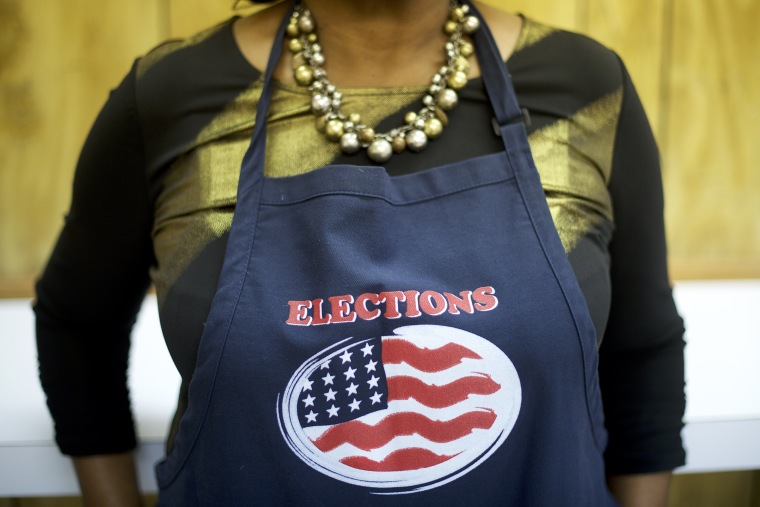 In this primary season, the report also shows a significant increase in African Americans voting in Republican primaries. In the Georgia Republican primary, for example, 7 percent of Black voters supported the GOP-an increase of 100 percent.
And in Virginia, the numbers of Black voters who cast their ballots for Republicans jumped to 9 percent, a whopping 400 percent increase.
The confab gave Antoinette Mutcherson, a Tallahassee, Florida resident who works in government, a greater sense of how she can uplift her community and affect change.
"I'm more committed to voter registration than ever before," said Mutcherson, 31. "As African American women we have a voice and we need it to be heard."
Dr. Cheryl Dickson, a pediatrician from Michigan, said the event gave her a better sense of the influence that Black women can have locally and nationally.
"We need to vote not just for this presidential election, but urge people to vote for all the city, state government races, because it really matters to their day to day lives."
The summit, which included an award ceremony honoring activists and community leaders, was a display of sisterhood, too.
"It really makes me proud to see all these women who are leaders," said Dr. Dickson. "If we are a united front and come together, we can push the agenda, we can push the needle. And that is a pretty powerful message."