He's one of the most successful R&B performers to grace a stage, however Usher's meaningful call to action as a philanthropist surpasses every accomplishment an artist can achieve.
Since Usher entered the music industry at the young age of 14, he's lent his time and talents to various philanthropic organizations such as MusiCares, Do Something, and Stand Up to Cancer. He's also an honorary ambassador for Global Citizens, a position he uses to bring awareness to his own foundation.
In 1999, the megastar and his mother Jonetta Patton, established Usher's New Look to reinforce the importance of solidifying positive relationships between mentors and youth and disadvantaged adolescents.
The organization strives to engage disconnected youth to find a path to leadership, certifying young people in four leadership pillars – Talent, Education, Career and Service.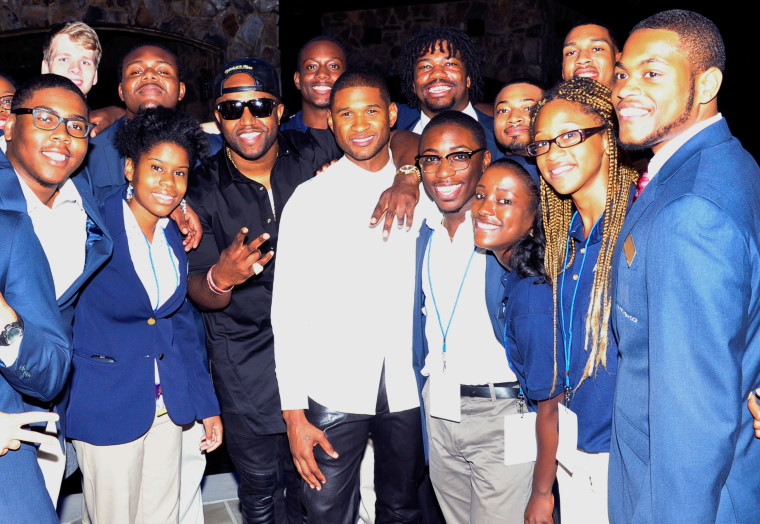 Usher is not one of those fake fundraising-friendly artists who plasters their name to a cause for a decent PR look. When he's not playing with his two sons Naviyd and Cinco, or preparing for a tour, he's often stationed at UNL's Atlanta headquarters making executive decisions with his E-Board members, facilitating leadership orientations and working to expand the foundation in more global regions.
"He embodies what it means to be a servant leader in the community," UNL's Program Strategy Manager and mentee of the crooner, James Harris told NBCBLK. "It's come down to the point where we don't even identify with Usher, the musician. We see him as an entrepreneur, an educator and a full-fledged role model."
UNL has certified and trained over 23,000 youth worldwide. Harris says Usher knows most of them on a first name basis and regularly encourages them simply by interacting with them. "Usher is fully aware that an investment in the youth for today is an investment for our future tomorrow," he continued.
Usher continues to display the same enthusiasm for humanity within his music, recently releasing the song "Chains", featuring Nas and Bibi Bourelly, exclusively on Tidal. Musically, it's probably the most reflective narrative regarding this nation's present condition released by any artist. He unapologetically addresses the detrimental effects of police brutality head on in the most honest, descriptive way.
You act like the change, tryna throw me in change
Don't act like you saving us, it's still the same
Man don't act like I made it up. You blaming us, let's keep it one hundred
You gave the name to us, N****
Nas raps,
We got a problem that needs some acknowledgement
I am no prison commodity, not just a body you throw in a cell.
For any reason, just to bother me
Just for your quota, so its rest in peace to Sean Bell.
The video, which gives fans one hell of an emotional interactive experience, is an ode to the fallen soldiers of racial injustice. Amongst them are Michael Brown, Trayvon Martin, Eric Gardner, Tamir Rice and Amadou Diallo. As their faces become visible, text appears with their age, circumstances of their untimely deaths and the legal fate of the officer's actions.
Usher enlisted the partnership one of his mentors, legendary artist and social activist Harry Belafonte, to launch the Chains campaign. Sankofa.org, Belafonte's nonprofit organization has provided support for victim families throughout these horrific ordeals. Sankofa was able to bridge the gap with Usher, who was able to reach out to personally engage with these families and incorporate their presence in the sentimental visual.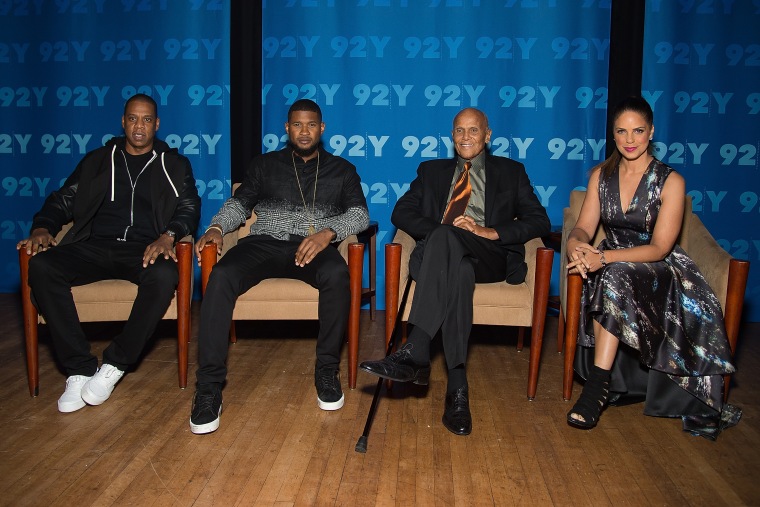 Usher recently joined Jay-Z and Belafonte in a conversation moderated by Soledad O'Brien at the 92Y in Manhattan to discuss their commitment to "Breaking the Chains of Social Injustice." Here are excerpts of the Usher's part in the discussion.
Launching 'Chains' on TIDAL
Reaching out to Jay-Z was very significant. For many years, we've discussed significant messaging by standing in the light. It's a light that serves all of us, my children, and your children. It serves a country that is supposed to be a land of the free and opportunity, land of optimism and land of true choice. We talked about doing something around another major musical event.
We launched the Chains campaign with the concept of technology allowing you to watch the visual and also face the issue. The idea for me was in order to fix it, you have to face it. The technology provides it as, if you do not look into the eyes of the victim, the music video doesn't play, the music stops. It's an effort that I feel is only opening the conversation -- a conversation that is much greater than the lives that have been lost.
Within the time that we put this together on Tidal, there've only been people added to the equation and not taken away. So when does it stop? When do we really face the troubling issues that are within in our system? We had to see, now we have to act!
Mentorship
A point of reference that's assured with having a mentor is integrity. I often think of the young men and women from inner-cities and impoverished areas where the role models are no longer doctors, lawyers, businessmen and educators. Nowadays, the role models are much different. Be careful what you aspire to be. It's a tall order and it's a step that I've taken to utilize the platform as a result of a harsh reality.
Artists using their platform
Prior to this we were listening to Sam Cooke and I heard so much pain and anger in his voice speaking of the reality of where he was and the anguish going on in that time. What are we choosing to speak about as artists, that's what's important. It's a challenge from him to me to the rest of the artists that have their platforms to be careful of what you say.
There's an enormous difference between where artists like Sam Cooke were and where we are now. The idea that the salvation they were fighting for is what we've arrived at is the reality of what I'm fighting for.
I do have the conversation with several artists because everyone does play a different part, everyone does have a different song and everyone has a different to approach. Coming from a different region everyone understands the universal meaning of a song. What's left is responsibility to dialogue about it.
Also, our votes do make a difference and not just on a presidential level, but on a state level. When we make sure we understand the power state to state of who we elect in office.
Standing on the shoulders of Harry Belafonte
I don't know if I would consider myself an activist as of yet, but I am an actualist. I'm only pointing at the issue so that YOU are activated and YOU are invited to have the same inquisitive nature that I do. To wonder, what can I do to make a difference for my children? What can I do to make a difference for those who I care for? I do consider myself as someone who is a product of a village. My father wasn't there growing up and there are so many people that I now advocate for as a philanthropist.
So working with the youth and helping develop their skills is essential to me, but I can't get to them if they're not convicted with the same of reality of what is currently happening in society. I wasn't there in the 50s or the 60s but I can't think of a better way to get an education about this issue than to calling out to a man who I look at who has cultivated and raised our village.
Mr. Belafonte is a father figure as he is a champion and a hero for a cause that is larger than himself and that has benefited us all. Harry and I will sit around all day and I'll ask him a million questions. He'll talk and I'll listen. But we've never had a conversation in front of people until now.