The National Football League has replaced baseball as the favorite sport in America, literally billing itself as "America's Game." (Any reference to baseball as America's pastime today is muttered ironically or by Cooperstown inductees clinging to the past.)
So it didn't surprise me last December when the Jackie Robinson All Stars, the Little League World Championship Team comprised of mostly black kids out of Chicago, got busted for cheating—violating residency rules—and had their championship trophy taken away. I compared their harsh punishment with what would likely happen with the "Deflategate" scandal:
But Tom Brady is the golden boy of a multi-billion dollar league, so even if NFL Commissioner Roger Goodell found a box of pressure gauges, a can of stick-um and a receipt for 30 Nerf Footballs from Dick's Sporting Goods in Brady's locker he wouldn't dare take back that Lombardi Trophy.
While the evidence isn't quite as blatant as I predicted, Tom Brady has been found guilty of cheating by pushing his equipment manager to alter and deflate footballs during playoff games by the NFL commissioned Wells Report. This provides a slight but consistent competitive advantage to not only Brady but the New England Patriots as a team.
And while a substantive punishment should be obvious and forthcoming, I suspect that "America's Game," just like America itself, has a very funny way of picking and choosing who is held accountable for breaking rules that we supposedly all hold so dear to our hearts.
After both the Ravens and the Colts complained about deflated balls being used by the Patriots the league was shamed into an investigation. And most people thought nothing would be discovered because: 1) The Patriots team owner is a good friend of NFL Commissioner Goodell and 2) Tom Brady gets away with everything.
But it turns out Super Lawyer Ted Wells (who last year investigated the Richie Incognito racial bullying case for the Miami Dolphins) does take his job seriously. Brady lied about knowing members of his team staff, he refused to hand over text messages and emails, and texts between him and staff suggested a "pay to deflate" scheme where equipment managers were offered autographs, shoes and other items in exchange for keeping quiet about their activities.
Americans like to complain about cheating and injustice but as long as the perpetrator has the right look and enough accolades the public will let them slide.
The Well's Report conclusion is the understatement of the year: "It is more probable than not that Brady was at least generally aware" of inappropriate actions taken to alter footballs for his benefit.
That's like saying:
"It is more probable than not that" Bush knew there were no weapons of Mass Destruction.
"It is more probable than not that" the Baltimore Police knew Freddie Gray was in need of medical attention.
"It is more probable than not that" Chris Brown has anger management issues.
You get the idea. Brady's guilt is only for Patriots sycophants and local Boston sports media. The question is not guilt but what, if any, punishment the NFL will mete out. Here's where things get sticky. Brady is rich, famous, white and one of the biggest draws in a billion dollar league. However for years the NFL has been dog whistling by lowering the boom on dozens of less wealthy, less famous and mostly African American players for crimes that did not have any direct impact on how football actually plays out on the field.
Since these aren't black kids from Chicago, the NFL won't take back the Patriot's Lombardi Trophy—and to be honest, I don't know if Pete Carroll deserves it after that boneheaded call on the one-yard-line. But there are other less draconian punishments that would not only demonstrate that the rules apply equally to all players but more importantly, that the integrity of HOW the game is played is paramount.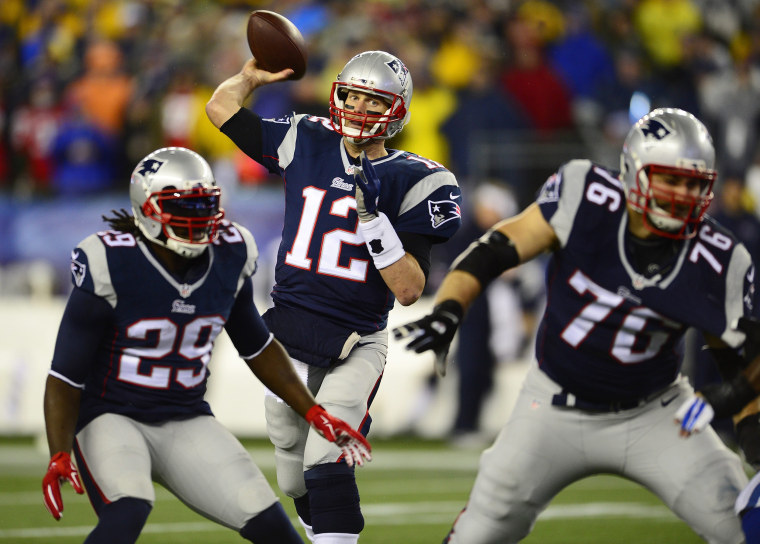 Tom Brady should be suspended for the entire 2015–2016 NFL season. He broke rules that specifically have to do with the integrity of the game on the field, in a way that specifically benefited him and his team.
Not to diminish criminal activity, but off the field behavior only affects the NFL 'brand' not the competitive balance on the field. Steroid abuse while arbitrarily punished still leads to player suspensions. But messing with equipment? And using employees on your team to do so? That goes to the heart of football, and a future Hall of Fame veteran like Tom Brady cannot be excused for such an act.
Of course, all of that is common sense, and fair play, neither of which is a trait the NFL is known for. What is more likely to happen is Brady gets a four game suspension which will have him start the 2016 season on week 5 against…. Surprise, the Indianapolis COLTS! The very team that tipped off the league and got Brady suspended.
Don't put it past the NFL to turn a shameful example of cheating and favoritism into a high profile grudge match game in prime time. Goodell doesn't stay winning for nothing.
If Tom Brady only gets a slap on the wrist I hope the fans revolt. I hope NFL fans turn away from the game in disgust and demand accountability in from the product we watch, enjoy and pay for.
But we won't. Just like NBA fans didn't turn away after the referee cheating scandal, just like Baseball fans didn't turn away after the steroid era. Americans like to complain about cheating and injustice but as long as the perpetrator has the right look and enough accolades the public will let them slide.
If Tom Brady isn't punished for "Deflate Gate," football will have truly become "America's Game" where there is always a pump fake towards merit, equality, justice and fair play but when you get right down to it, the same teams always win.