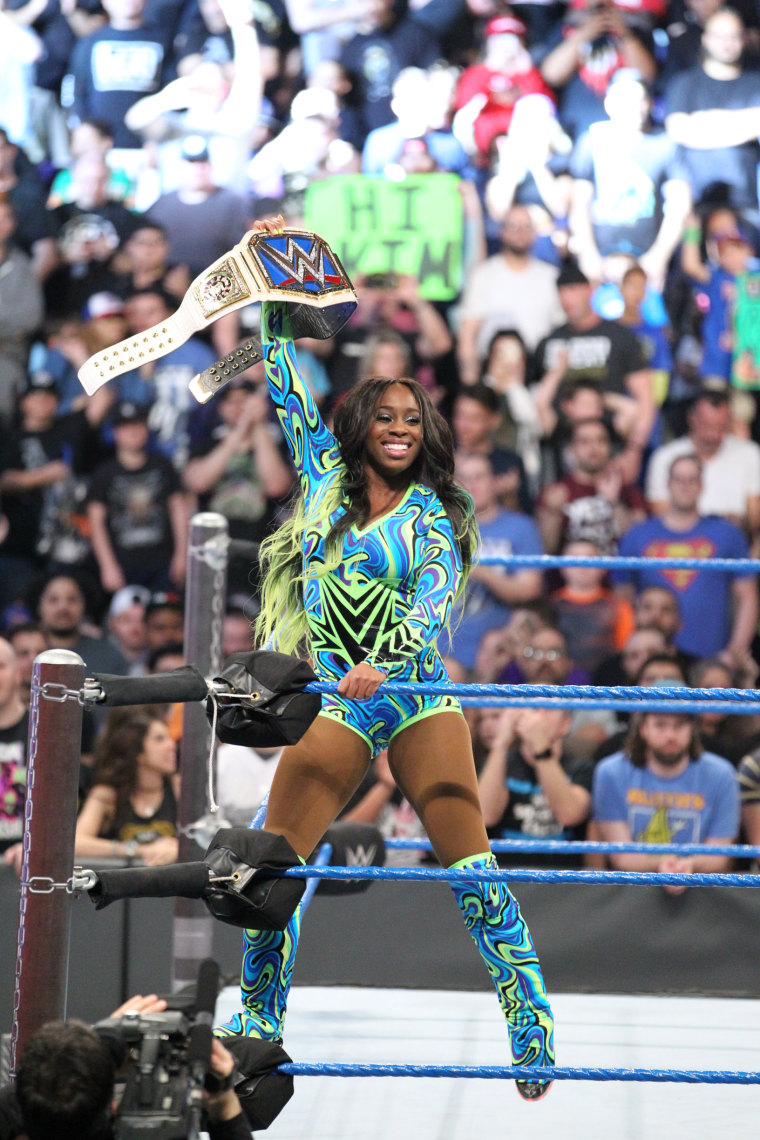 After years of training and captivating the audience with her glow, she now holds the title and the bragging rights.
Trinity Fatu, also known as Naomi in the ring, won her first WWE SmackDown Women's Championship title over reigning champion Alexa Bliss on Sunday night. As the crowd chanted, "You Deserve It" she grew emotional as she held up the coveted championship belt.
"I envisioned this moment for many years. It feels really good to be in it right now. Alexa Bliss has been one hell of a champion," Naomi saidto the crowd after her win. "She snatched me bald tonight literally, but I snatched that title. And I'm taking it home to Orlando and WrestleMania baby."
Naomi's win makes her the first African American woman to win the SmackDown championship title under the new WWE branding. Wrestling superstars Triple H and The Rock took to social media to celebrate her win.
Some say the victory has been a long time coming as her journey to wrestling glory has been unconventional. Before fighting in the ring, the Orlando, Florida native started her career as a professional dancer for the NBA Orlando Magic at just 18. She was also a back-up dancer for rapper Flo Rida, dancing in the background of his shows and in his performance on the Ellen Show. While following her passion for dance she attended her first WWE Live show and realized her passion for wrestling.
RELATED: Mayweather Move Over: Gold Medalist Claressa Shields is the Future of Women's Boxing
"I just knew it was something that I wanted to be a part of," Naomi said in an interview with Ebony magazine. "I saw all the girls' muscles and I was so excited watching that I just started picturing myself being in there. From there I got a tryout and I've been here ever since."
She won her first wrestling title in 2010 as the first Florida Championship Wrestling Divas champion. She gained national spotlight on WWE NXT as a Rookie Diva and by appearing on WWE Raw in 2012 as a dancer for Brodus Clay.
Naomi started competing in the ring as part of tag-team duo "Funkadactyls" with and later on as a member of Team B.A.D. She also appears on E! Network's Total Divas and is appearing in WWE The Marine 5. She is married to WWE superstar Jimmy Uso of "The Usos" Brothers.
Naomi is following behind other black female wrestling victors. Victoria Crawford or "Alicia Fox" is the only African American WWE Divas Champion, winning the title in 2010 in a "fatal four-way" match against Gail Kim, Eve Torres, and Maryse. In 1998, Jacqueline Moore became the first African American woman to win a WWE Women's Championship and the first black woman to be inducted into the WWE Hall of Fame.
As a WWE superstar, she also uses her platform to create change in her community. In 2016, Fatu held a candlelight vigil with Miracle of Love, Inc. at the Miracle of Love Stafford Center in memory of the Pulse Nightclub shooting massacre, presenting a memorial plaque in honor of those who lost their lives.
"From the moment you walked in the door you were truly equal. Pulse represented what we all wanted: happiness, love and equality. We will never forget Pulse. We will never forget friends or families we lost that night."
Looking to take her title to WrestleMania in April, Naomi has another challenge ahead of her as she admitted she suffered a knee injury against Bliss on Sunday. She is determined to defend her title and remain champion.
"I didn't even realize I was injured. I was on such a high from winning my first title and receiving so much love from the WWE Universe. It didn't even phase me," she said on SmackDown Live Tuesday night. "I've been down this road before I've have worked through pulled back muscles, torn tendons, a broken eye socket, it didn't stop me then and it won't stop me now. It has taken me 8 years to get to where I am right now, nothing is taking this moment away from me."