More than 3 1/2 years after winning an Academy Award for "Hair Love," a six-minute animated short film about a Black father learning to style his young daughter's hair before visiting her cancer-stricken mother in the hospital, Matthew A. Cherry has crafted another love letter to Black parenthood in "Young Love," a new sequel series that premieres Thursday on Max.
Set two months after the events of the short, the animated sitcom follows the titular family — natural hair stylist and vlogger Angela Young (Issa Rae), whose cancer is now in remission; music producer Stephen Love (Scott Mescudi aka Kid Cudi); and their quick-witted daughter Zuri Young-Love (Brooke Monroe Conaway) — as they navigate the ups and downs of their personal and professional lives in Cherry's hometown of Chicago. Loretta Devine and Harry Lennix give voice to Angela's tough but loving parents Gigi and Russell, while the guest cast includes Tamar Braxton, Sheryl Lee Ralph and Debra Wilson.
"The thing I think is really unique about our show is that it's centered around Black millennial parents," Cherry told NBC News in a recent video interview. "Typically, in animated shows, the parents are more boomer, more established in their careers, and the idea of exploring millennial parents was cool because they haven't really achieved their dreams yet. They're still working toward their goals, but they want to be present in their kid's life."
Tasked with expanding the world that he had introduced in the film and accompanying children's book, Cherry and his creative team sought to create a TV series that would have similar intergenerational appeal. With the added emphasis on the parents and grandparents, "you get to see how three different generations attack the same problem."
"One of the biggest lessons that we tried to get across with 'Hair Love' was this idea of listening to your kids," Cherry explained. "Stephen was trying to get to the hospital; he was just trying to hurry up and rush her. And when he took a second to actually listen, he discovered, 'I need to take a second sometimes and just really listen to my kid. Sometimes they have the answer that I may not have.'"
It's a lesson that has been carried over to the spinoff. "We really didn't want to portray [Zuri] or any of the kids in the show like they weren't worth being listened to. We wanted them to have these big ideas, goals and dreams and use their imaginations," the creator added.
"Hair Love," which premiered in 2019, was the result of a Kickstarter campaign that launched two years prior and was lauded for pushing back on stereotypes about the presence of Black fathers in their children's lives, while highlighting the importance of telling culturally specific stories with an emotional honesty that makes them feel universal.
Black people "are used to having to have empathy for other lead characters" due to the dearth of positive representation in mainstream media, Cherry said. But "it's amazing that now the tide is shifting a bit, and the best part about art is when you can create empathy for groups outside of your own group and also learn something new. I think, ultimately, it's all about showing we're not so different after all."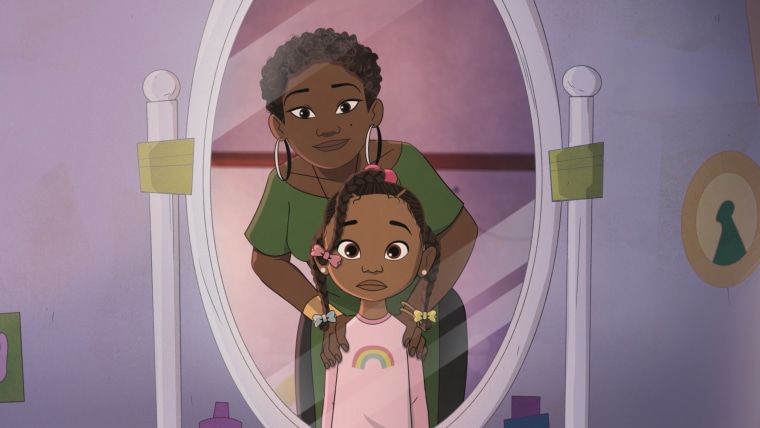 Having grown up with a father who was "one of my Little League coaches and always there with the camcorder recording my games," Cherry said he was simply drawing from his observations of the active Black father figures in his own life.
"When we were developing the short and the show, I wasn't a father yet, but I knew that one day I wanted to be and I wanted her to have these images of a strong family that may not be perfect, but they're trying to figure things out," said the writer-showrunner, who welcomed his daughter with his wife, Candice Wilson, last October.
Considering that animation requires a much longer lead time, the "Young Love" writers and producers wanted to explore broader topics like gender roles and masculinity, as well as enduring issues that directly affect the Black community, such as gentrification, homelessness, racial justice, and the appropriation and exploitation of Black culture. "We didn't necessarily try to tell people exactly how to think about things, but we just tried to present multiple different viewpoints on these issues," Cherry said.
Following the resurgence of the Black Lives Matter movement in 2020, Hollywood studios and networks vowed to further diversify the entertainment industry, but many of those efforts have since slowed down amid cost-cutting measures and ongoing labor disputes.
Although he acknowledges that the business has made significant strides in on-screen Black representation, Cherry said there is still a disparity in talent behind the camera. Without the support of, for instance, animation executive Karen Toliver, who is now at Netflix, "Hair Love" likely wouldn't have reached the same heights, Cherry said.
"You need that representation in all things because ultimately, you're asking people to speak on your behalf," he said. "You can have this really super Black show that is trying to speak to the culture. And if people don't understand that when they're trying to market it, or if the executives don't understand that and they're giving you notes that are trying to dumb it down, you end up in this position where you have this compromised work."
Many Black-led projects have to rely on word-of-mouth or their talent to publicize their own work on social media, because some marketing teams are not willing to invest heavily in promotional campaigns, Cherry said.
"If you don't have that, you end up with these situations where shows end up getting canceled [prematurely] because people don't want to give it the one or two seasons that it may need to actually find its audience," he remarked. "You have to allow projects to get the same treatment that any other show would have, so that it could have the opportunity to have success. … But also, it's on us to make those requests."
 For more from NBC BLK, sign up for our weekly newsletter.