North Korea commented for the first time about a U.S. soldier who ran into the isolated country's territory last month.
North Korean state-run media KCNA claimed in a statement issued Wednesday local time that "Travis King admitted that he illegally intruded into the territory of the DPRK," using the initialism for the Democratic People's Republic of Korea.
Pvt. 2nd Class Travis King, 23, crossed the Demilitarized Zone, or DMZ, the heavily fortified border between North and South Korea, "willfully and without authorization" in July, Defense Secretary Lloyd Austin told reporters last month.
North Korea also alleged that King said he decided to cross into North Korean territory.
KCNA said King "confessed that he had decided to come over to the DPRK as he harbored ill feeling against inhuman maltreatment and racial discrimination within the U.S. Army."
"He also expressed his willingness to seek refugee in the DPRK or a third country," the KCNA report says.
The claims could not immediately be verified.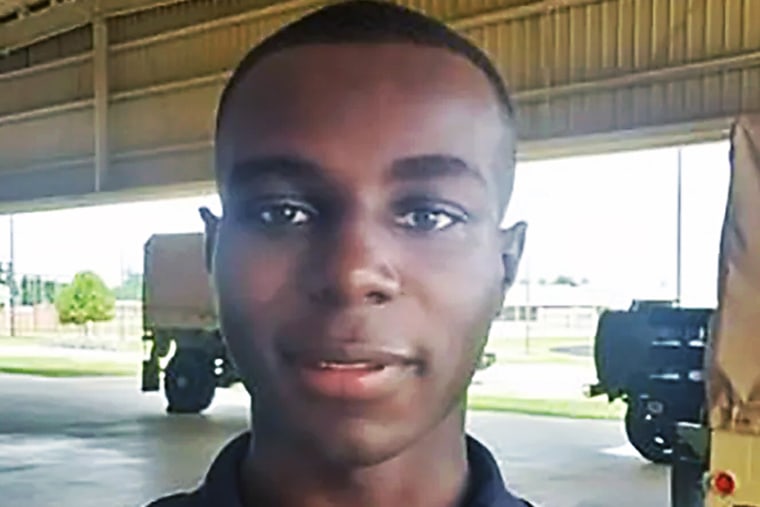 Jonathan Franks, a spokesman for King's family, said his mother, Claudia Gates, is concerned for her son's safety.
"Ms. Gates is aware of today's 'report' from KCNA. DPRK authorities are responsible for Travis' well-being, and she continues to appeal to them to treat him humanely," Franks said in a statement. "She's a mom worried about her son and would be grateful for a phone call from him."
"Lastly, she has been in touch with the Army this evening and appreciates DoD's statement that it remains focused on bringing Travis home," the statement said.
KCNA, officially the Korean Central News Agency, is essentially a mouthpiece for North Korea's authoritarian government.
Defense Department spokesman Martin Meiners said, "We can't verify these alleged comments."
"We remain focused on his safe return. The Department's priority is to bring Private King home, and that we are working through all available channels to achieve that outcome," Meiners said in a statement.
North Korea's statement cannot be trusted because the words aren't coming from King himself, said Victor Cha, senior vice president for Asia and Korea Chair at the Center for Strategic and International Studies, a research organization in Washington.
"Once the North Koreans have custody of Private King, we don't know whether his words are true, or whether they are coerced or exaggerated for the purpose of propaganda," he said.
The Pentagon said earlier this month that North Korea had offered a very brief response on King to United Nations officials, who administer the area of the DMZ where King dashed across the border. The North acknowledged their request for information about King but did not provide any details about his status.
King, who had recently been released from a South Korean prison, was being sent home on U.S. military orders from an airport outside Seoul when he blended in with a group of tourists bound for the DMZ and "bolted" across the border on July 18, the Pentagon has said.
The return of other Americans held in North Korea has usually required a visit by a high-level official or former official from the United States, which does not have official relations with the North.
"What we've seen in the past with detained Americans is a trial, a show trial, and then some sort of sentence usually involving hard labor and prison time," Cha said. "And then the sort of high-politics diplomacy starts to try to get the American out of the country."
North Korea's comments on King come days before President Joe Biden is set to host South Korean President Yoon Suk Yeol and Japanese Prime Minister Fumio Kishida at his Camp David country retreat in Maryland. The growing threat from North Korea is expected to be a major topic of discussion among the three leaders, who are meeting Friday in what the U.S. hopes will be the first of an annual gathering as it strengthens ties with the two major Asian allies.
Tensions between North and South Korea are still high 70 years after the Korean War. An armistice signed in 1953 ended the fighting, but a peace treaty has never been signed.
North Korea routinely objects to South Korea-U.S. combined military drills, and it has stepped up its weapons testing since early last year, including of intercontinental ballistic missiles that may be capable of reaching the continental U.S.
North Korea is also thought to be preparing for its seventh nuclear test, which would be its first since 2017 and like other weapons testing would be a violation of U.N. resolutions.