North Korea fired four banned ballistic missiles into Japanese waters on Monday, an act that officials in Seoul and Tokyo said represented a grave threat to their countries' security.
The missiles were launched at about 7:36 a.m. Monday (5:36 p.m. Sunday ET) off North Korea's eastern coast, and traveled about 620 miles, a South Korean military official told NBC News. They landed in the East Sea, which is also called the Sea of Japan, the official added.
Japanese Prime Minister Shinzo Abe said "strong protests" had been lodged with North Korea over the incident.
"The launches are clearly in violation of [U.N.] Security Council resolutions. It is an extremely dangerous action," Abe told Japan's parliament.
Some of the missiles landed in waters as close as 190 miles from Japan's northwest coast, Japan's Defense Minister Tomomi Inada said.
That falls within the 200-nautical-mile offshore area where Tokyo has sovereign rights for exploring and exploiting resources, known as its exclusive economic zone.
Monday's launch is the third time that North Korean missiles have fallen in Japan's exclusive economic zone since last August.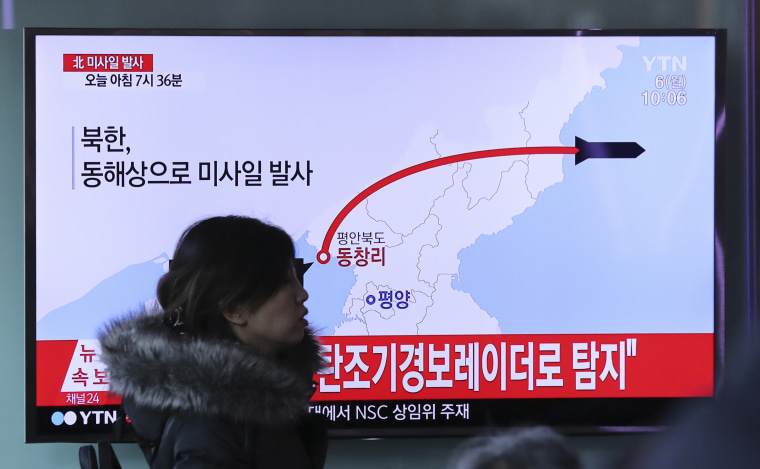 After calling a meeting of the National Security Council's Standing Committee on Monday morning, South Korea's acting president, Hwang Kyo-ahn, said the launch signaled "a real and imminent threat to the safety of our people."
Hwang called on the United States to complete the installation of the Terminal High Altitude Area Defense, an advanced missile defense system that the two countries announced on July 8 to counter North Korea's nuclear and missile programs.
After the announcement, North Korea's military threatened an unspecified "counter-action" that would turn the south into a "sea of fire."
The South Korean official called the latest launch a clear violation of U.N. Security Council arms resolutions and added that it was in response "to the tough stance" of the Trump administration.
South Korean military officials and independent experts said the missiles launched Monday were unlikely to be Intercontinental Ballistic Missiles (ICBMs),
"It sounds like a field exercise involving deployed missiles, probably ones we've seen before," Joshua Pollack, editor of the U.S.-based Non-Proliferation Review, told Reuters.
U.S. Defense Department officials said the missile launch did not pose a threat to North America.
There have been widespread worries that the North will conduct an ICBM test that, when perfected, could in theory reach the U.S. mainland. Washington would consider such a capability a major threat.
Pyongyang has test-launched a series of missiles of various ranges in recent months, including a new intermediate-range missile in February; it also conducted two nuclear tests last year.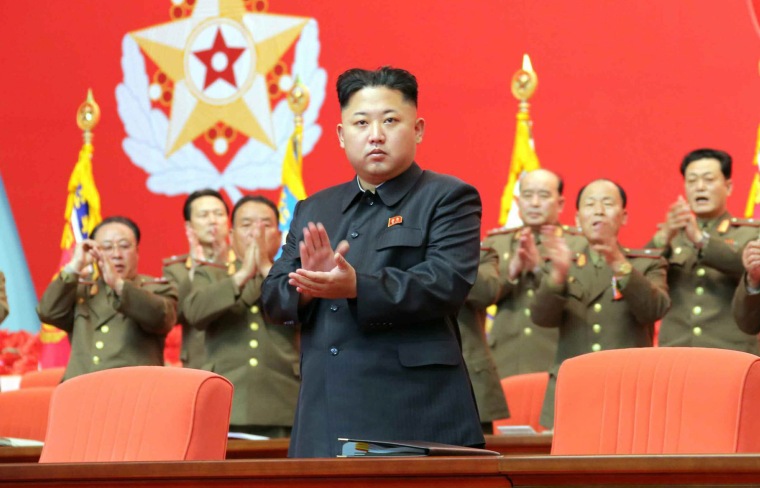 The ramped-up tests come as leader Kim Jong Un pushes for a nuclear and missile program that can deter what he calls U.S. and South Korean hostility toward the North.
Pyongyang on Friday threatened to conduct more missile tests in response to an annual two-month joint-military exercise between Seoul and Washington, which continues through April.
Last month, North Korea launched a ballistic missile toward the Sea of Japan, a move that South Korea's military described as a "show of force" to the Trump administration.
Rodong Sinmun, the North Korean ruling party's official newspaper, said in a commentary that "new types of strategic weapons will soar" if Seoul and Washington continue their annual drills, which the North claims are preparation for war against it, the South Korean news agency Yonhap reported.
But Jeong Joon-hee, a spokesman for the South Korean Unification Ministry, told NBC News that North Korea often fired ballistic missiles "regardless of whether we are holding regular military exercises with the U.S. or not."
"It may look as if North Korea is responding to the ongoing S.K.-U.S. military exercise by firing missiles, but what North Korea really seems to be doing is attempting to discredit the legitimacy of our regular military exercise," Jeong said.