Country music icon Dolly Parton says she's heartbroken about wildfires that tore through the Tennessee county where she grew up, but spared the Dollywood theme park that bears her name.
In a statement released Tuesday by her publicists, Parton said she's been watching the "terrible fires" in the Great Smoky Mountains. At least 14,000 people have been forced to evacuate the tourist area of Gatlinburg, Tennessee, and a dozen people have been injured in the wildfires.
"I am praying for all the families affected by the fire and the firefighters who are working so hard to keep everyone safe," she said.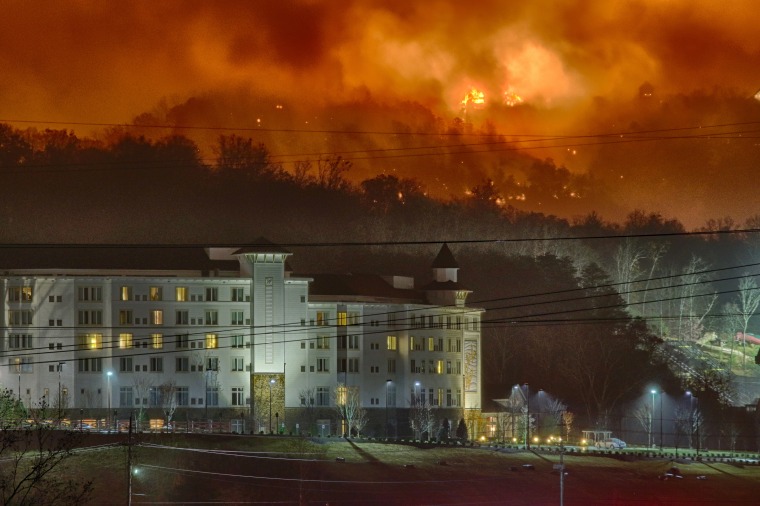 In a video released just hours before the wildfires engulfed Gatlinburg and areas around Pigeon Forge, Parton urged people to prevent forest fires.
Parton appears with Smokey the Bear in the 30-second video released Sunday by Great Smoky Mountains National Park. She tells people to avoid burning leaves and parking vehicles on dry grass, and warns that even a campfire can spark a wildfire.
Dollywood officials said the theme park itself wasn't damaged, but said that more than a dozen cabins operated by the park were damaged or destroyed by the wildfires.
Parton is scheduled to appear on NBC's "The Voice" on Tuesday night, her representatives had previously announced. The plan has been for Parton to perform her 1973 hit song "Jolene" with Miley Cyrus and Pentatonix. Late Monday afternoon, she said her on official Twitter account that she was looking forward to appearing on the show.
Parton is a native of Sevier County, Tennessee, which includes both Gatlinburg and nearby Pigeon Forge, according to historical documents on the park's website. In the mid-1980s, Parton partnered with the Herschend family who ran the park, then known as Silver Dollar City. It opened under the new name of Dollywood in 1986.