Animal-lovers and photography aficionados alike can now vote for their favorite images in the Wildlife Photographer of the Year People's Choice Award, which opened for public voting on Wednesday. 
Shortlisted photographs include a kangaroo and its joey amid charred eucalyptus trees in the wake of catastrophic Australian bushfires. Taken in a burned plantation in early 2020 by Jo-Anne McArthur of Canada, it shows the destruction wrought by the blazes that were at the time tearing through the states of New South Wales and Victoria.
The fires, which ​​killed 34 people, destroyed at least 44.5 million hectares of land and affected nearly 3 billion animals, have been described as "the most devastating natural disaster in living memory."
McArthur's picture is one of 25 images selected from over 50,000 entries from 95 countries, which are available online and on display at the Natural History Museum in London until June 5. Voting will be open until Feb. 2, 2022.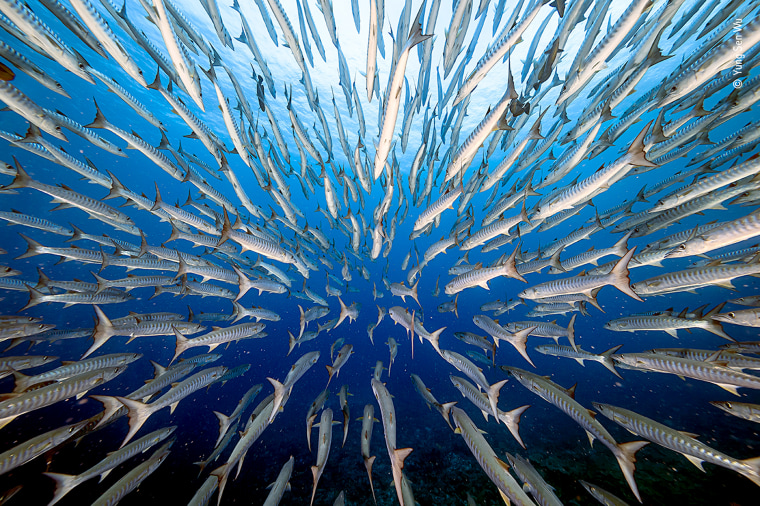 "The People's Choice Award offers striking observations of nature and our relationship with it, sparking our curiosity and strengthening our connection with the natural world," Natural History Museum researcher Dr. Natalie Cooper, who sits on the jury's panel, said in a statement.  
Another entry shows two male lions nuzzling each in Kenya's Maasai Mara national park under heavy rain. Photographer Ashleigh McCord wrote it seemed as if one lion was positioning himself to shield the other from the downpour.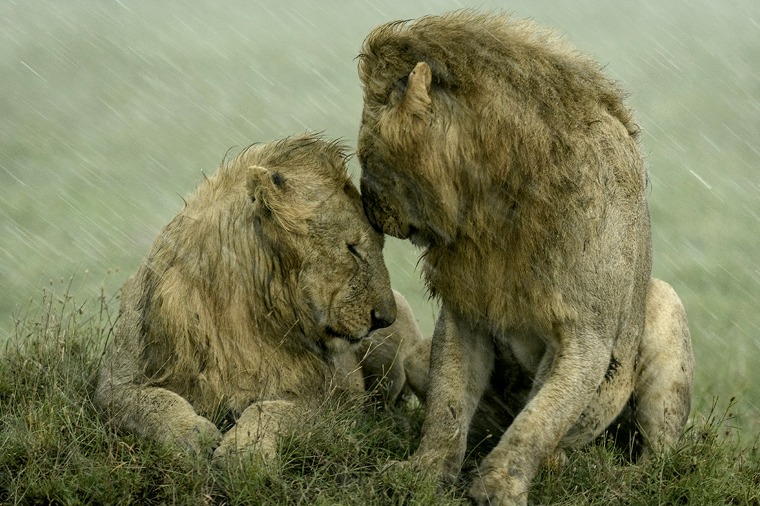 Another contender shows a close-up portrait of a meerkat in South Africa's Tswalu Kalahari Reserve peering into the photographer's lens as four others behind it look off into the distance. German photographer Thomas Peschak adopted an unconventional approach to photographing the curious animals, using techniques normally employed in human portraiture. 
Entries also captured moments between humans and animals, including an image of a Colombian biologist soothing an Amazon river dolphin and baby orangutans playing with a caretaker.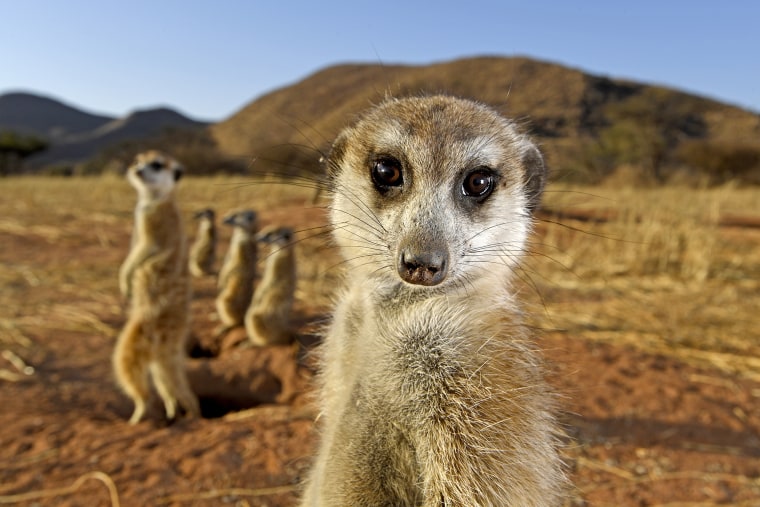 The annual competition is organized by the National History Museum to celebrate both professional and amateur wildlife photography captured across the world. 
"Using photography's unique emotive power, the competition and exhibition shine a light on the beauty and diversity of the natural world to call for its protection," a statement read on Wednesday. 
The 58th Wildlife Photographer of the Year competition, open to people of all ages and nationalities, offers photographers the chance for their images to reach millions across the world.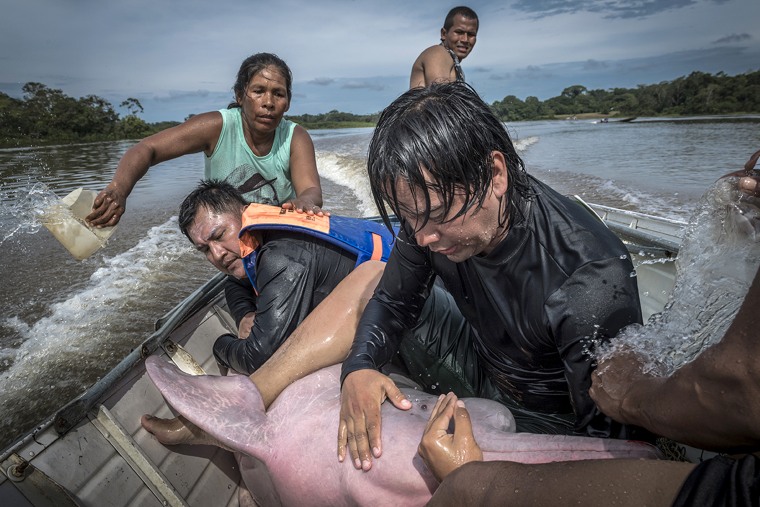 For the first time, entry fees are waived for photographers from 50 countries to encourage more participants from under-represented parts of the world. Countries exempted from the 30 pound ($40) entrance fee include over a dozen Sub-Saharan African countries, as well as Afghanistan, Haiti and the Philippines.
Last year's People's Choice Awards was won by Robert Irwin, the son of the late iconic Australian wildlife conservationist Steve Irwin. His entry showed a bird's eye view image taken by a drone of a line of bushfire ripping through a wildlife reserve in Queensland.