LONDON — For the past week, the world has watched and cheered as 15-year-old tennis sensation Cori "Coco" Gauff has racked up win after Wimbledon win.
But there are two people who are not surprised by her success: Corey and Candi Gauff.
After all, her parents say, this was the plan.
"We are on year seven of a ten-year plan. And part of that was at the end of ten years, that she would be holding a Grand Slam trophy," Candi Gauff told NBC News last week.
"So we're surprised it is coming as soon as it is, but not surprised about her potential."
On Monday Gauff faces perhaps her biggest challenge yet as she plays one-time French Open winner Simona Halep of Romania, currently ranked 7th in the world and previously the world number one.
By contrast, Cori Gauff is ranked 313 in the world and has won the French Open junior girls' title, at the age of 14.
Elsewhere on what has been called "Manic Monday" due to the crammed match schedule at Wimbledon, women's number one Ashleigh Barty, who is yet to drop a set this tournament, faces Alison Riske and in the men's draw defending champion Novak Djokovic is back in action as are former champions Roger Federer and Rafael Nadal.
But after sitting with her parents, one thing is immediately clear: they know their daughter can compete in this galaxy of stars.
It was the first thing they told her after her stunning victory over five-time Wimbledon champion Venus Williams a week ago.
"We gave her a hug and she said 'Mom, really, did you think I could win? Come on, tell me!' And I was like 'Yeah, I really thought you could win!'" Candi remembered.
Coco's athletic ability and competitive spirit come naturally. Her father played college basketball; her mom was a heptathlete and hurdler.
Coco, raised in Atlanta, Georgia, also inherited their drive.
"I never have to say 'go to practice,'" Corey Gauff said. "It's always been her wanting to go practice and asking to go to practice. She's willing to do the work and never complains about the work."
Growing up, her parents exposed Coco to a wide range of sports and activities. She played basketball in elementary school and was a member of the church praise dance team.
But it was clear early on that tennis was her gift. And the Gauffs nurtured it.
When she was eight years old, while playing a tennis tournament in New York, Coco's parents surprised her with tickets to the U.S. Open. It was a special chance to watch one of her favorite players: Venus Williams.
"We paid for really good seats so she could get close enough to get her autograph from Venus," Corey Gauff remembers. "Venus won the match and autographed the ball and gave it to her."
Scrolling through those old photos on his phone, Corey now chuckles in disbelief.
"Seven years later, she's playing Venus," he smiles. "No way that's supposed to happen!"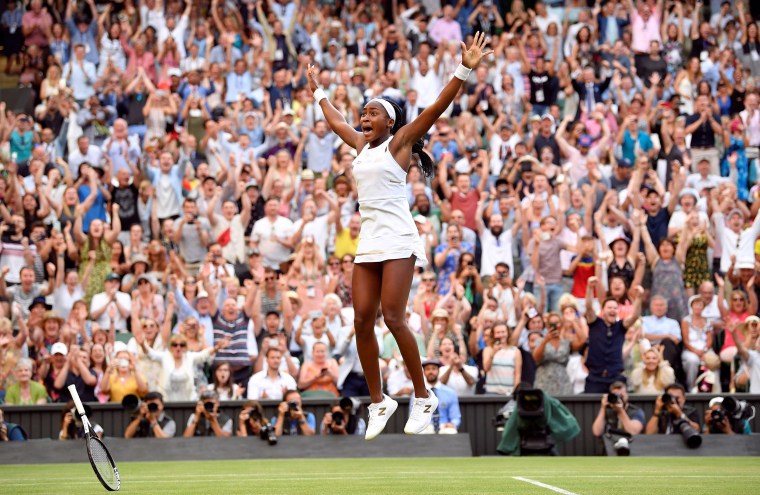 When she's not on court, Coco is still a regular 15-year-old. The night before her round three match at Wimbledon, she rushed upstairs after dinner to get some phone time with friends. She screamed when she saw a social media message from Beyonce's mom. And she laughed off her dad's suggestion she use Eye of the Tiger as a pre-match 'hype song.'"
"It's too old," he laughs.
But on the court, her maturity is far beyond that of someone not even old enough to drive.
She devotes at least 12 hours to practice each week. She has repeatedly thanked Wimbledon for the opportunity to play, and after her win against Williams, thanked the 39-year-old tennis great for paving the way.
And she prays for herself and her opponent before each match, asking that they both stay safe.
That mental fortitude was on display again during Friday's third round match, where the 15-year-old survived two match points to stage a stunning comeback against Slovenia's Polona Hercog.
And, her parents say, developing Coco's attitude on the court has been just as much a part of her training as her technique.
"Have a good presence on the court. Not drop your head, not whining, getting upset with yourself. Cheer yourself on and have good body language," Corey Gauff said of his message to his daughter.
"When you're frustrated with yourself, you can't perform. Not just in sports, but in life. If you're always frustrated, you can't be at your best."
And their advice this week? Enjoy the moment.
"You're 15 playing Wimbledon. We didn't expect you to be here. Nobody expected you to be here," he said. "Just go out and see how good you can be."