Sharon Hughes stayed awake as late as she could Monday night, forcing her eyes open. The widow of the only NFL player to die on the field during a game, she needed to know that history was not repeating itself. She needed to hear that Damar Hamlin was still alive. 
Hamlin, 24, a safety with the Buffalo Bills, was in critical condition after he went into cardiac arrest during Monday night's game against the Cincinnati Bengals. His medical episode stunned fans in the stadium and those watching on television, including Hughes, who saw Hamlin stand up after having taken a hit to the chest, walk a couple of shaky steps and then collapse on his back.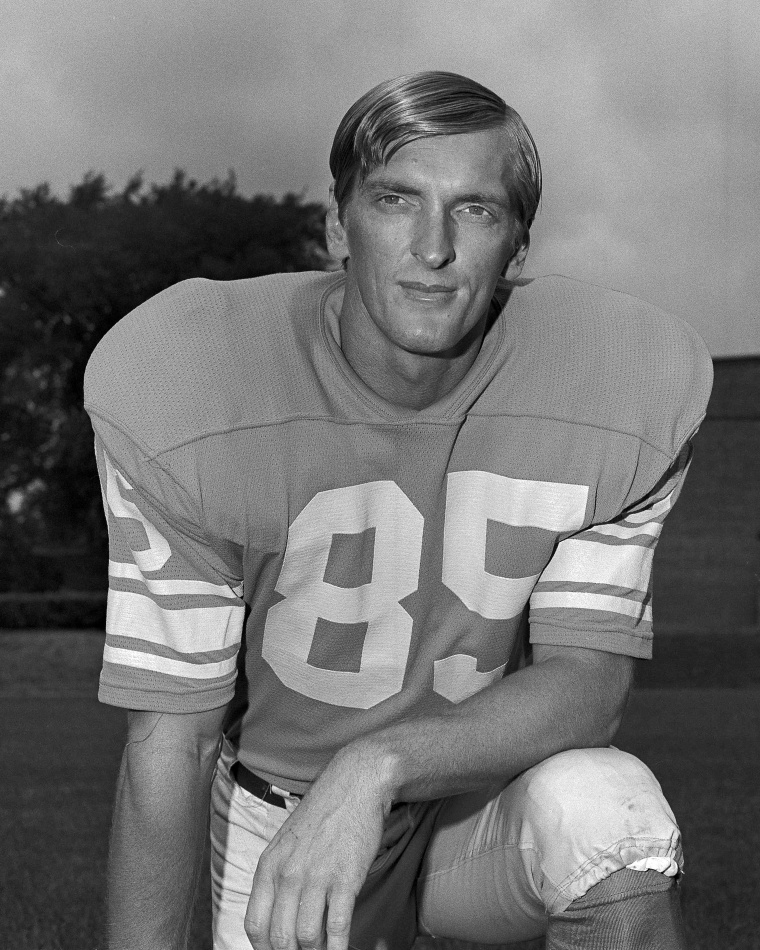 "I was very emotional," Hughes, 77, said Tuesday from her Texas home.
Hughes said she felt an immediate bond with Hamlin's family watching the events unfold Monday. Hamlin's mother was at the game and reportedly rode in the ambulance with him to the hospital in Cincinnati, which Hughes did five decades ago when her husband, Chuck Hughes, was whisked off a field in Detroit.
"Can you imagine how his mother felt?" Hughes asked in an interview. "It's a horrifying feeling, and, well, I just felt so sorry for the whole family last night."
On Oct. 24, 1971, Chuck Hughes, 28, a wide receiver for the Detroit Lions, took the place of an injured teammate in the fourth quarter of a game against the Chicago Bears. With the Lions down 28-23, Hughes caught a 32-yard pass — his first catch that season — and was tackled. Several plays later, with 62 seconds left in the game, he fell facedown to the ground, clutching his chest. 
He had suffered a fatal heart attack. Frantic attempts to revive him, including medical personnel pounding on his chest, were unsuccessful. People in the stadium watched in shocked silence as a stretcher wheeled him away.
"I knew something horrible had happened, because when they were rolling Chuck off the field, one of his arms fell down and his hand was flopping around back and forth, and I thought to myself, 'Holy Christ, I think he's dead,'" Bears defensive end Ed O'Bradovich told the Detroit Free Press in 2021.
As lifesaving measures continued in the hospital, the game resumed before a numbed crowd. 
An undiagnosed condition
An autopsy revealed that Hughes had undiagnosed heart disease and that a blood clot in a clogged artery had dislodged, possibly from a hit he took during the game. The autopsy also showed that it was most likely his second heart attack; the first seemed to have gone unnoticed. He had been hospitalized seven weeks before for what doctors told the family appeared to be a spleen, lung or kidney injury, according to Yahoo! Sports.
He left behind his wife, Sharon, and his son, Brandon Shane Hughes, who was just under 2 years old. 
On Tuesday, Brandon Hughes, now 53, said that he hoped Hamlin makes a full recovery and that if Hamlin's family needed one, "they have a support system here." 
"I would be more than happy to speak with them," he said. "We certainly understand what they're going through."
He also said he hoped NFL players were receiving proper medical screening for the type of heart issues that were not detectable in his father's time.
"What happened to my father in 1971 is the Stone Ages as far as medicine goes compared to today," he said. "Are these young men getting the medical care and screenings that they should?"
Chuck Hughes had loved football since he was little, Sharon Hughes said, and she always supported him in his passion. She said she felt genetics played a bigger part in her husband's death than his chosen sport. 
"You can't blame football," she said, adding, "I never did." 
Little information about Hamlin's medical condition was released after he collapsed Monday night. Sharon Hughes said that she was following the news but that for now, she was focused on just one thing.
"He's alive," she said. "Thank goodness."