Buffalo Bills safety Damar Hamlin was in critical condition at a hospital after he collapsed after having made a hit in the first quarter of "Monday Night Football" against the Bengals in Cincinnati, officials said.
Hamlin, 24, suffered cardiac arrest, the Bills said in a statement early Tuesday.
"His heartbeat was restored on the field and he was transferred to the UC Medical Center for further testing and treatment," the Bills said, referring to the University of Cincinnati's Level 1 trauma center. "He is currently sedated and listed in critical condition."
Cincinnati was leading 7-3 when Hamlin tackled Bengals wide receiver Tee Higgins, stood up and then fell over on his back.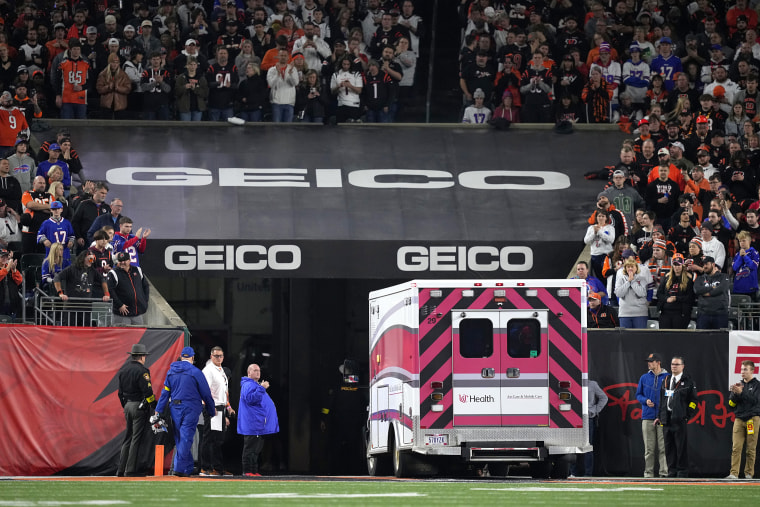 As trainers surrounded Hamlin, an ambulance arrived on the field. Hamlin received CPR for several minutes, the ESPN broadcasters calling the game said. Emotional players and coaches stood by, and the Bills knelt to pray.
Family members were with him, broadcasters said.
The NFL said in a statement that Hamlin received immediate medical attention after the incident.
"Our thoughts are with Damar and the Buffalo Bills. We will provide more information as it becomes available," the NFL said.
The game was suspended and then postponed. Both teams left the field and went to their locker rooms.
The broadcast team in the booth and their colleagues in the network studio were also emotional.
"Monday Night Football" is an ESPN production that airs on ABC.
In a game in which players do sometimes suffer serious injuries, the apparent gravity of the situation was called unprecedented on Monday's broadcast.
The game was suspended with 5:58 minutes left in the first quarter. The NFL officially postponed the contest about an hour later, shortly after 10 p.m. ET.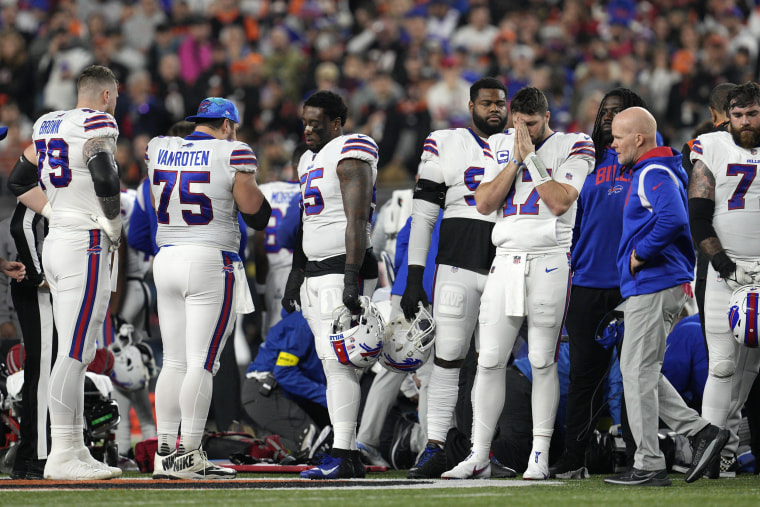 The Buffalo Bills tweeted "Bills Mafia is with you, @HamlinIsland," referring to the player and a name for Bills fans. The Bengals were among the teams that responded with an emoji of hands in prayer. Bills quarterback Josh Allen wrote: "Please pray for our brother."
The NFL Players Association, which is the players union, tweeted: "The NFLPA and everyone in our community is praying for Damar Hamlin.
"We have been in touch with Bills and Bengals players, and with the NFL. The only thing that matters at this moment is Damar's health and well being," the union said.
After the incident an "emergency action plan" went into effect, said Troy Vincent, NFL executive vice president of Football Operations, in a conference call later Monday.
Neither coaches nor players were talking about resuming play, he said.
"It was really about Demar and making sure that — look, I've never seen anything like it, since I've been playing," Vincent, a former cornerback in the league, said. He called it a traumatic event.
Bengals fans arrived outside the hospital in support, video from NBC affiliate WLWT showed.
"Watching that on TV didn't make it any easier," Demetria Tutt said. "To see that and have kids, family members watch that, what happened tonight — no one ever wants to see that. We're just praying."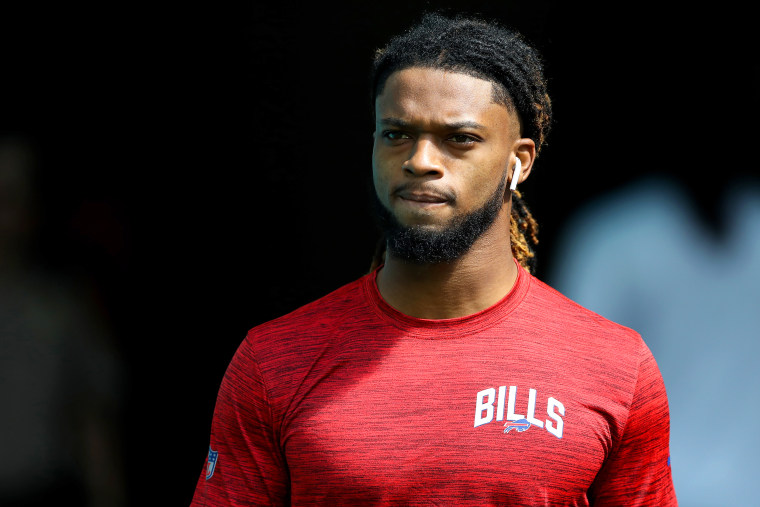 Hamlin is a native of McKees Rocks, Pennsylvania, which is near Pittsburgh, and he was drafted in the sixth round of the 2021 NFL draft.
As Hamlin's college football career came to an end in late 2020, he organized a charitable foundation and toy drive — with hopes of raising $2,500. By 4:30 a.m. ET Tuesday, that total had topped $3 million after fans flooded the page with donations and well wishes.
In his second year of pro football, Hamlin had just come into his own with the Super Bowl-contending Bills.
Hamlin played sparingly last year as a rookie, recording two tackles in 14 games.
But this season, he had taken a much more significant role on his first-place team, playing in all 15 games before Monday and making 91 tackles, 63 of them solo.