A Massachusetts teen was arrested for hurling an unopened can of beer at a float striking Boston Red Sox manager Alex Cora during the team's World Series victory parade on Wednesday, police said.
Patrick Connolly, 19, of Sandwich, was arraigned in Boston Municipal Court on charges of assault and battery with a dangerous weapon, disorderly conduct and being a minor in possession of liquor.
The teen was released and ordered to return to court on Nov. 26.
Video taken during the parade on Wednesday showed a beer can hit Cora as the manager and other people were waving to the crowd while riding on one of the duck boats used during the parade. After Cora was struck with the can, the float stopped and the manager pointed towards the crowd.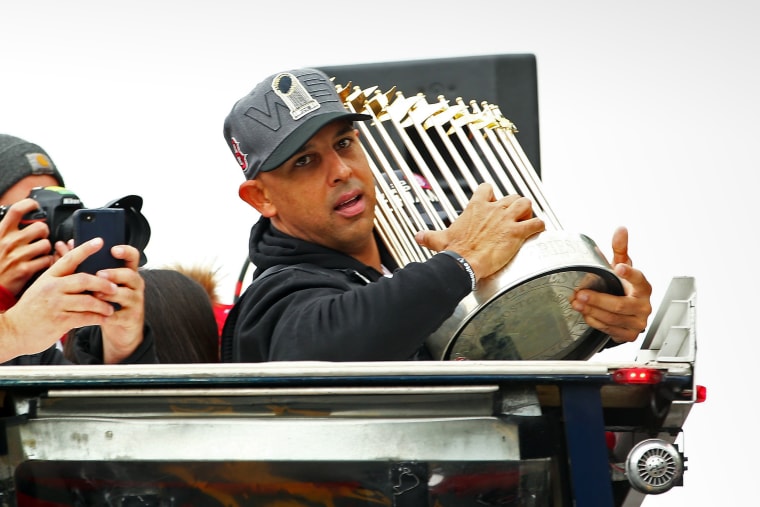 Cora was not injured, and police arrested Connolly.
Several other parade attendees hurled cans of beers at the float, police said. One can hit the Red Sox's World Series trophy and damaged it.
"It's minimal damage that's easily repaired. Not a big deal," Zineb Curran, a Red Sox spokeswoman, told the Boston Globe on Wednesday.
In addition to Connolly's arrest, five people were taken into custody during the parade, police said.
Ben Carbonneau, 20, was charged with drinking in public; Nicholas San Antonio, 19, was charged with being a minor in possession of alcohol; Aliza Hacking and Santina Vanasse, both 19, were charged with disturbing the peace; and a 17-year-old boy was charged with unlawful possession of a firearm and possession with intent to distribute narcotics.
The Red Sox on Sunday secured their fourth World Series victory since their 86-year drought ended in 2004 when they beat the Los Angeles Dodgers for a 4-1 series win.