A 10-year-old boy attacked by a shark off the coast of Oahu this week said the animal "came out of nowhere" and briefly dragged him under the water — but he furiously kicked the animal away.
Raymond Senensi, a 4th-grader, told reporters at the The Queen's Medical Center Thursday that he was boogie boarding and waiting for a wave when the shark "jumped out and grabbed me."
"The shark come out of nowhere and then I just started kicking it and it dragged me under water," Raymond said. "I kicked it with this leg and then I kicked him in the nose," the boy said. "And then I didn't ... I didn't panic after that."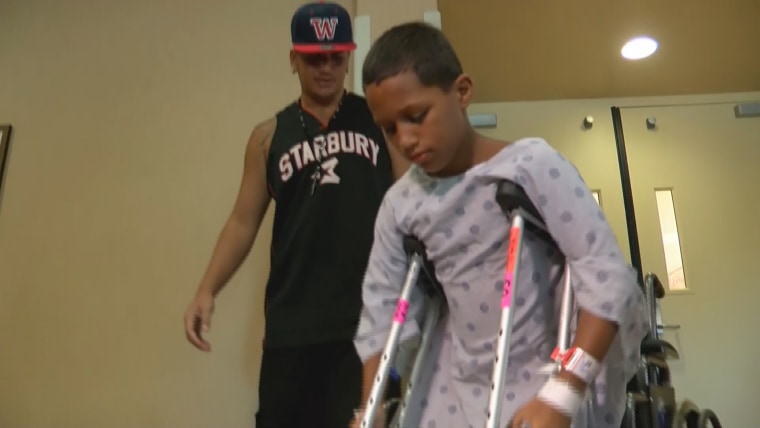 Hawaii's Department of Land and Natural Resources Division of Aquatic Resources said it believes the attack Wednesday was the work of a shark, but could not be certain what kind.
The attack happened at around 3 p.m. local time (9 p.m. ET) about 50 yards off of Mahaka Beach on the west side of Oahu, officials said.
Raymond said he was on a boogie board waiting for a wave when the shark "pop out of nowhere and bite my leg." The boy began calling for help, and two people surfing nearby brought him to shore, NBC affiliate KHNL reported.
Raymond received stitches and will be on crutches before he can walk on it again. His mother, Shirita Moreno, said she told her children to fight back if a shark attacks them. "I told my son to do that, to kick him. Poke his eye," she said.
"He was pretty strong," Moreno said. "I was hysterical, he wasn't. He was telling me, 'Mom, I'm going to be OK.'"
Wednesday's attack is believed to be the seventh shark attack in Hawaii this year, up from six attacks last year but down from 14 in 2013, according to the state Division of Aquatic Resources.
Raymond is the third person attacked by a shark off of Oahu this year, and all of those attacks happened in October. Two other attacks occurred off Hawaii and two others off Maui.
A 44-year-old man suffered serious injuries to both legs when he was attacked by what is thought to have been a tiger shark on Oct. 17.
On Oct. 9, a 25-year-old surfer lost his left leg at the knee in a shark attack off northern Oahu, near a surf spot known as Leftovers.