The bodies of Alex Lowe, considered the top mountain climber in the world during the 1990s, and his cameraman have been found in a thawing glacier in Tibet 16 years after they were buried in an avalanche, Lowe's family and charitable foundation said.
Lowe, 40, and cameraman David Bridges, 29, were part of an expedition that set out to film a documentary series for NBC Sports when they were buried under cascades of snow on the 26,335-foot-tall Shishapangma mountain — the 14th-highest in the world — on Oct. 5, 1999.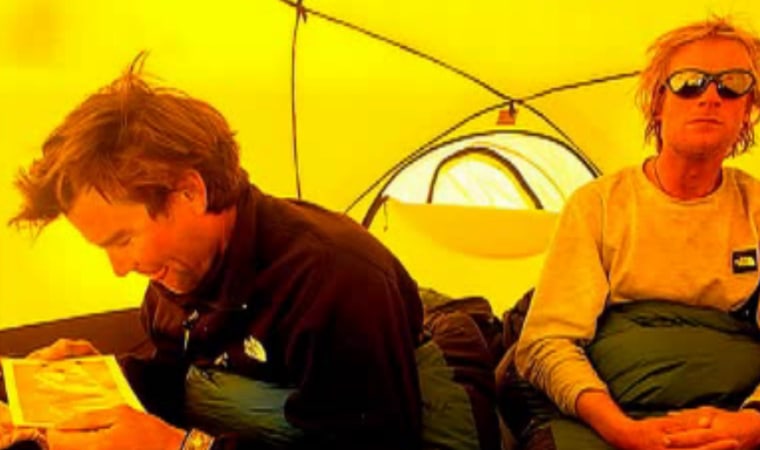 The Alex Lowe Charitable Foundation said their remains were found last week by German climber David Göttler and Swiss climber Ueli Steck, who were acclimatizing for their own ascent on the mountain's south face.
Göttler described clothing and packs found with the remains to Conrad Anker, another member of the 1999 expedition, who identified them as belonging to Lowe and Bridges. Anker, who suffered a head injury and a broken rib, married Lowe's widow, Jenni, in 2001.
"Alex's parents are thankful to know that their son's body has been found and that Conrad, the boys and I will make our pilgrimage to Shishapangma," Jenni Lowe-Anker said in a statement. "It is time to put Alex to rest."
Conrad Anker, who adopted Lowe's three sons, said: "Alex and David vanished, were captured and frozen in time. Sixteen years of life has been lived and now they are found. We are thankful."
'Pretty Much Like the Pied Piper'
Lowe, Anker and Bridges — a respected climber himself — were seeking to become the first Americans to ski down from the summit of Shishapangma for an episode of an NBC Sports documentary series called "The North Face Expeditions," hosted by the musician Sting.
Anker told NBC News' Tom Brokaw in 2000 that he was very close to Alex Lowe and that calling Jenni Lowe from the campsite was the hardest phone call he had ever had to make.
In a 2008 interview on NBC's TODAY, Jenni Lowe described her first husband as "very adventurous, pretty much like the Pied Piper."
"He led me down a road I never could have foreseen. It was full of excitement and passion for life and living," she said. "We lived our dreams together."