The FBI on Friday will offer a new reward for information leading to the conviction of those responsible for a train derailment caused by an act sabotage in Arizona — nearly 20 years after it occurred.
The FBI did not say why the new reward is being offered now to find whoever sabotaged rail tracks in a remote area 70 miles southwest of Phoenix and caused the Amtrak passenger train the Sunset Limited to derail and fall off a bridge at around 1:35 a.m. on Oct. 9, 1995.
The FBI will offer a reward of $310,000, the Arizona Republic reported.
An Amtrak employee was killed and more than 100 of the train's 258 passengers were hurt. The FBI has classified the derailment as an act of domestic terrorism.
Investigators found four typed letters at the scene of the derailment that referred to the deadly federal government actions at Ruby Ridge, Idaho, and Waco, Texas. The letters were signed by the "Sons of the Gestapo" — a group the FBI and observers of extremist movements had never heard of before.
Whoever sabotaged the tracks near Hyder and caused the derailment pulled out 29 railroad spikes and removed a 19-foot section of the track, The Associated Press reported at the time. A wire was used to disable a warning system designed to alert a train operator of a track break.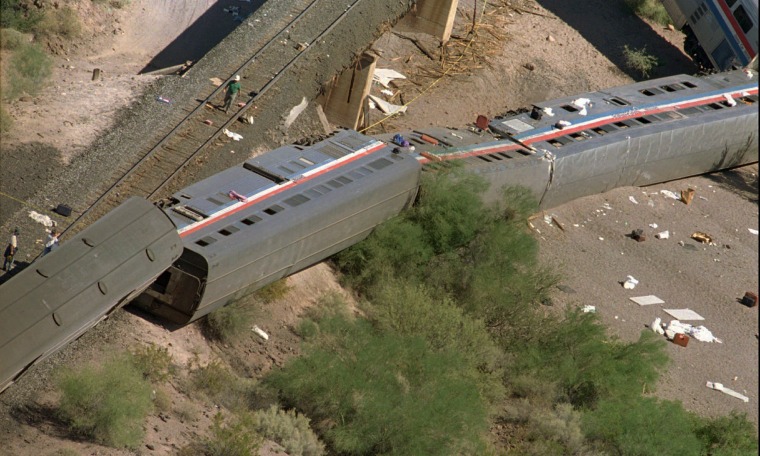 — Phil Helsel