Police departments in South Florida are investigating the discovery of about 30 vehicles submerged in a lake over the weekend.
The vehicles were discovered in Doral Lake, according to NBC South Florida.
A private investigation agency alerted police to the vehicles, Doral Police Cmdr. Alicia Neal said in a statement.
Police in Miami-Dade County and Doral, which is west of Miami, were notified, Neal said.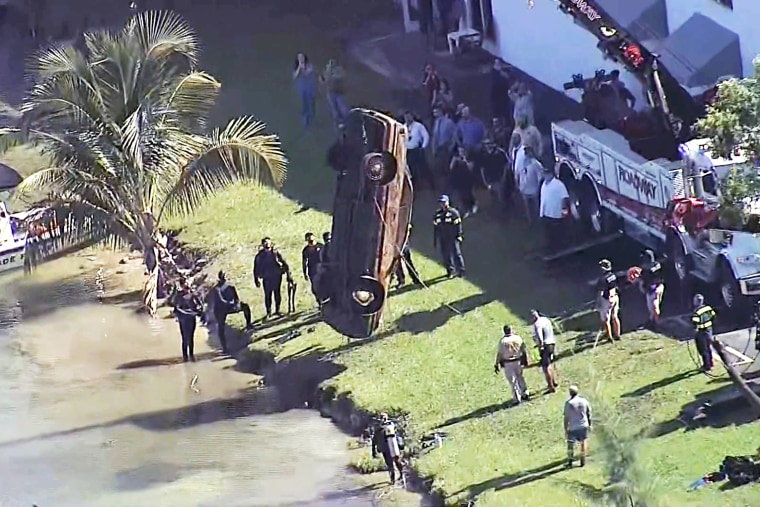 "The respective dive teams from multiple agencies have begun the recovery/extraction of the vehicles and a thorough investigation has taken place," Neal said. "As of this time, four of these vehicles have been recovered and linked to stolen vehicles reported out of different jurisdictions within South Florida, dating back as far as 1996."
The process was ongoing, Neal said. No further comment was provided.
Alvaro Zabaleta, a Miami-Dade police spokesperson, said Tuesday night the vehicles were spread throughout the lake, which is in an industrial area surrounded by warehouses.
Personnel with the private investigation agency that alerted police to the vehicles Sunday were at the lake on a missing persons' case, Zabaleta said.
Investigators have not ruled out any possibilities about what they might discover, Zabaleta said.
"In other words, we have no reasons to believe we're going to find bodies in these cars," he said. "But who's to say that these cars weren't involved in an armed robbery 10 years ago?"
Many of the vehicles were older models and covered in algae, NBC South Florida reported.
"The first vehicle was an Acura Legend that was removed. It was stolen around 2002," Doral Police Chief Edwin Lopez told the station. "The second vehicle was a 1980s vehicle that was stolen in the late '90s."
Cranes were used to lift the vehicles out of the lake, the station reported.