A grand jury has recommended charges against three dozen members of a New York City college fraternity in connection with the death of a freshman who was killed during a "brutal" hazing ritual, police said on Monday.
Five of the young men face third-degree murder charges. Police and prosecutors are expected to announce details at a Tuesday morning press conference.
The victim, Michael Deng, went on a weekend retreat to Pennsylvania's Pocono Mountains with the Baruch College chapter of Pi Delta Psi in December 2013 and never came home.
He and other pledges were were blindfolded and ordered to carry a backpack filled with sand across a snow-covered field while fraternity brothers charged and tackled them, according to police reports.
"The ritual was brutal," police said in a statement on Monday.
"Deng was subjected to repeated blunt force trauma which was applied to three different organ systems of the body to include the head, torso and thighs."
After Deng blacked out from a head injury, other frat members delayed taking him to the hospital, instead calling the fraternity's national president, Andy Meng, who allegedly advised them to hide Pi Delta Psi regalia.
The medical examiner concluded that the delay "significantly contributed" to Deng's death, police said.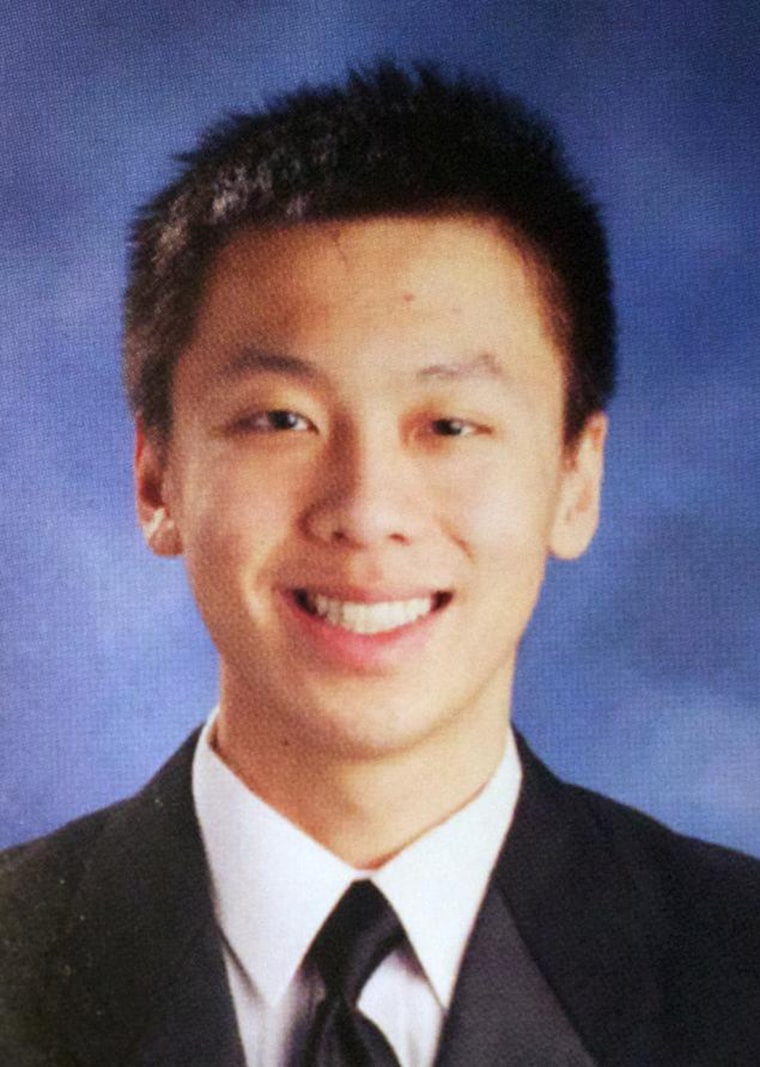 In total, a grand jury convened last year recommended charges against 37 people and the fraternity itself.
Five face the top charges of murder, involuntary manslaughter and aggravated assault — while others face lesser charges that could include hindering apprehension, hazing and criminal conspiracy.
A lawyer for Meng, who faces the less serious counts, said his client was not in Pennsylvania at the time of the hazing and "had no role in his medical treatment and did not impede or obstruct the investigation into his death."
An attorney representing Danny Chen, who faces the same charges as Meng, said charging all the frat members who were present is "not justified nor provable."
"It is regrettable that the DA and the Grand Jury made no distinction as to the individual culpability of each of the young man who was present," said the lawyer, Hugh Mo.
"I believe a number of the defendants would be acquitted by a jury. The tragic death of Michael should not be used to ruin the life of so many young Asian American college students, the bulk of them fully cooperated with the DA and testified before the grand jury."
In a statement, a lawyer for Deng's family — who have filed a lawsuit against the college and the frat — applauded the move.
"Too many families have been devastated as a result of fraternity hazing, with at least one student dying every year from hazing since 1970," said the attorney, Douglas Fierberg.
"Fraternities and their members must be held accountable, and this step by authorities is an important one," he said. "Michael was a wonderful, beloved young man, and, in his honor, the family will also continue pursuing its wrongful death case against the fraternity to cause it and other fraternities to change so that other parents will be spared the loss of a precious child."