Five people, including a teenager, are dead after a house exploded Saturday morning in southwest Pennsylvania, officials said.
The explosion occurred in the area of Rustic Ridge and Brookside drives in Plum Borough, about 20 miles northeast of Pittsburgh, the Allegheny County government said on Facebook, adding that a 911 call came in shortly after 10:20 a.m. reporting "multiple injuries and several houses on fire."
First responders found people trapped under debris and two homes "engulfed in fire," in addition to one that appeared to have exploded and multiple others with the windows blown out, according to the post.
Officials said that three structures were destroyed, that at least a dozen more were damaged and that officials and water tankers from multiple departments were on the scene.
Three people were taken to nearby hospitals, officials said. Two were stable when they were transported and were released, and the third was in critical condition, they said.
Fifty-seven firefighters were treated for "minor issues" at the scene and released, Steve Imbarlina, assistant chief of fire/emergency medical services at Allegheny County Emergency Service, told reporters Sunday afternoon.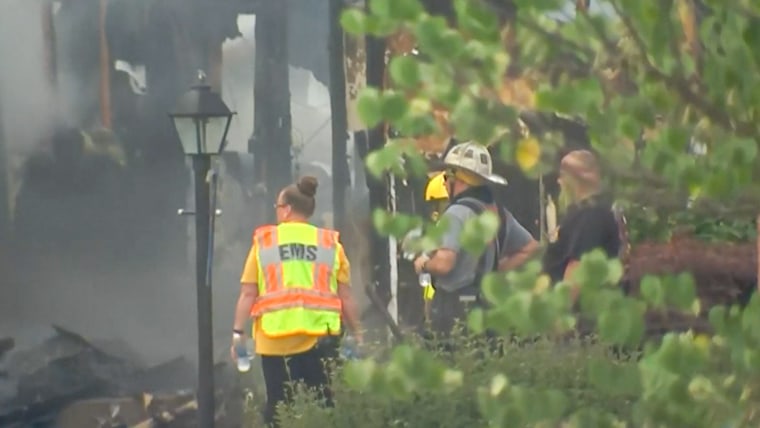 The victims haven't been publicly identified. The Allegheny County medical examiner's office will identify them, the Facebook post said.
Amie Downs, the communications director for Allegheny County, said Sunday morning that no information about the victims was available and that the medical examiner's office "expects that it will take some time for formal identification to be complete."
The cause of the explosion is under investigation by Plum and county law enforcement agencies and the county fire marshal's office. The state Public Utility Commission and local utilities also were at the scene.
Downs said officials don't expect to have information about the cause of the explosion "for quite some time."
Imbarlina said at the news conference Sunday, "This investigation may last for months, if not years."
He said that gas and electrical services were shut off to most of the area Saturday "out of an abundance of caution" and that officials planned to work to restore some of the services.
Peoples Natural Gas said Saturday night on its website that it shut off gas service to about 50 homes in the area as a precaution.
Mike Huwar, the president of Peoples Natural Gas, said at the news conference that the gas system "was operating as designed." He added that it's unclear when services will be restored but said the company is providing resources to assist the fire marshal's office with its investigation.
The address of the home that exploded was 141 Rustic Ridge Dr., Imbarlina said.
George Emanuele, who lives three houses down, told the Tribune-Review newspaper of Pittsburgh that he and a neighbor went to the home before the fire got out of control, found a man lying in the backyard and dragged him away.
Rafal Kolankowski, who lives a few houses away, told the Pittsburgh Post-Gazette that the explosion broke the windows in his house and knocked him and his wife to the ground.
After he recovered and checked on his son, Kolankowski went outside, where a woman told him that another woman had been upstairs and that a man was in the basement. The other woman emerged later covered in white ash, but the person in the basement hadn't yet exited, he said.
"It's just tragic. I mean, it looks like a war zone — it looks like a bomb hit our neighborhood, and it's just unfortunate," Kolankowski said. "I was just with some of the neighbors yesterday, right, and now this happens."
Jeremy Rogers, who lives two doors down, told the paper he had been out shopping when he got an alert about a problem at his house and saw "all sorts of stuff flying around." His family was able to get out safely, and he was allowed to go inside quickly to rescue his dog, although he couldn't find the family's three cats.
Pennsylvania Gov. Josh Shapiro tweeted that he and his wife, Lori, were praying for the victims, adding that his office was working with state emergency management officials to assist local emergency responders.
"As you rebuild, we will have your back," Shapiro wrote.
Officials set up a Disaster Distress Helpline, and the Red Cross and the Salvation Army were assisting affected residents, the Allegheny County government Facebook post said.
Officials were back at the scene Sunday morning, and a news conference was scheduled for noon, the Facebook post said.