San Francisco 49ers quarterback Colin Kaepernick on Sunday defended his decision not to stand for the national anthem at a game two days earlier, saying he is protesting on behalf of people oppressed because of their race.
"This country stands for freedom, liberty, justice for all — and it's not happening for all right now," Kaepernick said.
Kaepernick did not stand as the national anthem played before a preseason game against the Green Bay Packers. The move sparked criticism, and some fans posted videos of themselves burning Kaepernick jerseys and other apparel.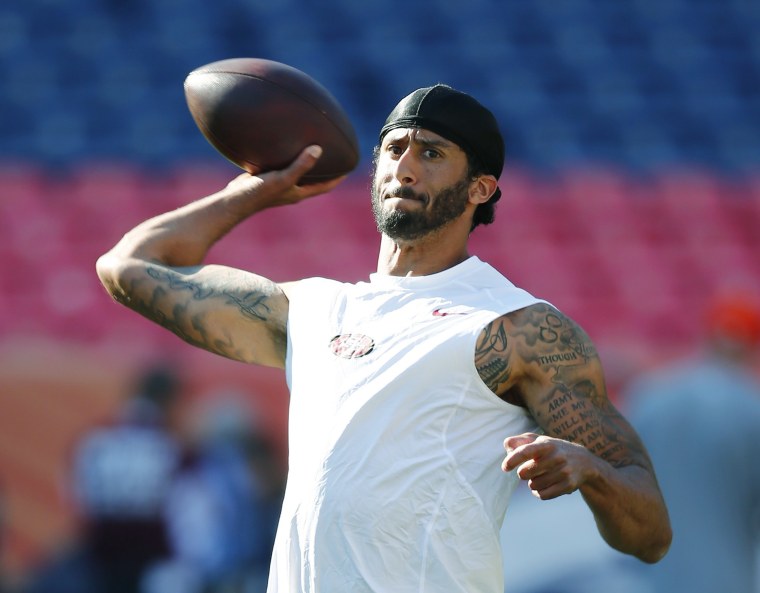 Kaepernick's protest comes amid increased scrutiny over police use of force against African-American men and other minorities.
NBC Sports: 49ers QB Refuses to Stand for National Anthem
Kaepernick said "police brutality" was one of the reasons he sat during the anthem.
"This is because I'm seeing things happen to people that don't have a voice, people that don't have a platform to talk and have their voices heard and effect change," the quarterback said. "So I'm in a position where I can do that, and I'm going to do that for people that can't."
The 49ers in a statement called the national anthem a "special part of the pre-game ceremony" and "an opportunity to honor our country and reflect on the great liberties we are afforded as its citizens," but said it respects the right of an individual not to participate.
The NFL said in a statement Saturday: "Players are encouraged but not required to stand during the playing of the National Anthem."
Kaepernick acknowledged that some took his gesture as insulting the military but said "that wasn't my intention at all."
Kaepernick said he will continue to sit during the anthem before NFL games. He said he has a platform to get his message across that others may lack.
This is the first year Kaepernick has sat during the national anthem. He said it was not tied to the presidential election, but described both candidates as being part of the problems he is protesting.
"I mean, you have Hillary, who has called black teens or black kids super predators. You have Donald Trump, who's openly racist," Kaepernick said.
Hillary Clinton in an April CNN debate said she regretted the use of that terminology, which she used in 1996 while defending her husband's 1994 crime bill. Trump has denied he is a racist.
Kaepernick said he did not plan on the protest to get so much attention, but added, "the fact that it has blown up like this, I think is a good thing."
"Now I think people are really talking about it, having conversations about how to make change, what's really going on in this country and we can move forward," Kaepernick said.