Relatives of more than 60 young people who died of fentanyl overdoses have filed an expanded version of their lawsuit against Snap Inc., arguing that the popular messaging platform Snapchat is a defective product because its disappearing messaging feature facilitates the trade of illegal drugs. 
"Snap and Snapchat's role in illicit drug sales to teens was the foreseeable result of the designs, structures, and policies Snap chose to implement to increase its revenues," said the new complaint, filed at midnight Tuesday in state court in Los Angeles. 
"Snapchat is the go-to means to distribute drugs to children, teens, and young adults through social media, and is involved in a far greater number of fentanyl poisoning deaths of U.S. teens than other social media apps," the complaint said.
In a statement, Snap responded that the complaint "is riddled with false claims about how the Snapchat app works" and about the company's "ongoing efforts to aggressively combat drug activity on our platform and shut down drug dealers."
Deputy Attorney General Lisa Monaco and Drug Enforcement Administrator Anne Milgram met in April with Snap executives, a company spokeswoman acknowledged. Monaco told reporters the meeting was with a cross section of social media company representatives to "discuss how they can — how they must — do more to stop the sale of fentanyl on their platforms." Snap said in a statement it welcomed the meeting. NBC News has previously reported that FBI agents have interviewed parents of children who overdosed after buying drugs using Snapchat, though there is no indication the company is the target of a criminal investigation.
The 205-page complaint — a newer version of a lawsuit filed state court in October 2022 — portrays SNAP as having been born of a desire to conceal inappropriate behavior, noting that its co-founders, who were Stanford students at the time, have described disappearing photos and messages as key factors in their design.
"A motivation for Snapchat's disappearing feature — not just disappearing as between users but permanently destroyed on the back end as well — was to … provide cover for those engaged in illicit and illegal conduct," the lawsuit says.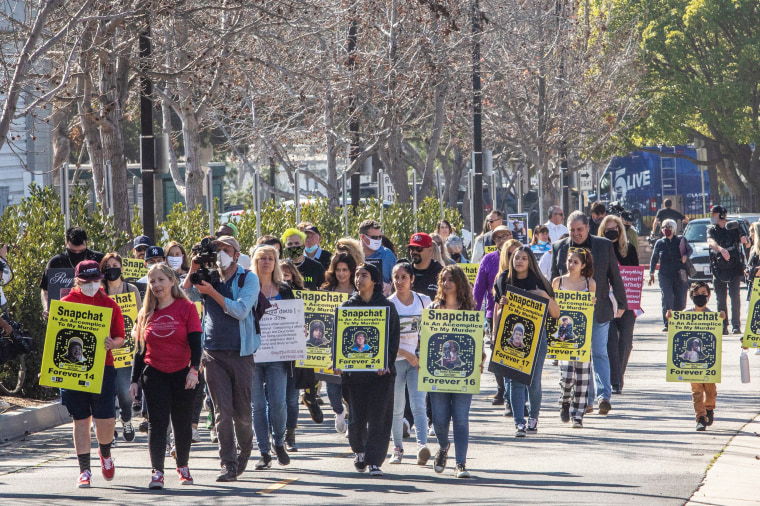 The lawsuit adds that Snapchat is uniquely hospitable to drug trafficking because of this feature, but it goes further to say the company has turned a blind eye, even when notified about specific accounts associated with drug sales.
"Snap frustrates law enforcement's efforts to prosecute individuals who utilize Snapchat to sell illegal drugs in significant ways," the lawsuit says. "First, Snap notifies drug dealers when they receive a subpoena or other legal requests for their account information, giving them time to alter their actions. Second, in some instances Snap takes months to respond to requests for account information, resulting in material evidence being inaccessible due to Snap's automatic deletion design."
For example, the suit says, after 14-year-old Alexander Neville died in 2020 from a fentanyl-laced pill he bought through Snapchat, authorities subpoenaed the company for records relating to the account of the alleged drug dealer.
It took nine months and multiple subpoenas to get an answer, the suit says, and "even after being served the subpoena, Snap continued to let (the alleged dealer) sell drugs on Snap. They did not disable or block the Snapchat Dealer who sold Alexander counterfeit Oxycodone, despite knowledge that (the alleged dealer) was selling deadly fentanyl pills to minors via and because of its Snapchat product."
The lawsuit says Snap's director of global safety operations told parents during an April 2021 Zoom meeting that the reason it had been taking so long to respond to subpoenas is because his department was understaffed. Snap disputes that he said that, but says it has beefed up staffing since then.
Snap said in its statement that "we already have zero tolerance for the sale of illicit drugs on Snapchat."
"We deploy advanced technology to proactively detect and remove drug dealers from our platform, and we continue to strengthen our support for law enforcement investigations, including by continuing to make referrals to law enforcement with the aim of prompting an investigation," the statement said.
The lawsuit includes two new families, including Sam Chapman and his wife, Laura Berman, of Santa Monica, Calif., who lost their 16-year-old son Sammy to an overdose in February 2021.
Chapman joined the lawsuit against the company this week, telling NBC News that he has lost hope that Congress will rein in the company. Chapman is convinced that Snap's algorithm drives drug dealers to teenagers on the platform and says the company should do much more to stop it.
"They need to make it impossible," he said. 
The new amended complaint includes an email exchange Chapman had with Snapchat CEO Evan Spiegel in which Chapman told Spiegel that after his son died, local law enforcement discouraged him from seeking information from Snap about the drug dealer.
"Our son was lying dead on the floor and the police told us not to expect to catch the dealer who poisoned him, because in their cases where Snapchat is involved, they don't get any help," Chapman wrote.
The CEO responded, "We do work with law enforcement, on a daily basis, to bring criminals to justice and to investigate abuse on our platform — including in the case of your son. I understand that you feel we can do better and I agree. We will always work to improve our service. But I believe it is categorically untrue that working with us is a 'waste of time' for law enforcement."
The Santa Monica Police Department said in a statement at the time that it had a "collaborative" relationship with Snap.
Chapman says he's planning on attending a planned protest in front of Snapchat headquarters in Santa Monica on May 12 with families who will be holding pictures of their kids who have died from drugs they obtained on the Snap platform.
Securities records show that Snapchat has 100 million users in North America. In 20 countries, the platform reaches 90% of the 13- to 24-year-old population, the company says.
Worldwide, the total number of users has grown from 319 million in 2021 to 375 million in 2022, the company says.
In October, Snap launched an informational campaign on the dangers of fentanyl.
The company's most recent transparency report shows it took 107,851 unique enforcement actions against accounts for violations related to drugs from Jan. 1, 2022, through June 30, 2022, the most recent data available.
"It is devastating that the national fentanyl epidemic has taken the lives of so many people and we have great empathy for families who have suffered unimaginable losses," the company said in its statement. "We remain deeply committed to doing our part to fight this urgent crisis, working with government officials, other tech platforms, families and safety experts."