New York Jets quarterback Aaron Rodgers suffered an Achilles tendon tear, the NFL confirmed Tuesday, a catastrophic injury that'll sideline him for the rest of 2023 — and could end his career.
An MRI revealed the injury, the NFL Network and Pro Football Talk reported after the Jets' overtime victory Monday night over the Buffalo Bills.
"I feel more for Aaron than anyone," Jets coach Robert Saleh told reporters Tuesday. "He's invested so much into this organization, so much into this journey that he's embarked on."
Saleh insisted his team is focused on the next 16 games, even without its revered quarterback.
"I have a lot of emotions for him," Saleh said. "It's really all about him. I don't look at it as 'woe is me' here. I think guys are excited about being able to step up and continue the things we've been building, but [there's] a lot of hurt for Aaron."
The future Hall of Fame quarterback, whose addition to the Jets was one of football's most talked-about offseason acquisitions, was helped off the field after a sack by the Bills' Leonard Floyd.
Rodgers, who turns 40 this year, had spent this entire career with the Green Bay Packers before he went to the Jets in hope of revitalizing the franchise, which has endured seven consecutive losing seasons.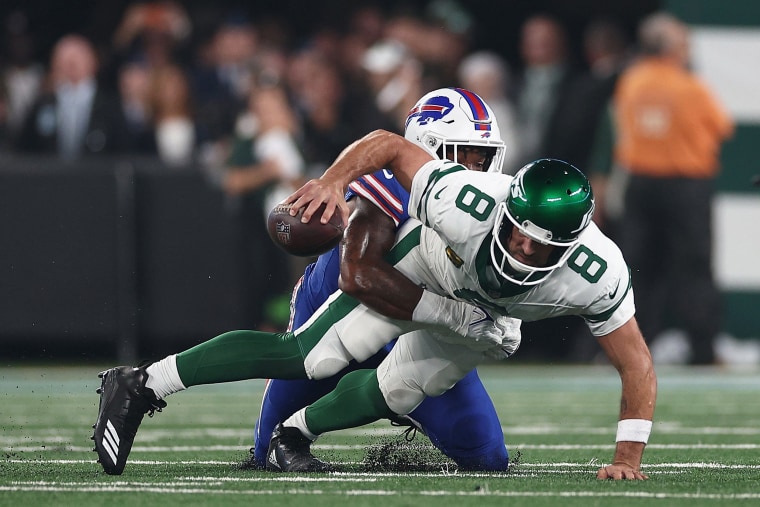 Rodgers took four snaps against the Bills: handing it off to running back Breece Hall for a 26-yard gain, throwing an incomplete pass and drawing a 5-yard Buffalo penalty before the sack by Floyd.
Saleh said that in his chats with Rodgers since Monday night's injury, he didn't ask Rodgers whether he wants to play next season. The rest and recovery time is at least one year for that kind of injury.
"As you guys could imagine, he's down. I'll let him answer those questions. I did not get into the future of what he's expecting or what he's thinking," Saleh said.
"That's a conversation tactfully left for another day. But as you can imagine, with everything that he's invested and it lasting four plays, he's obviously a little disappointed."
His season will end with a meager stat line of a single passing attempt, no completions, zero yards and a QB rating of 39.6.
Rodgers' arrival with the Jets had sent optimism among the New York faithful through the roof, with HBO's popular reality show "Hard Knocks" following the team's preseason preparation.
Sports talk personality Pat McAfee, who is close to Rodgers and was his media conduit during Covid-19, predicted he won't let his career end with the sack Monday night.
"He is obviously devastated. This is a very, very, very, very bad morning in Aaron Rodgers' world," McAfee told viewers Tuesday.
"He went all in for this. For it all to just disappear before even getting to reap the benefit from that, I personally — and this is with no information from Aaron Rodgers — I don't think he's going to go out like that."
With Rodgers, a four-time NFL MVP winner and 2011 Super Bowl champ, sidelined, the Jets will now turn to former starter Zach Wilson.
Wilson, a first-round draft pick, played well enough Monday night to complement the Jets' dominant defense and special teams, who did most of the heavy lifting in defeating Buffalo, among the early Super Bowl favorites, 22-16 in overtime.