Passengers flying from Abu Dhabi International Airport on U.S.-bound flights are now allowed to use laptop computers in airline cabins, federal officials said Sunday.
Etihad Airways, which is based in Abu Dhabi, was also removed from a list that banned passengers flying on nine airlines and using 10 airports from bringing any device larger than a cellphone into airplane cabins, the Transportation Safety Administration said in a statement.
Related: U.S. Restricts Laptops, iPads in Carry-On Bags From 10 Airports
The list, which into effect in March, targeted airports and airlines in the Middle East and Africa where terrorist groups were thought to be smuggling explosives in electronic devices, a senior Trump administration official previously told NBC News, citing "evaluated intelligence."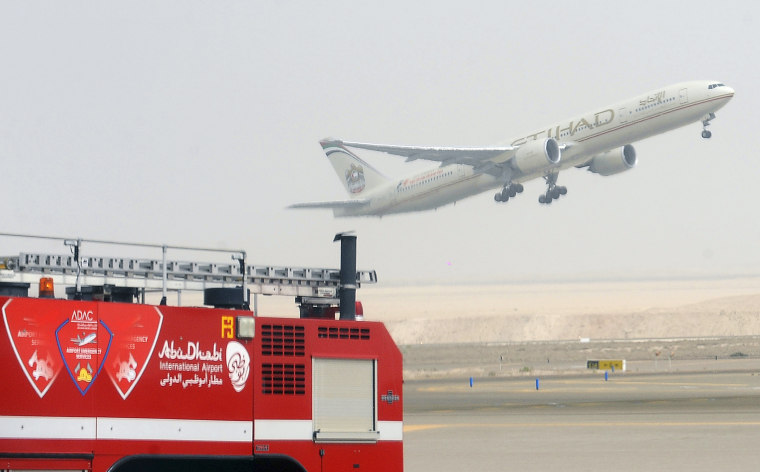 The TSA statement said Abu Dhabi International and Eithad Airlines had implemented initial enhanced security measures.
The still-restricted airports and airlines are in Jordan, Egypt, Turkey, Saudi Arabia, Kuwait, Morocco, Qatar and the United Arab Emirates.
The Department of Homeland Security scuttled plans last month to impose similar restrictions on U.S.-bound flights from Europe — a move that Alexandre de Juniac, director general and chief executive of the International Air Transport Association, had said could produce "a $1.4 billion hit on productivity."
Instead, passengers will be allowed to carry large electronic devices on-board as long as the airline complies with new security measures that include the increased use of bomb-sniffing dogs and more extensive passenger screening.
The new measures, which will target 180 airlines in 105 countries, will be implemented in phases.
"We are not standing on the sidelines while fanatics hatch new plots," Homeland Security Secretary John Kelly said on June 28. "The U.S. government is focused on deterring, detecting and disrupting these threats."