An Australian sailor and his father showed up in Jamestown, Rhode Island, late last year and quickly became curiosities.
They'd bought a 20-year-old racing boat off eBay, sight unseen, and planned to repair it and sail it back home to Australia, starting out in the middle of a brutal New England winter.
"Everyone I think who knew about this thing thought it was a little crazy," recalled Leonard Hubbard, the boat's previous owner, who befriended the McGlashans, helped them, and urged them to wait for better weather.
Last Friday, after weeks of delays, Jason McGlashan, 37, and his father Reg McGlashan, 66, set sail in the 43-foot vessel, named Sedona, on their once-in-a-lifetime adventure. The latest in a series of powerful storms was approaching, but they thought they could outrun the weather on their way south toward Bermuda.
The first day passed smoothly. But a series of mishaps left them with a ripped sail and a failed engine at 4 a.m. Sunday — in surging, storm-driven waves about 150 miles south of Nantucket, Massachusetts.
They sent an alert beacon, and four hours later, the crew of a Coast Guard helicopter arrived. With wind gusting to nearly 60 mph and the sea swelling to 25 feet, they plucked the McGlashans from the 43-degree water in a daring rescue recorded on video. No one was injured.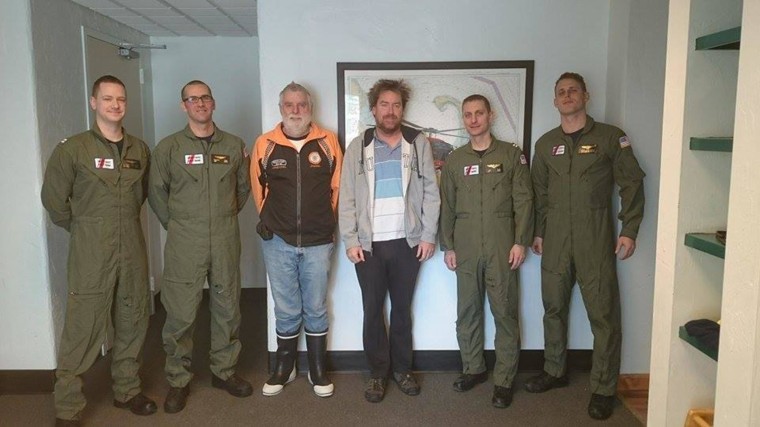 Recovering Monday at a Coast Guard base near Falmouth, Massachusetts, Jason McGlashan, who works in the mining industry, said his only regret was forcing the rescuers, whom he called "true professionals," to brave such dangerous conditions. That, and leaving his boat behind. He'd planned to race the Sedona out of his hometown of Port Macquarie, Australia.
He also answered critics who said he and his father, a retired financial broker with little sailing experience, acted recklessly.
"Most people, you will find, don't know all the facts, but will try and say things," Jason McGlashan told NBC News an interview conducted over Facebook. "If anyone sat down and worked things out they would understand why we left."
The younger McGlashan said he took into account the risk of winter weather when planning the voyage. He expected the trip to last about two months, but their departure was delayed several weeks as unexpected repairs kept piling up.
If they held off much longer, he said, they would have risked worse weather at the end. "If we had waited, it would of been winter in Australia, meaning unforeseen storms in the southern ocean and a lot further from land if that happened," Jason McGlashan said.
Hubbard, a Jamestown physician who had the Sedona built in 1995, said the vessel was capable of reaching Australia under the right conditions and enough preparation. He'd raced it to Bermuda and back many times before converting it into a cruiser. A couple years ago, he stopped making repairs, and in March 2014 he gave it to Action Donation Services, which he said promised to fix the boat and donate it in turn to another company. Instead, it ended up on eBay, which is where Jason McGlashan found it.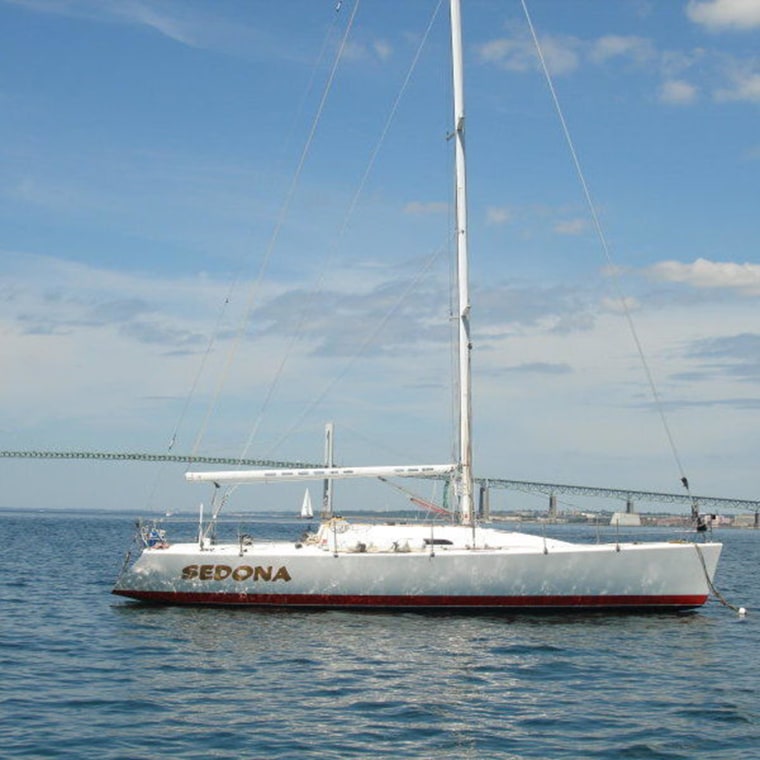 McGlashan paid $10,000 for the boat in October. Later that year, he moved into a Jamestown motel while overseeing repairs. His father joined him soon after. They reached out to Hubbard and his wife, who gave them equipment, introduced them to the local sailing community, and had them over for dinner. Hubbard said he also tried to persuade them not to take the boat out in winter waters.
"When he told me what he wanted to do, it didn't seem like a good idea to start with," Hubbard, 69, said. "There's a reason there's no boats on the ocean in February. That's because it's not a safe place to be."
But the McGlashans stuck to their plan. Jason McGlashan said the Coast Guard inspected the boat and deemed it seaworthy. The Coast Guard did not immediately respond to a request to confirm the inspection.
Just before the departure, Hubbard's wife spent two days cooking the McGlashans food — lasagna, beef stew, chili, cookies — which she froze for them to keep on their trip. "There's a lot of happy fish out there," Hubbard said, a joke that barely masked his grief over the boat he loved.
That boat, tracked by the Coast Guard, was, at last update Monday morning, floating somewhere off the coast of Delaware.
While his father prepared to fly home to Australia, Jason McGlashan said he planned to stick around for a while to see if there was any way to salvage the Sedona.
"I've always loved the ocean and sailing," he said. "I like the mixture of the peaceful times and the harder times on a trip like this."