James Barber, the first prisoner Alabama is preparing to put to death since a series of problematic lethal injection attempts prompted a pause in executions, says he is not fearful of dying this week but remains uneasy about the state's ability to carry out the procedure.
Barber, a handyman on death row for the 2001 murder of an elderly homeowner named Dorothy Epps, said he is skeptical of the state's "top-to-bottom" review after an execution last summer that involved a three-hour delay and then two executions last fall that could not be completed because of difficulties inserting IV lines into the inmates' veins.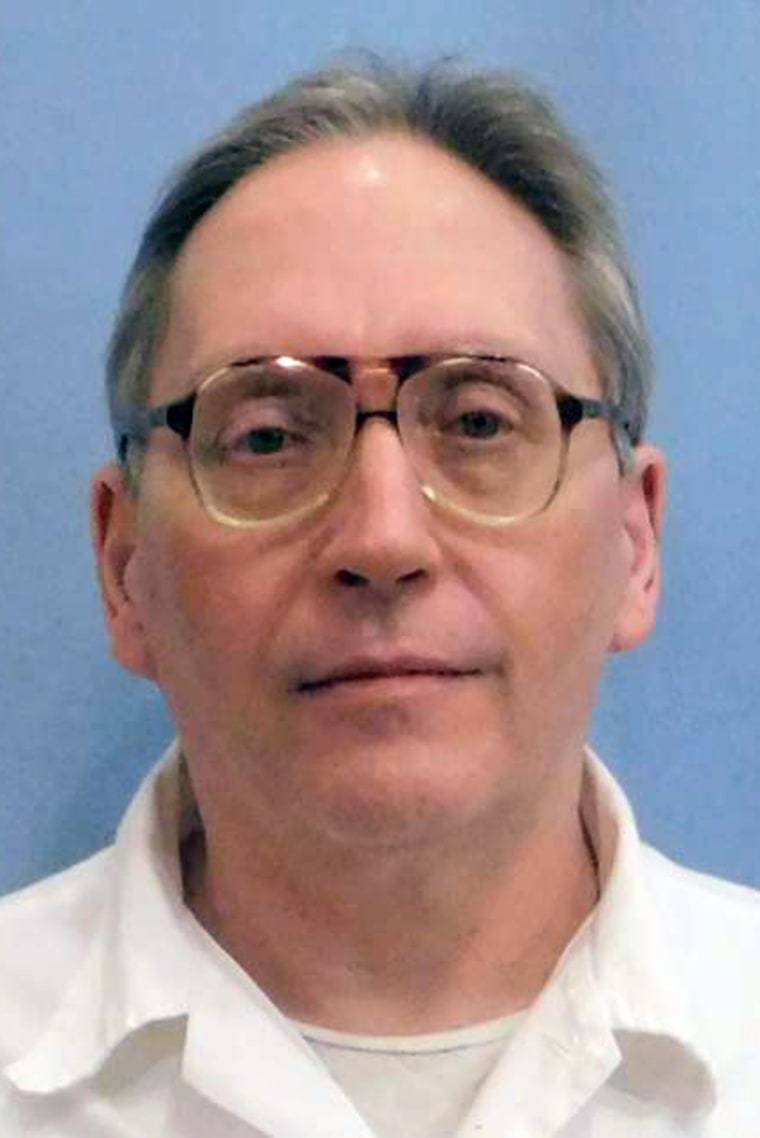 "I have no fear of death," Barber, 64, said in a phone interview from the William C. Holman Correctional Facility in Atmore, where he is set to be executed Thursday evening unless an appeals court intervenes. "I have a fair amount of trepidation about the process that they obviously haven't perfected — to be at their hands and be the first one after they didn't do a true review of the protocol and made no real changes."
Following a three-month review, Gov. Kay Ivey announced in February that executions would resume after state Corrections Commissioner John Hamm said internal changes were being made, including ordering new equipment and ensuring appropriate staffing. But details about the review's findings were not released, and critics have said an outside agency should have been tasked with evaluating the state's capital punishment protocols.
"I don't know what to expect," Barber said. "But then, I know I'm in God's hands, so it's not fear. It's hard to explain."
Changes in protocol
Barber spoke with NBC News Saturday ahead of his lawyers on Monday arguing before a federal appeals court to block the execution because of fears of "a very strong chance of substantial harm." It is unclear when the appeals court could rule.
The state attorney general's office declined to comment Tuesday. It said in arguments in federal court that it was showing "good faith" by using a new IV team whose members are appropriately licensed, The Associated Press reported. The state also said that no person who was responsible for setting IV lines in past executions would take part in Barber's execution and that additional straps for securing an inmate on the execution gurney would be available.
If the execution does move forward, it would also be the first to proceed under a new procedure approved by the state Supreme Court that allows the governor to set a time frame for when a death row inmate can be put to death, rather than within a single day that imposed a midnight deadline.
Corrections officials wrote in a February letter to Ivey that the midnight rule had placed "unnecessary deadline pressure for Department personnel."
Ivey, a Republican, has said the change was "a win for justice." Her office did not immediately respond to a request for comment Tuesday. She has said the "brief pause in executions was necessary to make sure that we can successfully deliver that justice and that closure" to victims' families.
Making amends
Barber was convicted of robbery and murder in the death of Epps, 75, whom he had known after having dated her daughter and worked around her house in Harvest, according to court records. Barber used his fists and a claw hammer to bludgeon Epps before he fled with her purse.
Barber has said he was using drugs at the time and did not know why he attacked Epps.
A jury voted 11-1 to recommend he be sentenced to death. Alabama allows for a non-unanimous jury decision in the penalty phase of a trial; an effort to change that in the Legislature was unsuccessful this year.
Barber is set to be put to death by lethal injection.
Several of Epps' family members were traveling to Alabama this week for the execution. At least one of her grandchildren, Sarah Gregory, has forgiven Barber, telling The Atlantic in May that she wrote a letter to him explaining how she needed to set aside her rage.
"I pray that when you answer to God you have peace and acceptance in your soul," Gregory wrote. "I pray that when you see Grandmamma again, she embraces you and tells you it is OK. … I forgive you Jimmy. I forgive you for everything you did."
The pair began corresponding and eventually spoke on the phone. Gregory, of Maryland, told NBC News that she planned to travel to Alabama for the execution but declined to comment further before the appeals process is resolved.
She previously told The Atlantic: "I spent so long believing in 'an eye for an eye' — I've changed."
Barber said forgiveness from Gregory is "just incredible" after such an inhumane act that was "unforgivable."
"And yet, here I am at this point. I've been forgiven," Barber said, adding, "I owe a debt of gratitude."
'Nobody wants to die'
Barber began reading the Bible in prison, and he said he found salvation and a life's purpose through Christianity. He wrote to Gregory that he was sorry and that "if not for God's grace I would be gone."
"I don't want people to think, well, I want to die," Barber said. "Nobody wants to die. I think there's a lot that I can accomplish and people I can help. Change hearts. I'd like to be around, I would. But to make it clear, I'm not hanging on to this life. And begging, begging for more to a governor who would never do that anyway."
Barber said he is perplexed by how officials like Ivey, who has supported a ban on abortion to uphold the "sanctity of life," can then allow for putting people to death in cases in which victims' families ask for leniency.
The execution of Joe Nathan James Jr., a convicted murderer who died by lethal injection in July 2022 after a three-hour delay related to issues finding a vein, was opposed by members of his victim's family.
"When it came time for Joe James' execution, the victim's family cried out to [Ivey] for mercy: 'We don't want any harm to come to him. We've forgiven him,'" Barber said. "And she looked at them and her own words were 'Yeah, but I got to make an example out of him.' What happened to 'all life is precious'? What happened that you're trying to get closure for the victim's family? That's not what she's doing."
On Tuesday, fellow death row inmates at Barber's prison representing the group Project Hope to Abolish the Death Penalty held a vigil for him. Ahead of each scheduled execution, the men bang on their cell doors to let the condemned prisoner know he is not alone.
"We're standing with them all the way to the end," said a death row inmate and group member who declined to be named for fear of retaliation. "And that's what it's really all about: being here for each other and for the condemned."