A U.S. soldier was charged with murdering his wife in Anchorage, Alaska, four days after he reported her missing to police.
Army Spc. Zarrius Hildabrand, 21, has been charged with first- and second-degree murder, as well as tampering with evidence, according to the Army and court records. Saria Hildabrand was first reported missing on Monday, a day after she was last seen at the couple's apartment complex, Anchorage police said at the time.
Saria Hildabrand, also 21, was a medic with the Alaska National Guard, while her husband worked as a cannon crew member in the Army, according to NBC affiliate KTUU. The Army and the Alaska National Guard did not immediately respond to requests for comment Sunday.
Court records show Zarrius Hildabrand was arraigned Friday, with an initial charging document filed in his case.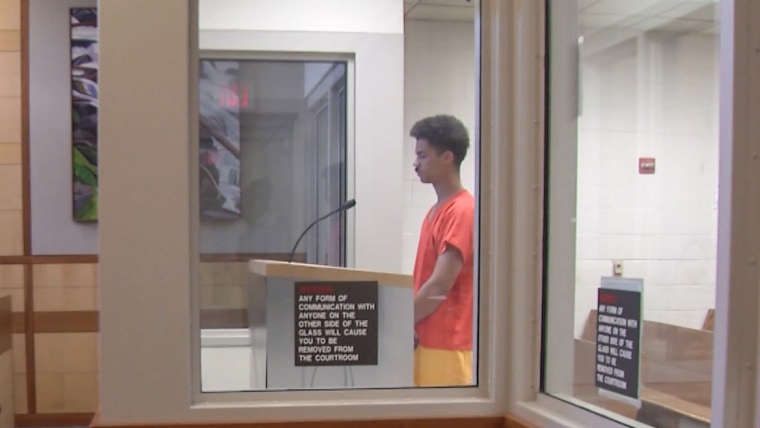 The document was not immediately available online. A copy obtained by KTUU says Anchorage police found Saria Hildabrand's body Thursday as they searched for her using drones.
Zarrius Hildabrand told police he and his wife had been out with friends on Aug. 5 celebrating his birthday and had not returned until early the next morning. He said that his wife left for work at about 10 a.m. Aug. 6 and that he went to look for her after she still hadn't returned home about 12 hours later, KTUU reported.
According to the charging documents, Saria Hildabrand's co-workers reported to police that they received text messages from her at 10:45 a.m. on Aug. 6 saying she was calling out of work. The same day, Zarrius Hildabrand bought a 96-gallon trash can, a set of new bedsheets, hydrogen peroxide and an empty spray bottle.
Court records do not list an attorney for Zarrius Hildabrand, a cannon crew member assigned to the 2nd Infantry Brigade Combat Team (Airborne), 11th Airborne Division, at Joint Base Elmendorf-Richardson, the Army told KTUU in a statement. He remained in custody Sunday at the Anchorage Correctional Complex.
Meredith Barney, Saria Hildabrand's mother, told reporters after Friday's arraignment that her daughter was the "most amazing, precious child ever."
She said she began to have her suspicions about Zarrius Hildabrand "from the second he called me from her own cellphone." 
"She would never not have her phone," Barney said. 
Barney said she was not aware of anything abnormal between the couple outside of normal "newlywed" issues. The couple met during basic training roughly a year ago, and Saria moved from Utah to Alaska a few months later, Barney said.
"She came to Anchorage, I want to say, in January or February," Barney said. "She moved here, well, first to be with him, but then also because she wanted to get into the medical side of the National Guard, and it's way quicker to do it here than in Utah."
Barney said that working in the medical field was always a passion for Saria and that she was excited and proud of her daughter for pursuing a new adventure. Barney said she wants the justice her daughter deserves.
"She's just always been looking for the future and happy and really, like, loved," Barney said. "She loved everybody. Everyone loved her."