Two of the largest online black-market sites have been shuttered in a law enforcement crackdown, but drug dealers have moved in a hurry to a third "dark net" emporium, where listings of fentanyl and heroin have already spiked, according to analysts.
The newfound popularity of the website DreamMarket highlights the whack-a-mole challenges of policing drugs sold online, even as government officials touted the the death of the other two sites, AlphaBay and Hansa.
The Drug Enforcement Administration and the Justice Department announced Thursday that AlphaBay — described as a major source of fentanyl and heroin that has been linked to overdose deaths — had been seized and closed down.
"This is likely one of the most important criminal investigations of the year — taking down the largest dark net marketplace in history," said Attorney General Jeff Sessions.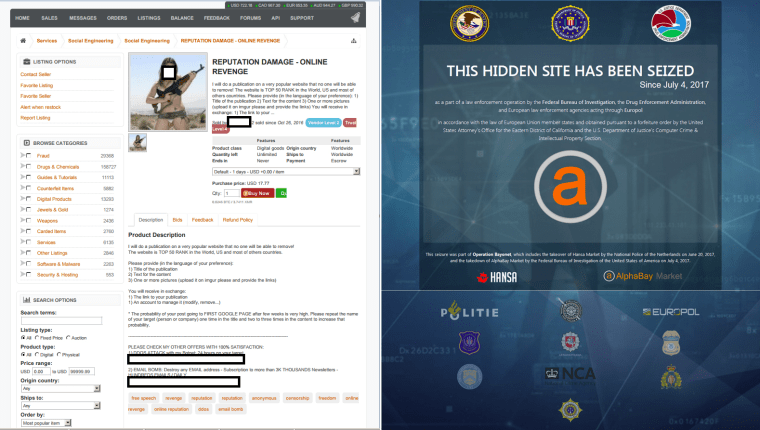 The so-called dark net is a part of the internet that can only be accessed by specialized software or hardware and contains clandestine websites not found through normal search engines.
Alphabay and Hansa advertised drugs, chemicals, counterfeit documents, weapon and computer malware among many other items and services, cloaking users in anonymity. Authorities said AlphaBay alone was responsible for at least a billion dollars worth of commerce, using bitcoin and other crypto-currencies.
AlphaBay's suspected founder, Alexandre Cazes, was arrested earlier this month in Thailand at the request of U.S. officials. A week later he was found dead in his cell.
As soon as authorities shut down AlphaBay, sellers began migrating to other sites, according to Kela Targeted Cyber Intelligence, a Tel Aviv company that specializes in monitoring the dark net.
When AlphaBay was still up and running, competitors Hansa and DreamMarket had about 5,000 new listings a week, Kela said. Once AlphaBay went down, their new listings tripled to approximately 15,000 a week.
Hansa was shut down Thursday, according to Europol, which had been investigating the site since 2016. DreamMarket, though, is still operating — and thriving, with a dramatic increase in drug listings, according to Kela.
Before AlphaBay was seized, there were approximately 150 new listings per week for sellers of heroin or fentanyl on DreamMarket, Kela said. Since AlphaBay's demise, that has jumped to 700 to 800 new listings — a five-fold increase.
Yakir Bechler, chief operating officer of Kela, says it's not clear what the future holds for the surviving black-market sites.
"Everyone out there may be speculating that the other market DreamMarket, could be compromised as well," he said.
At Thursday's announcement, Acting FBI Director Andrew McCabe made reference to the fluid nature of the online sales.
"Our critics will say as we shutter one site another site emerges. And they may be right," McCabe said. "But that is the nature of criminal work. It never goes away, you have to constantly keep at it, and you've got to use every tool in your toolbox."
Because the sites operate anonymously and are heavily encrypted, NBC News was unable to reach anyone to comment.
CORRECTION (Aug. 1, 2017, 6:40 p.m.): An earlier version of this article misspelled the last name of the suspected founder of AlphaBay. His name is Alexandre Cazes, not Caze.