A Utah high school's decision to airbrush yearbook photos of girls who were "in violation of the dress code" has students, parents and rape-recovery advocates dismayed.
The photos of at least seven girls in Wasatch High School's yearbook were altered without notice to add sleeves to tank tops, raise necklines and in one case, cover up a student's tattoo. No portraits of male students were doctored, The Associated Press reported.
"I feel like they're trying to shame you of your body," said sophomore Shelby Baum, whose tattoo below her collarbone that says, "I am enough the way I am" was rendered invisible, and whose photo features inches added to the black V-neck she wore on photo day.
"I can honestly say I wasn't showing anything that should have been covered," Baum told NBC affiliate KSL.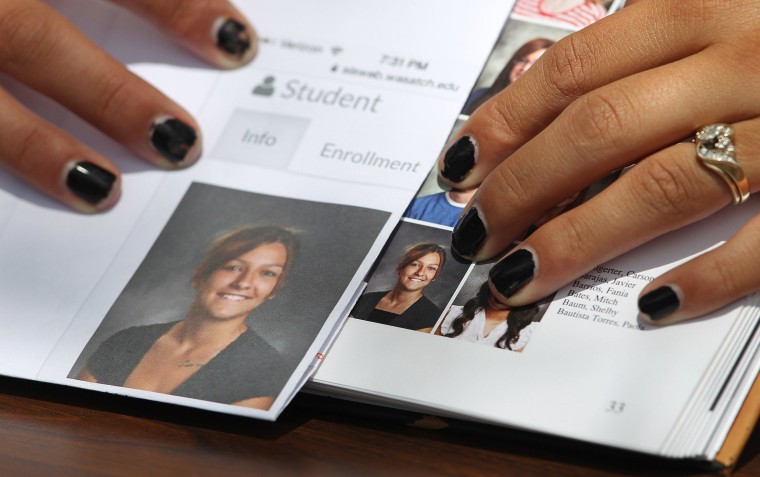 Baum's mother, Bobbi Westergard, contends the school covered skin on some girls in the photos and left the photos of girls in similar outfits unaltered. "There's really not any rhyme or reason to why they chose the girls they chose to edit and who they left alone," Westergard said.
Kimberly Montoya, a sophomore whose white tank top grew a pair of matching sleeves, told NBC News she would have appreciated a verbal heads-up on photo day so that she could change into a school-approved outfit of her choosing.
Some other Utah districts give students the option to change and come back for a retake if their clothes are deemed inappropriate. "We make an effort to address any issues of contrary-to-policy dress or grooming before pictures are taken for the yearbook," Jeffrey P. Haney, a spokesman for Canyons School District in Sandy, Utah, told NBC News.
Wasatch School District Superintendent Terry Shoemaker and high school yearbook adviser, Dallyn Zundel, did not reply to requests for comment from NBC News, but in a school statement, Wasatch officials admitted the yearbook staff wasn't "consistent" about outfits they decided to amend, and apologized for the oversight.
However, the school maintains that students in violation of the dress code "received warnings about inappropriate dress."
Wasatch School District is located in Heber City, Utah, about 40 miles east of Salt Lake City. About two-thirds of the residents in Utah belong to The Church of Jesus Christ of Latter-day Saints, which encourages members to dress modestly in support of the belief that God commands people to be chaste.
Haylee Nielsen, a 15-year-old sophomore, told the AP that students who aren't Mormon can feel out of place at the school, adding that there is a big push for conservative attire.
The Wasatch School District dress code prompts students to dress modestly, stipulating that "modest" dress "includes covering shoulders, midriff, back, underwear and cleavage at all times." The dress code also prohibits inappropriately short, tight, or revealing shorts, skirts, dresses, tank tops, halter or crop tops and spaghetti straps.
"Students were advised that photos may be edited if the student's dress did not follow the dress code," the statement said, adding that a "large sign" displayed on photo day alerted students that photos would be edited to "correct" any dress code violation.
But Westergard said she accompanied her children to photo day and doesn't remember the sign that the school said was "plainly visible to all students."
"There wasn't a sign," Westergard said, adding, "there wasn't anything sent out ahead of time that said 'dress code enforced.'"
Montoya said she didn't see a sign either, and the photos posted for students' approval two months before the yearbook was published didn't feature the add-ons.
"I feel like they're trying to shame you of your body. I can honestly say I wasn't showing anything that should have been covered."
"This action, a decision made by a few school officials with no apparent consultation with students or parents, is just unacceptable," but the lack of notice wasn't the worst of the transgressions committed by the school, said Holly Mullen, executive director of the Rape Recovery Center in Salt Lake City.
In a statement issued by the Rape Recovery Center on Thursday, Mullen said that the type of action the school took to cover what they considered immodest clothing sends the message that responsibility lies with women to prevent men from acting in sexually inappropriate ways.
"It angers me, cause I feel like they're trying to tell the girls the way you dress influences how people think about you," Montoya said.
Rape victims often "blame themselves for wearing the wrong clothing or somehow encouraging men to rape them through their reckless behavior," the statement said.
"We spend an inordinate amount of time with our clients trying to reverse this mentality among victims and our entire society," Mullen said. "Short skirts and bare arms do not cause rape. Rapists cause rape."
Mullen said the decision by "a few single-minded school leaders" reinforce the position that girls need to be controlled, and she called on the Wasatch County School District Board to investigate the incident and train administrators to act differently in the future.
Wasatch County School District is "evaluating the practice of photo editing," the statement said, but school officials have not said that they will change the photo editing practice in coming years.