An American college student who was reported missing while studying abroad in Italy has been found dead, his family confirmed Saturday.
John Durkin, a 21-year-old junior at Bates College in Maine, was studying in Rome as part of a semester abroad program offered by Trinity College. He disappeared early Thursday morning after spending a night out in Rome with friends.
"It is with much sadness that the Durkin family informs you of the loss of John Nolen Durkin and thanks everyone for their support during the past few days," his family said in a statement released by Bates, Trinity and on a Facebook page.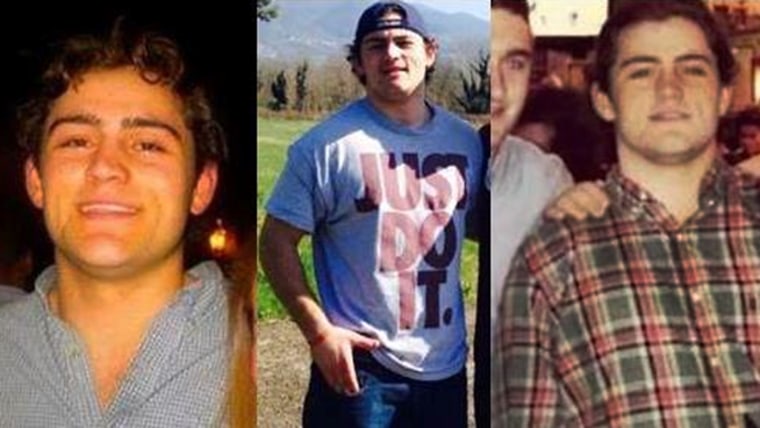 The college junior's body was found earlier this week inside a train tunnel, but his death was not confirmed until his parents identified him at a morgue on Saturday, NBC News reported. Police are investigating, but do not view the death as suspicious.
Friends and family had taken to Facebook and Twitter to spread word of their search for Durkin, who they said was last seen at about 1:30 a.m. by a bar in the Campo de Fiori area of Rome. Family had also traveled to Italy to take part in the search.
Durkin, a linebacker on the school's football team, was majoring in economics and minoring in Asian studies. Two of his siblings had also attended the Maine college.
"This is a time of deep sadness for our community and for so many people who knew and loved John," Bates President Clayton Spencer said in a statement. "We are profoundly sad and share the tremendous grief of his family."
Bates said Durkin was one of six students from the college participating in a semester-long program run by Trinity College, a private university in Hartford, Conn. About 55 students participate in the program in all.
Trinity President James F. Jones, Jr. expressed his condolences in a statement Saturday afternoon. The college said it will provide support to students affected by Durkin's death.
"John's death appears to have been an isolated incident," the statement reads. "Trinity is doing everything possible to help the students in Rome during this time of duress, including making counseling available to any student who desires it."
— NBC Connecticut