Anheuser-Busch says it has ended its practice of cutting the tails of the famous Clydesdale horses used in Budweiser commercials and at events after it faced backlash from animal rights advocates.
"The practice of equine tail docking was discontinued earlier this year," Anheuser-Busch said in a statement. "The safety and well-being of our beloved Clydesdales is our top priority."
Over the past year, the beverage giant has faced mounting backlash over the practice known as "docking," which can involve cutting through a horse's tailbone for cosmetic reasons.
The animal rights organization People for the Ethical Treatment of Animals said an investigation found that Budweiser horses' tails were docked for cosmetic purposes.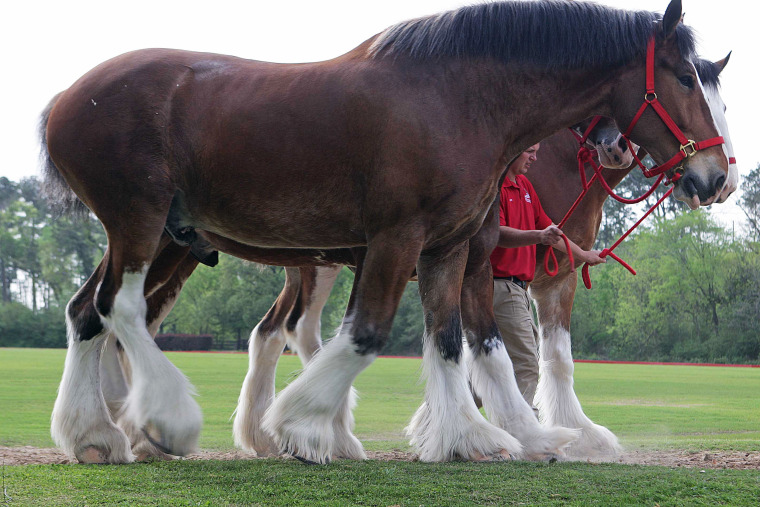 Tailbone amputation for cosmetic reasons is banned in at least 10 states and several countries, according to the American Veterinary Medical Association, which condemns the practice. The American Association of Equine Practitioners has also condemned tailbone amputation for cosmetic reasons.
PETA asserts that the docking procedure can be painful. The American Veterinary Medical Association has said welfare concerns appear to relate less to the pain equine docking might cause and more to the surgery's being unnecessary, while also limiting a horse's ability to fend off flies and biting insects using its tail.
In a news release, PETA welcomed Anheuser-Busch's announcement, saying its staff was celebrating by "cracking open some cold ones."
"This victory comes after dozens of PETA protests, nationwide ad campaigns, and pleas from more than 121,000 concerned consumers, and it sends a message to other companies that animal abuse doesn't sell," the organization said.
Anheuser-Busch, whose sales plunged following its partnership with the transgender influencer Dylan Mulvaney, introduced its horse-drawn beer wagon in the 1930s to celebrate the repeal of Prohibition, according to its website. Since then, the Clydesdale horses have become synonymous with the Budweiser brand.
"From the Prohibition era to Super Bowl commercials, there is perhaps nothing more iconic in Budweiser's storied history than its team of Clydesdale horses," Anheuser-Busch says on its website. "More than just a mascot, the Clydesdales have been an integral part of Anheuser-Busch for more than 80 years."