The uncle of murder suspect Aaron Hernandez died early Saturday in a moped crash in Bristol, Connecticut, police told NBC Connecticut — marking the second time in the span of just two months that a man linked to the former New England Patriots star has died in a freak accident.
Robert J. Valentine, 49, was driving north when he slammed into a curb on the right side of a roadway, police told NBC Connecticut. He was launched from the moped and landed in a private driveway, where he struck another curb, according to police.
Police told NBC Connecticut that he was not wearing a helmet at the time of the crash.
Emergency responders arrived at the scene just after 1 a.m., and attempted to treat Valentine, but he died before he could be transported to the hospital, The Hartford Courant reported.
Valentine was the brother of Terri Hernandez, Aaron's mother, according to NBC Connecticut.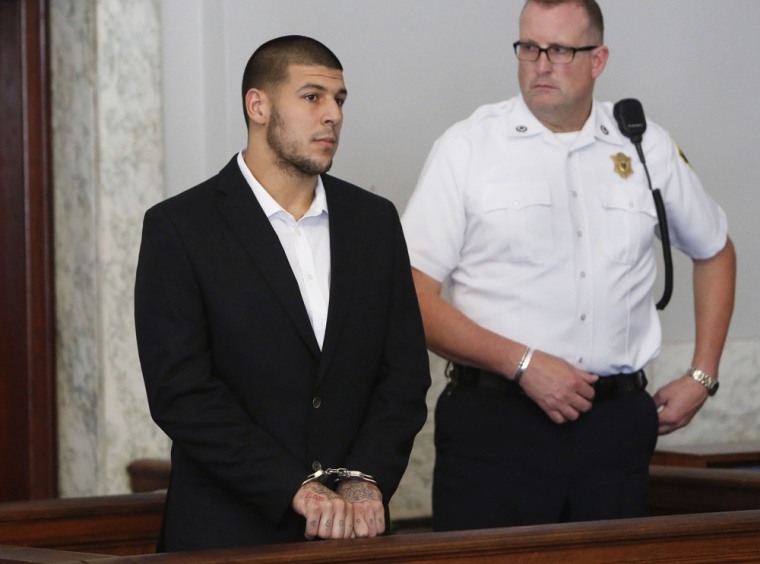 The accident came nearly a month after another Hernandez relative was killed in a car crash in Farmington, Conn., just days after Hernandez was charged with first-degree murder in Massachusetts in the June 17 slaying of Odin Lloyd, 27, a semi-professional football player.
Thaddeus Singleton III, 33, was killed June 30 when the Nissan Maxima he was driving hit 100 mph on a rain-slicked road and plowed into the Farmington Country Club, according to The Hartford Courant.
Investigators in the Hernandez murder probe were readying to question Singleton before he was killed in the freak accident, law enforcement sources told according to the newspaper. He was married to Hernandez's cousin, according to the newspaper.
Records show Singleton served stints in state prisons on numerous drug-related convictions going back to the mid-1990s, according to the Courant.
Related: