LAHAINA, Hawaii — A brush fire burned 10 acres Saturday and prompted Maui authorities to evacuate residents from a neighborhood of Lahaina, just a few miles from the site recently ravaged by blazes, before firefighters brought it under control.
Firefighters doused flames from above using a helicopter and with hoses on the ground, said John Heggie, a spokesperson for Maui County's Joint Information Center.
Maui County said on Instagram that the fire no longer posed an active threat but that firefighters were working in the area and that evacuees should stay clear until it was safe to return.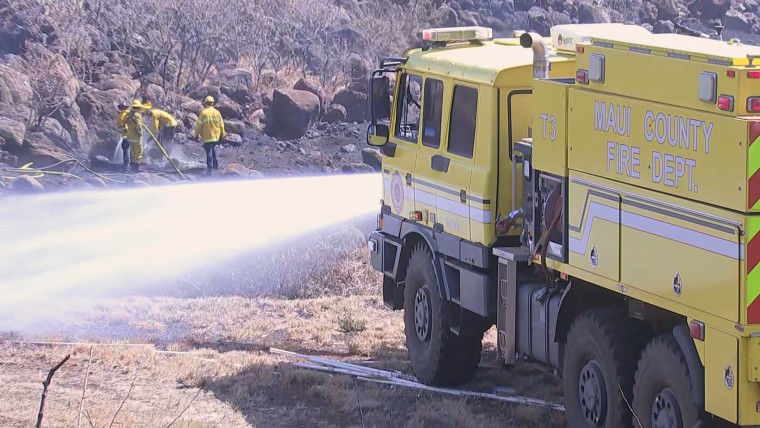 The evacuation order covered a small number of homes in the hills above Kaanapali resort hotels. It wasn't immediately clear how many people were affected by the evacuation order.
As firefighters worked to stop the fire, water trucks also sprayed dry brush and lawns.
Lorrie Nielson, who lives in Kahana, about 3 miles from Saturday's fire, drove down to see the effort. "As a resident, I'm just a little concerned and want to make sure we're OK," she said.
She watched as fire crews worked to put out a fire in what appeared to be someone's backyard.
"We're doing the right thing. We're being proactive to avoid what happened on August 8th again," she said.
At least 115 people were killed and 2,000 structures were destroyed when a wildfire tore through downtown Lahaina on Aug. 8. Minimal rains have pushed the area into drought.
That fire was aggravated by strong trade winds fueled in part by Hurricane Dora, which passed by 500 miles south of Maui.
The National Weather Service forecast breezes of 3 to 8 mph for Lahaina on Saturday afternoon.