A sidewalk sign promoting a Chinatown sports bar has stirred up controversy for poking fun at domestic violence.
The message, scribed in colored chalk, read: "I like my beer like I like my violence… domestic." It was posted Saturday afternoon outside Bar-Ly at 11th and Appletree Streets in the Chinatown section of Philadelphia. The A-frame sign is marked with a logo for Heineken Light beer, which is considered an import beer.
NBC10 viewer Lisa Schultz, who was outraged by the message, tweeted NBC10.com a picture of the sign. "Can you believe what this sign said…," she wrote. She also sent angry tweets to the bar and her followers.
NBC10 contacted Bar-Ly to ask about the sign. A man who refused to give his name said he was the person who had written the message and that it was taken down a few hours after being posted. The man said the bar had received complaints about the sign.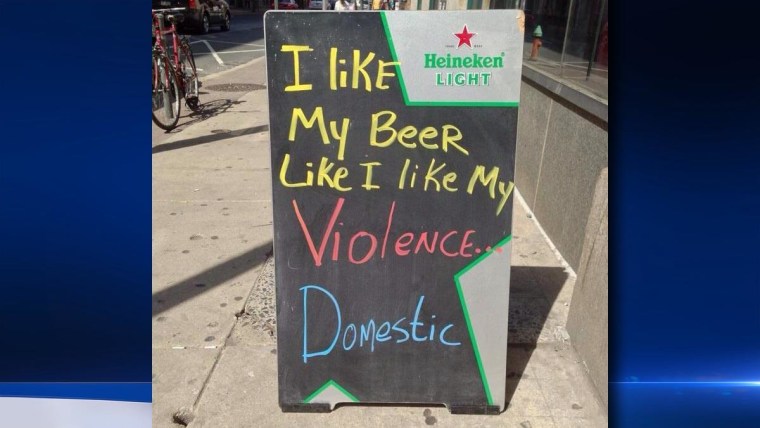 "We didn't want to offend people, so we took it down," he said. "I personally didn't think it was offensive."
According to the Philadelphia-based advocacy group Women Against Abuse, more than 1 in 3 women and 1 in 7 men are victims of severe physical harm by their intimate partner during their lifetimes.
The organization also says 2,000 emergency room visits by Philadelphia women were likely the result of some type of domestic violence and more than 107,000 domestic violence complaints were filed by the Philadelphia Police Department in 2012.
Bar-Ly has used other A-frame chalk signs to post other politically incorrect messages. A photo on the bar's Facebook page of another A-frame chalkboard, showing a different message, likened the sign to "your loud grandmother."
See original story on NBC Philadelphia
"It says whatever it wants," the caption states. The message written on that sign called its guardian angel an alcoholic.
Through a spokesperson Saturday evening, bar owner Buu Ly said he was not aware of the sign before it was posted and did not approve it.
He said the staffer who wrote the message reflected "very poor judgment" and has been fired.
"In no way does Bar-Ly condone domestic violence nor do we find it humorous," a statement read. "We are sorry to everyone who was offended."
— Vince Lattanzio, NBC Philadelphia