It's been 54 years since Yale University's men's basketball team has played in the NCAA Tournament, which explained the joyous celebration after its 71-55 win over Columbia University last weekend sealed the Ivy League championship and a berth in the tournament.
Related: Follow the NCAA Tournament on NBC Sports
The victory ended the second-longest absence between appearances in the tournament for any school. Sunday, the team learned that it will play Baylor University in the first round on Thursday.
But even before coach James Jones could leave the arena after the historic win, he was once again confronted with questions about the pall hanging over his Cinderella Bulldogs: the absence of their captain, Jack Montague, who left the team last month under circumstances that still haven't been explained.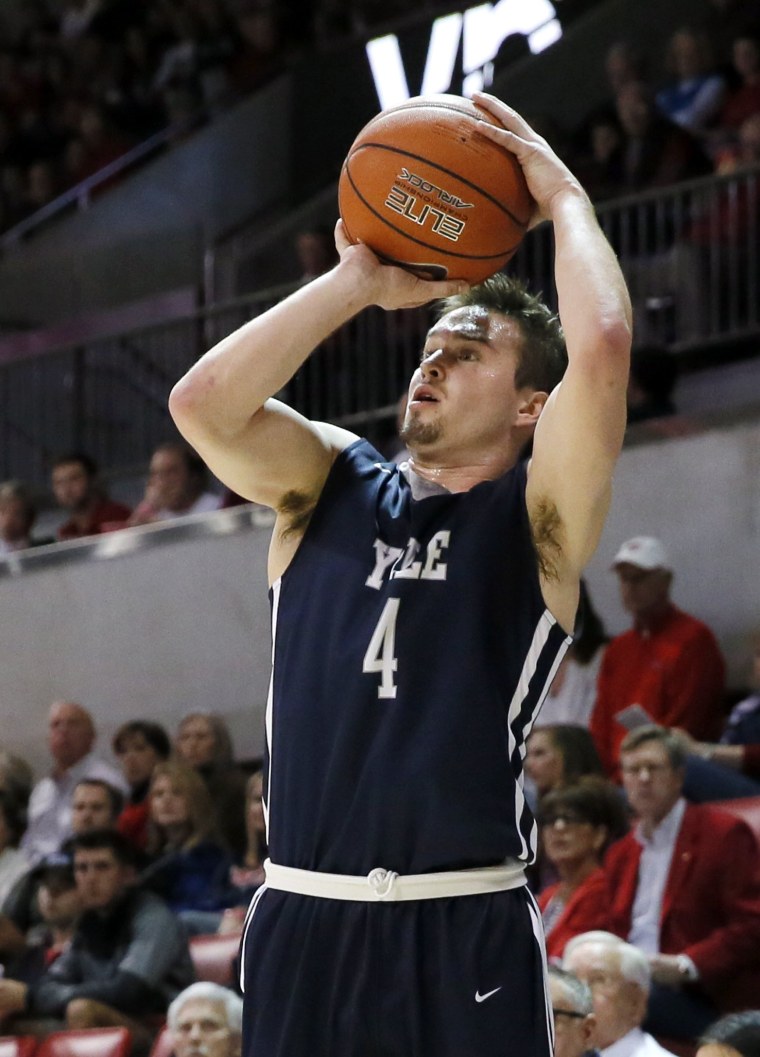 "It's not something we talk about," Jones said in his postgame news conference. "We coach basketball and play basketball, deal with guys that are in the room and do the best we can."
Montague, 22, a senior guard from Brentwood, Tennessee, wasn't on the court for Yale's Feb. 12 game at Dartmouth. The campus newspaper, The Yale Daily News, reported that he'd taken a "personal leave."
And with that, Montague's Yale career was over. And with that, the story was just beginning.
"The Yale Athletic Department confirmed today that Jack Montague will not return to the men's basketball team," the university said in a statement Feb. 24. "There will be no further comment from the University."
The next day, The Yale Daily News reported that Montague had "withdrawn" from the college.
The day after that, Montague's former teammates showed up for their nationally televised grudge game against Harvard wearing T-shirts printed with Montague's uniform number (4) and nickname ("Gucci") — and with "Yale" spelled in reverse on the front.
"We just wanted to make it as clear as possible that Jack is one of our brothers," forward Justin Sears said. "He's family to us, and we miss him."
Related: Full Roster, Stats, Results for the Yale Bulldogs
But soon after that, posters began appearing on campus bearing a picture of the team in the tribute shirts, with a plea to "stop supporting a rapist."
No explanation was forthcoming — the university correctly pointed out that student academic and discipline records are protected by federal law, and Montague's father told The New Haven Register that he was under lawyers' orders not to comment on what he characterized as his son's "expulsion."
Yale administrators worked steadfastly to make the story go away. They continued to decline all comment. They removed Montague's biography from the basketball team's website.
"We just wanted to make it as clear as possible that Jack is one of our brothers. He's family to us, and we miss him."
On March 5, the university's Women's Center issued a statement "in light of recent events" surrounding the basketball team. It, too, noted that Yale was prohibited from "commenting on the exact nature of any specific incident" under federal privacy law. And then it said:
"Though the silence is deeply frustrating to us and surely to many of you, Yale's actions speak much louder than its words. While the campus can only speculate on what occurred, we can comfortably say that, should all of this be true, this is progress. It seems that a survivor felt that coming forward was a viable option and that they got the decisive outcome that they likely fought hard for."
As for the team's T-shirt protest, the Women's Center said bluntly that the demonstration "appeared to be a dismissal of the very real threat of sexual violence."
Four days later, on Wednesday, the athletic department released a statement in which the basketball team apologized for wearing the T-shirts, saying it "fully supports a healthy, safe and respectful campus climate where all students can flourish."
Again, the underlying cause for tension wasn't mentioned. That's because Yale would need explicit permission from Montague under the Family Educational Rights and Privacy Act to release any information that could clarify things.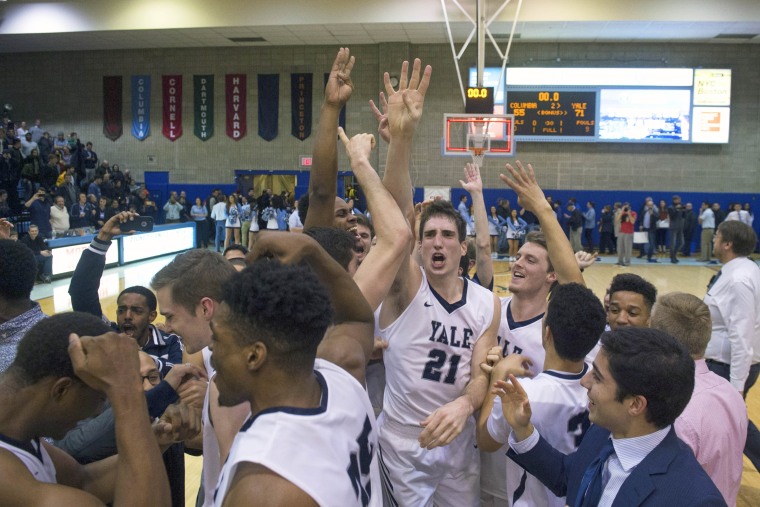 But he also hasn't spoken publicly about the matter beyond a short mid-February statement to the campus paper confirming that he was taking "personal leave." And The Yale Daily News reported that he's hired a high-powered New Haven law firm, which didn't reply to a request for comment this week.
Montague's father previously told the New Haven Register that "it's ridiculous" his son was expelled, and that lawyers are involved.
"It's probably going to set some sort of precedent," Jim Montague told the newspaper. "We're trying to do things the gentleman's way, so we're keeping things close-knit. But you guys will get a story."
If Montague has been accused of a sexual misconduct-related offense, it's most likely strictly a campus proceeding. No legal cases, civil or criminal, are pending against him anywhere in Connecticut, according to NBC News' review of state and federal court records.
Meanwhile, his former teammates are eager to move ahead with what should be greatest moment in their sports lives — Sunday's announcement of their first-round opponent in the NCAA Tournament.
"It's amazing," star forward Brandon Sherrod told reporters in the media scrum after Yale clinched its berth last weekend.
"You look up in the gym and see the last time we got to tournament was 1962 — it really motivates you to win," he said. "Every college basketball player wants to go to the Big Dance. It's unbelievable, [a] great time for our school, [a] great opportunity for our team."
In a pre-game dinner before the Columbia game that locked up the Ivy crown, team members FaceTimed Montague. While he is no longer a teammate, they said, he remains an integral part of the team. Senior forward Justin Sears described him as a brother and motivator.
Going into the NCAA Tournament, which kicks off Tuesday, that's what they need.
"He's our leader. He's our captain," Sears told reporters in a post-game interview. "He's still our captain."