The endorsement of Donald Trump by the Fraternal Order of Police appears to have driven a wedge between many black cops and their white brothers in blue.
And nowhere is the split more visible than in Philadelphia, where the local FOP chapter has fallen in line and also endorsed the Republican presidential candidate — over the objections of a group that represents some 2,500 African-American officers in the city and which has branded Trump an "outrageous bigot."
"Our Local FOP is saying that our people have to follow the national lead," Rochelle Bilal, head of the Philadelphia Guardian Civic League, told NBC News. "We are saying you don't have to vote for Donald Trump and the national FOP should have stayed out of this election."
Bilal, a former Philadelphia cop who retired after 27 years on the force, said "those of us in law enforcement who are people of color are constantly trying to build bridges to the community, we're trying to build trust in law enforcement."
But "the Trump campaign is racist, sexist, anti-gay. It's a divisive campaign that's now dividing law enforcement," she said.
Related: Clinton Leads Trump in NBC/WSJ Poll Ahead of First Debate
"There is no way anybody of color with any common sense would support the candidacy of Donald Trump," Bilal added.
The FOP, which has 330,000 members and claims to be the largest police union in the world, threw its backing behind Trump on Friday saying that the Manhattan real estate mogul "understands and supports our priorities."
"We are saying you don't have to vote for Donald Trump and the national FOP should have stayed out of this election."
"Donald Trump may not ever have been elected to public office, but he is a proven leader and that's what we need for the next four years — a leader unafraid to make tough choices and see them through," FOP President Chuck Canterbury said in a statement last week.
Riffing off Trump's campaign slogan, Canterbury said, "He will make America safe again."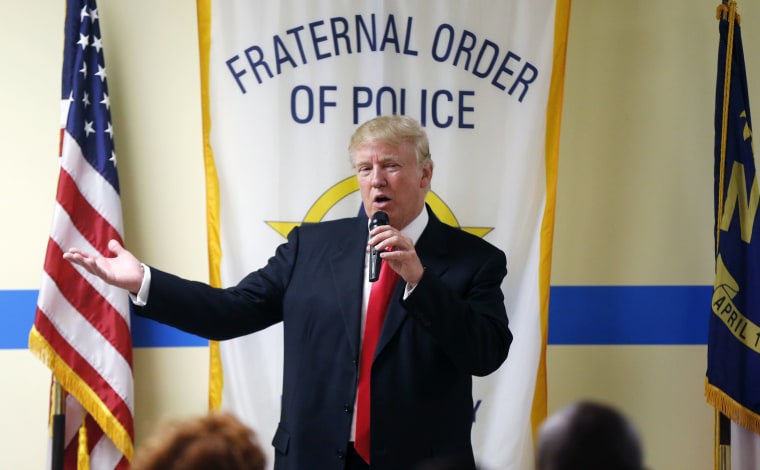 Trump has claimed repeatedly on the campaign trail that "crime is rising," never mind that the crime rate has actually been falling for decades.
Asked whether the feelings of African-American cops were taken into consideration, FOP spokesman Jim Pasco said 30 percent of their members nationwide are minorities. He claimed backing Trump was not a top-down decision.
Related: Blacks in Blue: African-American Cops React to Violence Towards and From Police
"The National FOP requires all State Lodges to survey their memberships as to their Presidential preference," Pasco responded in an email to NBC News. "The State Trustees are then responsible for voting to endorse a candidate consistent with the wishes of their respective state's memberships."
Also, Pasco said, the FOP gave both Trump and Democratic candidate Hillary Clinton an early August deadline to fill out a 12-page questionnaire that they could then distribute to the lodges. While Trump met the deadline, Clinton did not submit her form until about "6 weeks after deadline," Pasco said.
The Clinton campaign confirmed for NBC News that it did indeed fill out the FOP questionnaire. And the Washington Post reported Team Clinton missed the deadline.
It may not have mattered. The national FOP has only endorsed one Democrat for president — Bill Clinton in 1996. The FOP, however, did not endorse Republican Mitt Romney in 2012 because of his anti-union stances.
Another African-American police group, Blacks in Law Enforcement of America, issued a statement condemning the FOP's endorsement of Trump.
"Is this endorsement a result of the surveying of the membership of individual unions that represent police officers or is this endorsement the result of a few individuals who may stand to benefit from a so-called law and order candidate who knows nothing about the criminal justice system and is opposed to basic reforms of the system," the statement read.
The group went on to encourage African-American police officers and other groups that represent them to "raise their voice in opposition to the endorsement of this candidate."
"He has no record of anything positive concerning criminal justice issues and concerns of our community," it says.
There was no immediate response from the National Black Police Association, one of the nation's leading African-American cop organizations, but the Nevada chapter was expected to meet this weekend to decide whether to endorse Trump or Clinton.
"I doubt very seriously it's going to be him," Regina Holman, a Las Vegas police officer, said of Trump. Asked about the FOP endorsement, Holman said, "The FOP doesn't speak for us."
At the San Diego chapter, Detective Sgt. Ben Kelso said "I'm not really moved by the fact that the FOP supports Donald Trump."
"I can tell you from my standpoint in San Diego we don't support Donald Trump," he said.
According to the most recent U.S. Justice Department figures from 2013, there were 58,000 African-American police officers working in 12,000 local department across they country. They comprised 12 percent of the 477,000 police officers nationwide.
The latest NBC/WSJ poll shows Clinton leading Trump 81 percent to 7 percent among black voters nationally in a two-person race.