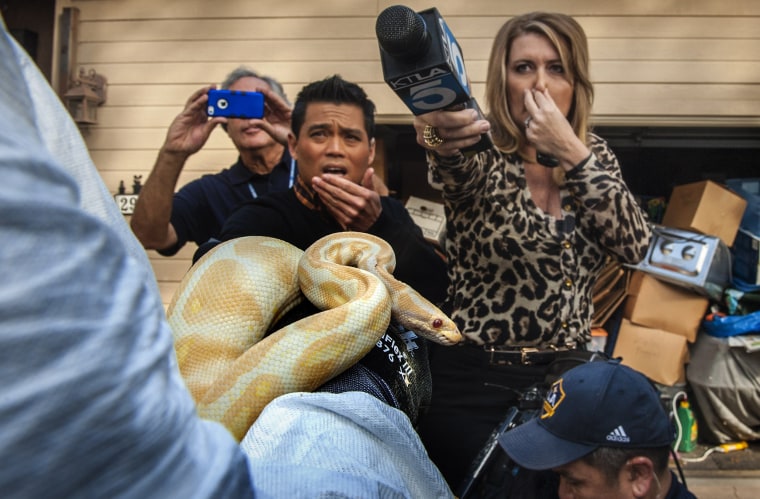 An elementary school teacher was arrested Wednesday after police found at least 300 pythons slithering around inside his Southern California home -- and many more snakes dead.
Police and animal control officers served a search warrant Wednesday at 7 a.m. PT on the Santa Ana residence after neighbors complained of a foul odor coming from the house. Inside, they found hundreds of snakes, all believed to be pythons — some of which were dead.
William Fredrick Buchman, a teacher at Mariners Elementary School in Newport Beach, was detained on charges of animal cruelty, NBCLosAngeles.com reported.
The snakes were "mostly alive, but there were some dead ones, along with some mice and rats. I don't know if that's what they fed them," said Santa Ana Police Department Watch Commander Bill Nimmo.
Some of the snakes were caged, he said.
Police did not say whether other people lived in the home.
Reporters outside the house held their noses against the stench as plastic trays containing snakes were brought out and placed on a sidewalk.
"There are all forms of decay," said Sondra Berg, an animal services supervisor at the Santa Ana Police Department. "From skeletons to just dead in the last few days. There is an infestation of rats and mice. They are running loose all over the house. There are rats and mice in plastic storage tubs that are actually canabalizing each other." 
Officials said the house's front four rooms were packed floor to ceiling with snake cages, NBC Los Angeles reported. They said Buchman was breeding ball pythons to sell them.
Officials said the surviving snakes were being taken to a veterinary hospital for medication and feeding.