The sculptor of Wall Street's iconic "Charging Bull" statue says New York City has violated his legal rights with the placement of "Fearless Girl," a statue of a young girl that has been staring down his creation since International Women's Day on March 8.
Artist Arturo Di Modica and his lawyers argued at a press conference in New York City on Wednesday that the placement of the statue was copyright infringement and distorted the meaning of his sculpture.
Di Modica at times became emotional during a press conference, and said the bull's message was supposed to be "freedom in the world, peace, strength, power and love."
"In our opinion, a deliberate choice was made to exploit and to appropriate the 'Charging Bull' through the placement of 'Fearless Girl,'" attorney Norman Siegel said at the press conference.
Siegel said they believed the artist's rights had been violated as a result of placing the statue of the girl "directly across from the 'Charging Bull,'" without Di Modica's permission.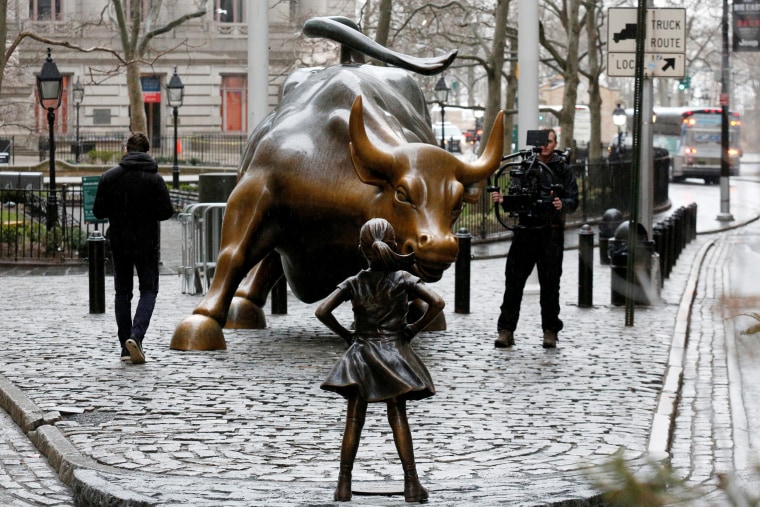 The statue of the defiant girl was installed by an investment firm on the eve of International Women's Day this year, and city officials announced two weeks ago that the statue was staying put through at least February 2018.
The investment firm, State Street Global Advisors, has said it commissioned the statue from artist Kristen Visbal to call attention to the gender pay gap and lack of gender diversity on corporate boards in the financial sector.
State Street is also the creator of the Gender Diversity Index SHE, which tracks gender diversity in companies.
Related: 'Fearless Girl' Statue Will Face Off Wall Street Bull for Another Year
Siegel said those capital letters were very important, as the plaque at their statue's feet reads "Know the Power of Leadership, SHE makes a difference."
The attorney said "Fearless Girl" was a "marketing campaign" for the SHE index based around the confrontational image of the two statues. This amounted to commercial use of "Charging Bull," Siegel said, in violation of Di Modica's trademark rights.
Siegel said attorneys had mailed letters to State Street, its New York advertising firm McCann and New York City Mayor Bill de Blasio in the hopes of getting the statue moved. Siegel said they were hoping the parties involved could "amicably resolve" any issues, but they would not rule out filing a lawsuit if necessary.
State Street said in a statement to NBC News that it continued to be grateful to the City of New York for their response to the statue.
"We continue to be grateful to the City of New York and people around the world who have responded so enthusiastically to what the Fearless Girl represents — the power and potential of having more women in leadership," the company said in the statement.
Visbal said in a statement to NBC News Thursday that she created "an independent work which symbolizes a strength equal to that of the 'Charging Bull' and is consistent with all that di Modica's work has so elegantly embodied."
"The sculpture states men and women share equal footing in finance. In the spirit of American leadership, Fearless Girl, and all who support her, make a call for gender diversity in leadership. For 28 years, Charging Bull has stood alone. There is room for both sculptures," she said.
In addition to copyright issues, Siegel said he believed the statue of the girl violated Di Modica's rights under the Visual Artists Rights Act of 1990. Siegel noted this federal law protects artists from "intentional distortion" of their work that would be "prejudicial" to their honor or reputation.
"We believe that's exactly what happened here," he said.
Siegel said de Blasio's own words at a March 27 press conference announcing that "Fearless Girl" would remain in place were proof.
De Blasio said at the time that the statue symbolized "standing up to fear, standing up to power, being able to find in yourself strength to do what's right."
The attorney said Wednesday that, "the inescapable implication is that 'Charging Bull' is the source of that fear and power, and a force against doing what is right."
The mayor responded to Di Modica's claims earlier Wednesday in a tweet saying, "Men who don't like women taking up space are exactly why we need the Fearless Girl."
Di Modica first installed the 11-foot statue of the bull in front of the New York Stock Exchange without a permit in 1987 as a symbol of American financial resilience. Authorities initially removed the statue, but the city later reinstalled it at its current home near Wall Street in the Financial District.
Related: New York Politicians Call for Permanent Installation of 'Fearless Girl' Statue
Siegel said his team was seeking unspecified monetary damages for Di Modica and was seeking for the city to move "Fearless Girl" to another location.
They were also seeking government records on the procedures and conversations leading to the Department of Transportation's approval to keep the statue through next year.
Siegel stressed that he and his team were proponents of gender equality, but "there are issues of copyright and trademark that needed to be and still need to be addressed."
"So remove her and place her somewhere else in the city," he added.