Officials in Chicago, reeling from a dramatic uptick in killings and under pressure from President Trump to contain it, outlined a series of high-tech solutions on Friday, including more predictive policing techniques.
The tools will be used in impoverished neighborhoods in the city's south and west edges where a disproportionate amount of deadly violence occurs — and where the rise in the homicide rate has been most concentrated. The move fits a broader strategy of focusing efforts on the relatively small number of people who commit violent crime and the limited number of places where it erupts.
The steps announced Friday included:
An expansion of ShotSpotter sensors that pick up the sound of gunfire and alert police to its location.
Near-ubiquitous coverage of public areas by surveillance cameras.
The introduction of predictive policing software that identifies areas most likely to see gun violence.
Layering that analysis with another predictive program that identifies people most likely to commit —or be the victims of — gun violence.
A "war room"-like office, staffed with analysts who will translate that data for changes to deployments and long-term strategy.
The tools will allow the department to be "more proactive and focus on the right people in the right place and at the right time," Superintendent Eddie Johnson said.
Related: Trump Offers to Send 'the Feds' into Chicago to Fix Violent Crime — but They're Already There
He and Mayor Rahm Emanuel unveiled the moves in a press conference that was cut short after Johnson fell ill and appeared about to faint. Johnson went to a hospital for evaluation, officials said.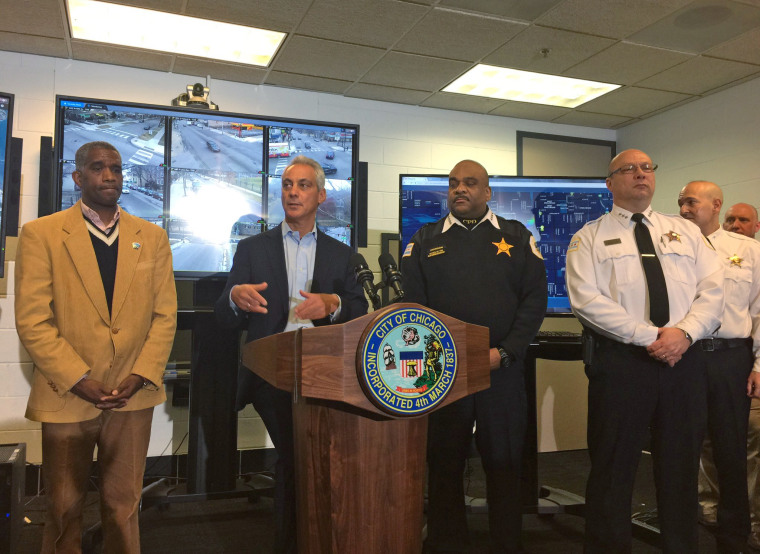 Predictive policing has been gaining popularity among police departments around the country, and the approach has been described as both a boon and bane to society. Proponents say the techniques are key to making modern police more professional and efficient.
But civil rights groups warn that the methods could discriminate against certain people, target the innocent and exacerbate problems associated with heavy enforcement in disenfranchised communities.
That is exactly what the Chicago Police Department is trying to avoid. Earlier this month, the Justice Department announced the result of a yearlong investigation that found city cops routinely violated citizens' rights by using force, often deadly, when it wasn't necessary. Chicago's long history of police abuses, shouldered mostly by blacks and Latinos, has eroded the public's trust — and officers' ability to solve crimes, investigators said.
Related: Chicago Police Department Routinely Violated People's Rights, Feds Say
As the number of Chicago's homicides rose 58 percent in 2016, to 764, the clearance rate — killings that ended in an arrest — dropped from 36 percent to 26 percent, according to an analysis by the University of Chicago's Crime Lab.
A vast majority of the city's homicide victims were black, young and had arrest records, the analysis said. Most occurred in streets and alleys, and suspects overwhelmingly had prior arrests themselves.
Mayor Emanuel said the new technology would ultimately help improve things — but he added it had to come with better training, hiring more officers, promoting more detectives and investing in social services like after-school programs.
That, Emanuel said, will require more help from the federal government, which has become an issue under Trump. In recent days, Trump has singled out Chicago's crime rate and said if the city didn't put a lid on it, he'd "send in the feds."
Emanuel has said he'd welcome any help, but hasn't talked to Trump since he took office.