The killer of ex-Beatle John Lennon says he used hollow point bullets to shoot the singer "because they were more deadly."
Mark David Chapman retold chilling details of his Dec. 8, 1980, crime during a New York parole board hearing on Aug. 22. He was denied parole for a seventh time the next day and remains at Wende Correctional Facility in western New York. The parole department released transcripts of the hearing Wednesday.
Chapman said he was living in Hawaii when he decided to target Lennon "because he was very famous."
He said he also considered targeting television host Johnny Carson and actor George C. Scott.
But Lennon was more famous, Chapman said. He insisted he had no anger toward Lennon: "If he was less famous than three or four other people on the list, he would not have been shot."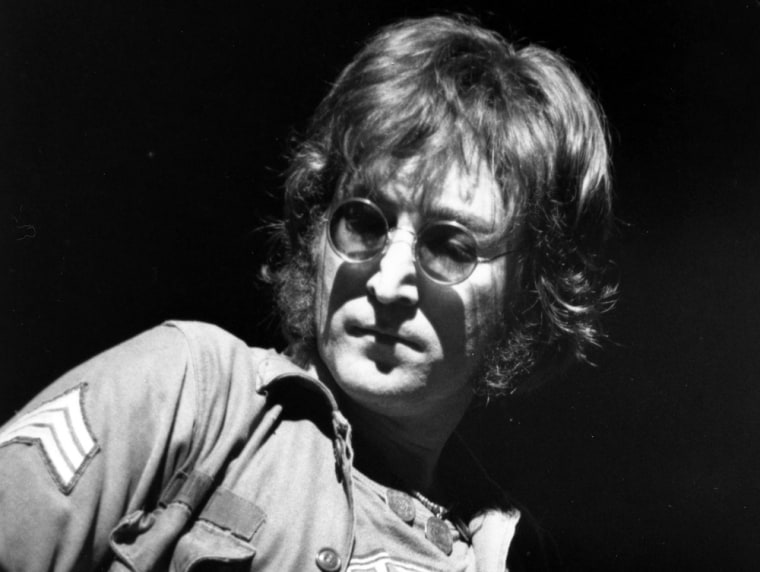 Watch US News crime videos on NBCNews.com  
Chapman said he bought the gun he used in Honolulu and needed only to show a driver's license to get it. However, he said he got the hollow-point bullets from an old friend in Atlanta who was a police officer.
"I made a phone call in New York and the fellow said, 'you're not going to get any bullets out of me. It's just not done here.'"
He said he told his Atlanta friend he needed the bullets for protection.
"I didn't tell him what I was going to do," Chapman said.
When asked why he chose hollow-point, Chapman responded "Because they were more deadly."
Asked if he wanted to "inflict death," on Lennon, Chapman responded, "Yes. Absolutely."
Chapman said he had flown from Hawaii to New York twice to check out Lennon's apartment building, called the Dakota.
He said on one trip, he saw the film "Ordinary People," and called his wife, who was in Hawaii, and told her of his deadly plan but that he decided not to go through with it.
The compulsion to kill grew again after he returned to Hawaii, so he flew back to New York without telling his wife he planned to kill Lennon, said Chapman, who was 25 at the time.
Chapman said that on the day he shot Lennon, he staked out the Dakota from before noon and talked to him early in the day.
"He was very kind to me" and signed an album while his wife, Yoko Ono, waited in a limousine, Chapman said.
"Very cordial and very decent man," Chapman said. "… But I was so compelled to commit murder that nothing would have dragged me away from that building."
Just before 11 p.m., Lennon and Ono arrived at the apartment building. Ono got out of the car first, Chapman said, and went into the alcove of the Dakota as Lennon lingered at the car a moment.
"And then when Mr. Lennon passed me I turned, pulled out my weapon and shot him in the back," Chapman said.
The record, he said, shows him calling out "Mr. Lennon," but he told the parole board he didn't say that.
"I just shot him," he said.
Chapman fired five shots with a .38-caliber revolver, hitting Lennon four times in front of Ono and others.
There was a scream, and the Dakota doorman, Jose, grabbed Chapman's pistol, the gunman told the parole board.
Chapman said he was carrying a copy of J.D. Salinger's "The Catcher in the Rye" when he shot Lennon. He claimed to identify with the main character, "who seemed to be lost and troubled."
While in prison, Chapman said, he has been in his cell writing letters, reading and thinking.
He also said he has been having conjugal visits with his wife "pretty steady" for 20 years. His wife lives in Hawaii, he said.
He also said he has a "deep relationship with Christ" that started when he was in a Christian camp at age 16.
"So this is obviously very embarrassing for me now, having committed murder," Chapman said.
Stay informed with the latest headlines; sign up for our newsletter
If he were to be paroled, Chapman said, he would go to Medina, N.Y., about 50 miles northeast of Buffalo, where a minister whom his wife met offered to refurbish an apartment and give him two jobs on his farm.
Chapman said he had corresponded with the pastor but met him just two days before the parole hearing.
The reason for the crime, according to Chapman: "Attention, bottom line."
He said he received the attention but now he feels it was an "absolutely ridiculously selfish act to take another human life so that I could be pumped up into, you know, something that I wasn't to begin with."
He also told a parole commissioner, "Fame is ridiculous. It holds no value."
"It was a very selfish act and I deeply regret it," Chapman told the board. "I'm sorry for my crime."
More content from NBCNews.com: