An aide to New Jersey Gov. Chris Christie told a colleague that their boss lied at a 2013 press conference during which he told reporters that top staffers knew nothing of a scheme to punish a political opponent with lane closures at the George Washington Bridge, court documents released Wednesday alleged.
"Are you listening? He just flat out lied about senior staff and (former campaign manager Bill) Stepian not being involved," the aide, Christina Genovese Renna, wrote in a text message to campaign worker Peter Sheridan as they watched the Dec. 13, 2013 press conference, when the so-called "Bridgegate" scandal was just beginning to unfold.
"I'm listening." Sheridan replied. He added: "Gov is doing fine. Holding his own up there."
Renna wrote back: "Yes. But he lied. And if emails are found with the subpoena or ccfg emails are uncovered in discovery if it comes to that it could be bad." The abbreviation ccfg is an apparent reference to Christie's election campaign.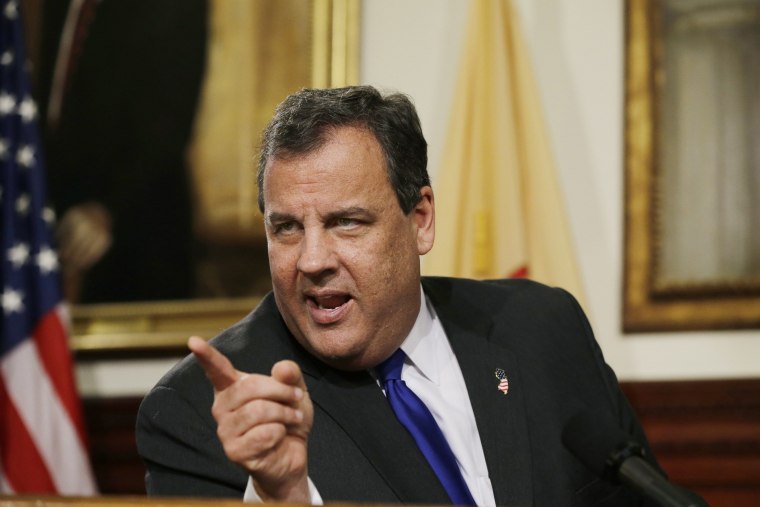 The exchange was submitted in a brief by lawyers representing Bill Baroni, one of two former Christie allies who will go on trial next month for their roles in the lane closures. Federal prosecutors allege the closures were concocted to cause traffic mayhem in a town whose mayor declined to endorse Christie's re-election bid. Baroni's lawyers say the government is ignoring key evidence that points blame toward others, and included Renna's texts as an example.
The lawyers also alleged that Renna deleted her text messages after the New Jersey state Legislature issued subpoenas on the case.
Christie has consistently said he knew nothing about the lane closures, and he hasn't been charged with any wrongdoing. And on Wednesday, he said he hadn't lied.
"I absolutely dispute it. It's ridiculous. It's nothing new," Christie said, according to The Associated Press. "There's nothing new to talk about."
Christie also pointed out that defense lawyers had submitted the texts, rather than someone who was under oath, the AP reported.
Renna's lawyer, Henry Klingeman, said in an email only that his client "will answer questions publicly when she testifies at the upcoming trial, not before."
Stepien's lawyer, Kevin Marino, said that the government has been in possession of the test messages for years and has not charged Stepien. Marino said in an email that it was "categorically false and irresponsible" to use those texts now to suggest that he was involved.