Sheriff Mark Miller of Wapello County, Iowa, wants to make one thing clear: his community is absolutely not a "sanctuary city."
He balks at the notion that they are a safe harbor for undocumented immigrants. Miller said his office merely asks the government to get a warrant before detaining people in Wapello County who may be in the country illegally.
However, this extra step of asking for a warrant to detain is seen by U.S. Immigration and Customs Enforcement and anti-immigration groups as being "uncooperative."
As a result, Wapello County — with a population of about 35,000 and which voted 58 percent for Donald Trump — has been dubbed a "sanctuary city" by such anti-immigration groups as the Ohio Jobs and Justice PAC and the Center for Immigration Studies.
Wapello is not alone. Many other conservative towns are also confused over being labeled with a term they consider a scarlet letter.
"We don't want to open the door for any civil litigation or liability, so we require a warrant, which somehow turned us into a sanctuary city," Miller said. "We're suffering the brunt of a label, we don't understand."
The label is apt, said Jessica Vaughan, the director of policy studies at the Center for Immigration Studies, a group which calls out positions they see as "non-cooperative and obstructs immigration enforcement." The Southern Poverty Law Center listed the Center for Immigration Studies as an "Active Hate Group" in 2016.
"These places are on our list because ICE says they have a policy of non-cooperation," Vaughan said. "That act of requiring a judicial warrant is a way of obstructing ICE and is a roundabout way of being a sanctuary city."
ICE, while steering clear of the term "sanctuary city," maintains that their requests to detain someone for the agency holds weight and local police should unequivocally comply.
"When law enforcement agencies fail to honor immigration detainers and release serious criminal offenders onto the streets, it undermines ICE's ability to protect public safety and carry out its mission," said Sarah Rodriguez, a spokeswoman for ICE.
Many immigration policy experts view the "sanctuary city" label as a shaming campaign.
"It's a misleading tactic by anti-immigrant groups to change the terms of the debate from legal terms to political rhetoric," said Jonathan Blazer, policy and advocacy counsel at the American Civil Liberties Union. "And the pressure may work for counties that may be on the fence about how they will operate with ICE."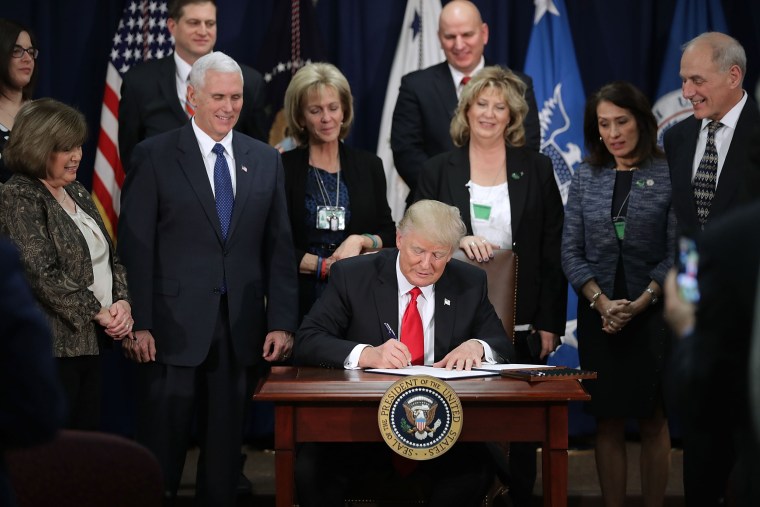 "Sanctuary city" — a term that has been around for decades — has been thrown around an awful lot recently, but truth be told it has no real legal definition, immigration policy experts say.
In its most broad sense, it is an amalgamation of things that "city, counties, or localities can do to separate itself from the federal enforcement requirement with ICE," said Annie Lai, an immigration professor at the University of California Irvine School of Law.
The term — which has also popped up in a number of pieces of legislation over the years — is used idiosyncratically as a badge of honor by some and seen as an insult to others.
Related: 'Sanctuary Cities' Vow to Resist Trump Order Despite Funding Threat
Days into his presidency, Trump signed an executive order sanctioning, punishing and threatening to pull federal funding from "sanctuary cities." He used the term at least six times in the executive order and referred to a federal statute which prohibits local authorities from withholding information from ICE.
"It's not an ICE term, there is no official definition," said Geoffrey Hoffman, an immigration professor at the University of Houston School of Law. "It's a term coined by various groups, who define it in various ways."
Several jurisdictions have embraced the moniker, openly defining what it means within their borders.
In San Francisco, the official policy holds that law enforcement would only notify immigration authorities of an inmate's release in limited circumstances involving serious felonies.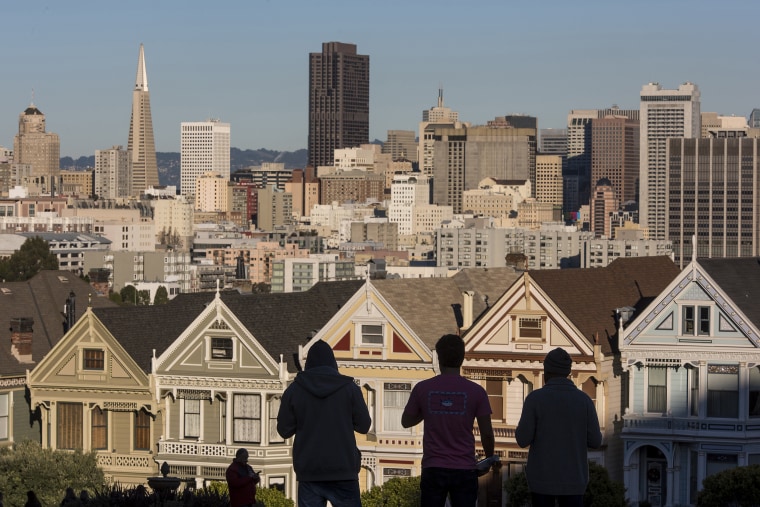 Related: Pennsylvania Senate Passes Bill Targeting Sanctuary Cities
But many others, most notably those in red states, are left confused when anti-immigration groups call them out using the phrase "sanctuary cities," said William Stock, president of the American Immigration Lawyers Association.
Further complicating the debate is the fact that ICE 's requests to city and county officials to detain people are not mandatory. Several federal courts have ruled the requests are unconstitutional, immigration policy experts said.
"They are not based on probable cause and in many cases a county held someone who ended up being legal," Blazer said. "Holding individuals based only on a request raises a host of legal questions."
Related: Trump Signs Executive Orders Aimed at Cracking Down on Illegal Immigration
Which is why many jurisdictions, like Wapello County, Iowa, require a warrant, or some form of judicial authority to hold someone.
"We are following the law and doing what we have always done," said Tony Hampton, sheriff of Scott County in Kentucky, which also voted for Trump, and requires ICE produce a warrant to detain someone.
"I don't consider us a sanctuary city, and it's not fair that others do simply because we follow the rules," he said.
Butler County, Kansas, which voted almost 70 percent for Trump, also found itself on the Center for Immigration Studies' "sanctuary city" map because of the requirement of obtaining a warrant to detain.
"I don't want to put anybody in my jail on hunch, and get sued later," said Butler County Sheriff Kelly Herzet. "There has never been any explanation of what it means to be a sanctuary city so it's not clear."
According to data compiled by Immigrant Legal Resource Center though Freedom of Information Act requests, 16 percent of counties analyzed in states that voted for Trump either require a warrant for detention or will not notify ICE on release dates of individuals in their custody.
Related: Living in Limbo: Lawyer Navigates Trump Stance on Immigration
Franklin County, Iowa changed its policy on requests from ICE to detain people just three days after Trump's inauguration.
"We used to not hold for ICE but now we do," said Franklin County Sheriff Linn Larson. "I don't see anything in Iowa state law that says who I can pick and choose to work in the federal government," he said.
While he maintains that the policy has nothing to do with Trump and that it was something he would have done regardless of election outcome, he did say several individuals in the county expressed concern that the county was deemed "sanctuary" prior to the policy change.
The president has made clear that he will be cracking down on these towns without "any real illumination on the matter," Blazer said. "It's easier to confuse and pressure localities into following what you want."