A Florida sheriff is denying allegations of misconduct by his officers in connection with the 2013 shooting death of a man who was carrying an unloaded air rifle.
But his office's decision to give a bravery award to the deputy who fired the fatal shots — while the incident was still under investigation — is now being reviewed.
"There was no cover-up," Broward County Sheriff Scott Israel said in a statement.
Deputy Peter Peraza fatally shot Jermaine McBean, 33, on the grounds of his Oakland Park apartment complex after three people called 911 to report a man walking around with a rifle.
The incident is drawing fresh scrutiny two years later because a newly emerged photo shows McBean, 33, wearing in-ear headphones immediately after being shot — contradicting police statements.
Police documents show that Peraza insisted to a homicide detective that there was nothing in McBean's ears that would have stopped him from hearing police orders to drop the rifle — and the detective told the family that officers at the scene "confirmed" that.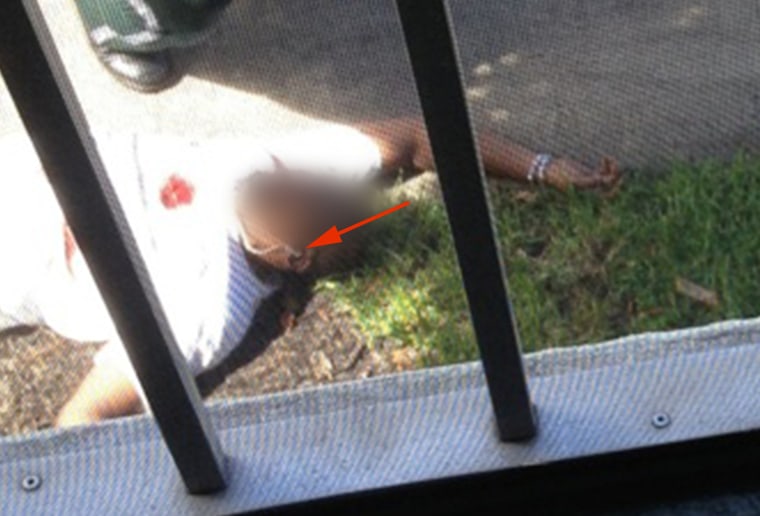 "Detectives are on fact-finding missions. They exhausted all investigative leads, took dozens of statements and turned the case over to the State Attorney's Office for its independent review and subsequent grand jury review, Israel said in a statement.
"There was no cover-up. The woman who took the photo never shared it with our investigators."
A spokeswoman for the office declined to elaborate on the statement.
The photo was provided to NBC News by a lawyer for McBean's family with permission from the woman who took it. The lawyer, David Schoen, said the woman did not give the photo to police who knocked on her door afterward because she was afraid.
Less than a month after the shooting, Peraza and another officer involved in the incident, Sgt. Richard LaCerra, were nominated for the prestigious Gold Cross award through an internal memo that failed to mention McBean's weapon was a Winchester 1000 Air Rifle that wasn't loaded.
The memo said McBean, 33, did not comply with orders to drop the rifle as he walked through his Oakland Park apartment complex, near children swimming in a pool, and pointed it in the direction of officers in a "threatening manner."
"Deputy Peraza ... fearing for the lives of all involved began to fire," said the memo written by Lt. Brad Ostroff.
"Having been on many critical shooting incidents with this agency in 27 plus years, I can say without hesitation the actions displayed by Sergeant LaCerra and Deputy Peraza were selfless, honorable and brave. They placed themselves in harm's way to ensure civilians were protected and regardless of the safety to themselves."
Two months later, Peraza and LaCerra were presented with the awards at the African-American Research Library and Cultural Center in Fort Lauderdale.
At the time of the nomination and the reward, the shooting was under investigation by both the sheriff's office and by the Broward State's Attorney's Office, documents show.
"It's crazy," said Schoen, who is representing the McBean family in a wrongful-death and misconduct suit against the sheriff's office.
"They know by then that they just tragically shot an unarmed guy who had an air rifle that wasn't loaded, who was about to go into his apartment."
The sheriff's office said the decision to bestow the award is being reviewed.
A witness to the shooting has contradicted one piece of the narrative described in the nomination memo and in Peraza's statement, saying that McBean did not take the air rifle off his shoulders and point it at officers before he was shot in the chest.
Michael Russell McCarthy, a fisherman, said he called 911 when he saw McBean walking home from a pawnshop with the rifle because he did not know if it was real or fake and he feared he might kill someone.
He told NBC News that when McBean strode onto the grounds of the complex, the rifle was on his shoulders and behind his neck and that he never moved it from that position.
"He [McBean] couldn't have fired that gun from the position he was in. There was no possible way of firing it and at the same time hitting something," McCarthy said. "I kind of blame myself, because if I hadn't called it might not have happened."
Another witness interviewed by NBC News, who asked to remain anonymous, said she thought McBean looked "high" or "strange" when she saw him walking with the gun, but she did not see him point it anyone and did not see the actual shooting.
McBean — a computer expert who worked at an advertising agency — had the marijuana component THC in his blood when he was killed. He had been diagnosed with bipolar disorder, but his family said he had no history of violent behavior, and he did not have a criminal record.
The police union lawyer who represented Peraza when he gave his initial statement has not responded to requests for comments, and the head of the police union also did not reply to a request for comment on Monday.