Officials in cities coast to coast implemented curfews for Monday night, hopeful that they would prevent another night of violent, chaotic demonstrations sparked by the death of George Floyd.
But the citywide orders weren't enough to keep the peace between protesters and police in some places.
In Washington, D.C., where Mayor Muriel Bowser imposed a rare curfew after several nights of looting and vandalism, police fired tear gas outside the White House to move demonstrators away as President Donald Trump announced that he would deploy military troops across the country if states couldn't contain the unrest on their own.
Photos and video appeared to show military helicopters flying below building height, kicking up debris and knocking branches off trees. The low-flying aircraft were reported to be used to disperse protesters.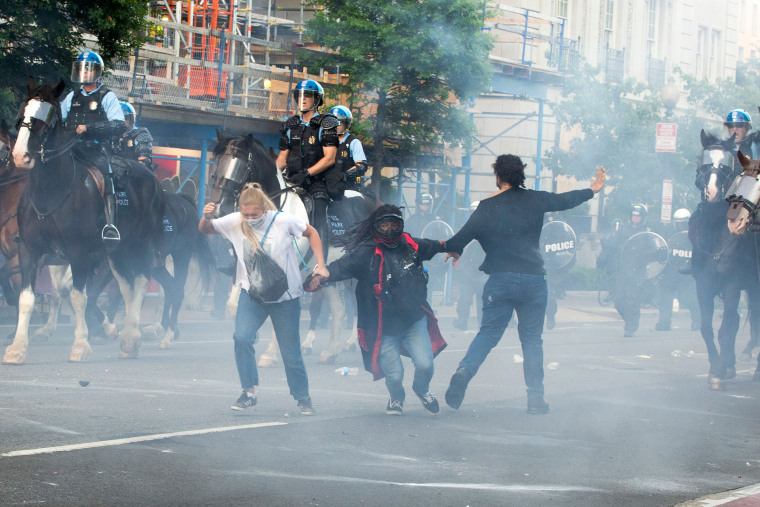 Protesters in Seattle's Capitol Hill neighborhood were setting off fireworks before clashing with police just after 9 p.m. local time. NBC News correspondent Jo Ling Kent was reporting live in an athletics field when she was struck by a projectile, which the crew originally described as a firework. After reviewing the incident, the crew concluded she had been hit instead by a flashbang projectile shot by police.
Full coverage of George Floyd's death and protests around the country
Kent later tweeted that she and her team were uninjured and the grenade only singed her jacket. NBC News reached out to the Seattle police for comment, but has not heard back.
In Philadelphia, a curfew that began at 6 p.m. didn't stop a group of protesters from marching to City Hall, NBC Philadelphia reported. Hours earlier, a larger crowd elsewhere in the city shut down traffic, and police officers and state troopers used tear gas and pepper spray to scatter the demonstrators.
In Louisville, Kentucky, where the police chief was fired after a man was shot to death Sunday and officers didn't activate their body cameras, a curfew was extended until June 8. Video from Monday showed a handful of protesters with their hands up and dozens of officers with batons, helmets and body armor on the other side of an intersection after the 9:30 p.m. curfew.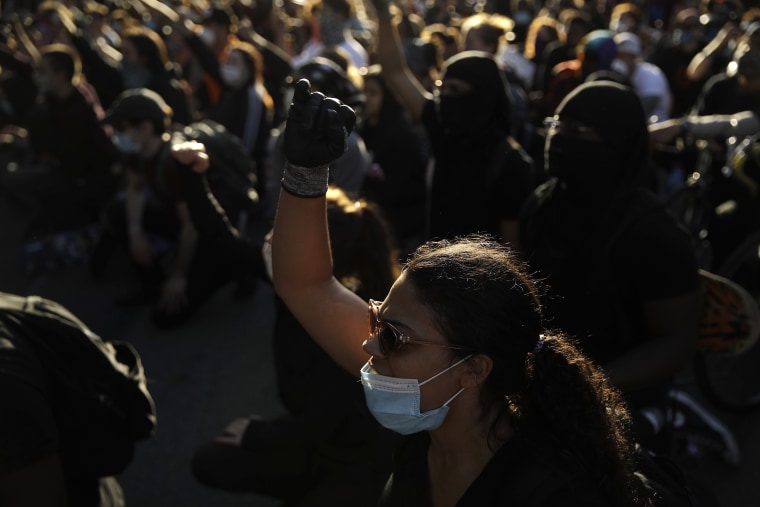 In Buffalo, an SUV mowed down authorities in tactical gear with dogs and batons after they charged what appeared to be a handful of protesters, video showed and officials said.
In an interview with NBC affiliate WGRZ, Buffalo Mayor Byron Brown said the incident was under investigation but added that it occurred after an earlier demonstration ended and that some of the protesters refused to leave.
"We cannot have people protesting in the city of Buffalo after dark," he said. "That is not safe for the protesters, and that is not safe for the surrounding community."
Brown said it appeared that two people who were struck by gunfire earlier may have been in the SUV. He didn't say whether the SUV was driven by a protester or whether a suspect was in custody.
Meanwhile, in the nation's most populous city, New York, about 700 people who authorities said were setting small fires and breaking store windows in Manhattan and the Bronx were arrested, a police spokesperson said Tuesday.
"There are packs of youths running as fast as they can, smashing windows as fast as they can, and police are trying to catch them as soon as possible," a spokesperson said Monday.
The arrests came after an 11 p.m. curfew began Monday night. The measure followed four days of raucous protests against police brutality in which hundreds of people were arrested, including Mayor Bill de Blasio's daughter, and the burning of police cruisers.
"The men and women of this police department will be consistent. They will be out there again ensuring the rights of people to peacefully assemble," Police Commissioner Dermot Shea said Monday ahead of anticipated protests. "We ask all New Yorkers to participate and do it safely."
Looting and small fires were reported in Manhattan's Union Square and beyond. Hours before Monday's curfew began, de Blasio announced that another curfew would begin even earlier Tuesday evening, at 8 p.m., when it is still light out.
The curfews, which have been imposed from Los Angeles to Philadelphia, come in response to the in-custody death of Floyd, a black man in Minneapolis, on Memorial Day.
Floyd, 46, died after Derek Chauvin, a white police officer, crushed him to the ground with a knee to Floyd's neck. Minnesota authorities announced Monday afternoon that Floyd's death had officially been ruled a homicide by a medical examiner.
His death ignited widespread protests against racism and mistreatment by police after Floyd's final helpless moments were caught on video.
Public safety resources are already stretched as cities fight the coronavirus pandemic, with many still trying to enforce stay-at-home orders.
In Minneapolis, where police had clashed with demonstrators and journalists covering the riots in dramatic fashion over the last several days, a calm appeared to set in across the city Monday evening, with hundreds of people gathered at a memorial at the site where Floyd was killed. A citywide curfew was set to start at 10 p.m.
In Sacramento, California, about 130 businesses had their windows and doors damaged and 300 buildings had graffiti on them as of Monday morning, according to The Sacramento Bee.
City officials, anticipating more problems Monday evening, imposed a curfew from 8 p.m. to 5 a.m. and said the city was deploying 500 members of the National Guard on Monday night to protect critical infrastructure.